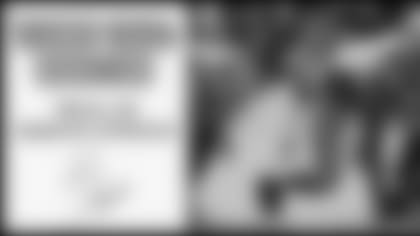 Each week 49ers.com will feature a column dedicated to special teams and those who play on them. These teamers will share their breakdowns of the upcoming opponent and give you some insight on some aspects of special teams you might not be too familiar with. In the sixth Teams Talk installment of the 2009 season, cornerback Marcus Hudson shares his thoughts on Sunday's matchup with the Houston Texans.**
I think the special teams units have been a great part of the Houston Texans success this season. It has kept them in a lot of games from what I've seen on tape.
They have great returners in Jacoby Jones and Andre Davis. Either of them can take it back anytime they get the ball in their hands. So, that's why we have to be on top of our game this week in Houston. If we get out of our lanes, it could be trouble.
The reason is because they each have great speed and it works well when they bounce the ball to the outside. You can see them eat up ground quickly when they are retuning a kick or a punt.
Also, both of them are similar style of runners; tall and lanky, receiver types. They will try to use their speed to their advantage. If they get outside, they're going to take that corner. Knowing that, guys like myself on the coverage units will have to keep them inside.
All of us are going to have to step up on teams this week with one of our best cover guys, Jeff Ulbrich, out for the rest of the season.
It was a huge loss for us to lose Ulbrich from our special teams units. We miss him a lot.
But one thing it will do is make everyone step up even more because even when Jeff was here we had a lot of work to improve on already. But, he was one of our captains and leaders of the special teams. Somebody else has to step up to the plate and take over his leadership role and I think we have the type of guys who are capable of doing that
Houston's kicking game is set to favor their most productive players. They are able to use the speed from Davis as a runner on punt coverage. It works well with their punter, Matt Turk.
Because Turk's a veteran who has great hangtime on his punts, speedy guys like Davis are able to get to the returner. When we are blocking we have to keep those outside guys in front of us to spring our returners.
As a team we are going to have to concentrate on getting our assignments and having great execution all the way around.
That's really what this game comes down to. Can we finish up on all our blocks? If so, I think we'll be able to set our offense up with better field position. That's something we haven't done so well, and we want to help them out as much as possible.
We have to know who we are supposed to block, and we really need to read and react to the direction of the kick. If we do everything we were coached to do by coach Al Everest, we are going to come out on top.