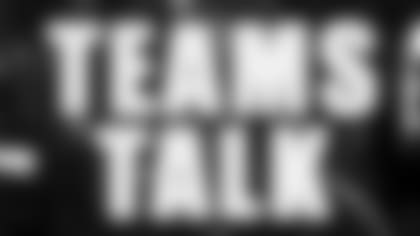 For the second year in a row, we'll feature Teams Talk, a 49ers.com column dedicated to special teams and those who play on them.  This week, special teams gunner, Jason Hill, checks in to share details about the matchup against the Philadelphia Eagles. **
The Eagles have a veteran kicker in David Akers. One thing I've noticed on film is that he drives the ball pretty good on his kickoffs. He tends to kick most of the time towards the middle of the field, in between the numbers.
He's left-footed, like Joe Nedney, and so we have to pay attention to the way the ball rotates in the air.
Likewise, we have to do the same with their punter Sav Rocca. He's a former rugby player and he's a heck of a punter. When he punts the ball and it bounces, the ball has a really weird spin on it.
With that said, we're going to have to stop their gunners from getting down to the ball to down it. He punts the ball like a pro golfer hitting a golf ball to the green. When it hits down, it stops right away. He puts it up high and it just drops.
As for their coverage teams, they are all good. The Eagles play fast and they play strong on special teams. They're going to try and get after us this Sunday, but I think that's our strength. When teams get after us, I think we play better on special teams.
One of the guys to be aware of on special teams is DeSean Jackson, their punt returner. We have to definitely watch out for him. They might even throw him back on kickoff, you never know.
Last week Jackson had a punt return for a touchdown against the Redskins, so we have to be prepared to stop him.
I think if the Redskins gunners contained him better, he wouldn't have scored it. But the gunners were coming inside, playing other people's jobs, and we can't let that happen to us. I think it was a breakdown in the coverage, as opposed to him just making guys miss. It was more what they did than what he did. So we have to be aware of handling our own responsibilities against him.
Their kick returners are Quinton Demps and Lorenzo Booker, but I won't be surprised if Jackson is back there instead. We'll be ready if he is.
I think the key to this game is definitely getting after them. We need to blow up their wedges and make their guys try to bounce out their runs. If we all push them into the middle, our guys will be there to make some plays.
A lot of the tackles I've had this season on special teams have been a result of the guys inside working hard. My job is to keep the edge and when the play comes my way, make it. Our guys inside, Jeff Ulbrich, Marcus Hudson, Keith Lewis and those guys have done a good job of forcing the play out to us.
Other core guys for the Eagles are safety Sean Considine, who is a good hitter. Chris Clemons, a defensive end also get down on the kickoffs. Actually, all of their guys really do a good job of flying around to the ball.
Overall I think winning one-on-one battles on special teams is the biggest thing. I think the better we do that job, the better we'll be. If we all take care of our own responsibilities and worry about our jobs and not try to do someone else's, I think all the plays will be made.