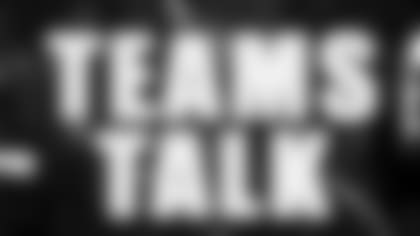 A sometimes overlooked aspect of the game is special teams, but not this season, and not on 49ers.com. Each week, we'll feature Teams Talk, a column dedicated to special teams and those who play on them. These teamers will share their breakdowns of the upcoming opponent and give you some insight on some aspects of special teams you might not be too familiar with. Check out this week's column which features punter Andy Lee. ** PUNTER ANDY LEE
From what coach Al Everest has been telling us in the meetings it seems like the New York Giants special teams units are very physical. When you play physical against them, you tend to a do a bit better than when you try to finesse them. They're definitely a go-get-you type of team so it will definitely be a challenge.
R.W. McQuarters is their punt returner, who was originally drafted here. This is his tenth year. He's seasoned so he knows what he's doing. I don't think he's a crazy guy who's going to catch the ball in traffic and try to do a lot of stuff, but if he catches the ball with some room to move and do some things, he can really gash you. We just have to have some good punts and some good coverage as well.
As far as their gunners go, they have one guy who is hard to read in terms of what he's going to do coming off the line. The other guy is a little more predictable, but they are both extremely good athletes so it's going to be a challenge for our guys.
Their kickoff returner is Reuben Droughns and he seems to be a very physical guy. He'll run right at you and you have to wrap him up and tackle him. I was watching some tape and he was bouncing of some people who tried to tackle him high. He's a very tough guy to bring down so I think it will be a challenge for our guys to really wrap him up and gang tackle him.
I definitely watch opposing punters too. Jeff Feagles is in his 20th year which is incredible. He's played a long time and he's one of the best directional punters in the NFL. It's amazing he can still kick a ball as well as he does. I would have to play another 16 years after this year to play as long as he has and I can't even imagine that right now. It's great to watch other punters to see if you can learn something or pick up something from them, and Feagles is definitely a guy who has proven himself in this league so I respect him a lot.
The only time I've seen their kicker, Lawrence Tynes, was when we played against him last year in Kansas City. I don't know much about him, but I know that he's a good kicker. He does a good job.
From what I understand, their long snapper got hurt before the season started and instead of bringing in a new long snapper, they found two guys they already had to do short snaps and long snaps. Defensive tackle Jay Alford does their short snaps and linebacker Zak DeOssie does their long snaps. Both are rookies, but on tape, it doesn't seem like they've had any issue with it and they're getting the job done.
I am glad that I don't have to worry about who's snapping me the ball though. Brian Jennings is a dream come true. He's unbelievable. He never misses and when he does miss by just a little bit, it's amazing how upset he gets because he's such a perfectionist. I think that's why he's such a good snapper.
I've been fortunate to have been punting pretty good at the start of the year and I think I've sort of been in the zone. For me, that means that when I go out there I'm not nervous and I feel increasingly more comfortable. You can go out on the field at times and be nervous and not even know it. I don't think I'm feeling that way at all which is great because that can change your form. I've focused on some techniques on the offense and I have a lot of confidence in the cover guys and everyone around me which has helped me out a whole lot.
When you have great coverage units like we do, it puts you in a situation where you know that even if you don't hit a perfect ball, they are going to cover your back. You don't go out there thinking or worrying about being perfect and so I think for me, that's helped me feel less pressure.
I just focus on myself and I don't have to worry that my guys aren't going to get down there and cover the kick. I'm not saying in the past that I had to worry about my coverage either, but Coach Al's system has caught on really well here and all the guys have bought into it. It just seems to have really pumped everyone up and gotten us going.
Keith Lewis may not be able to go this weekend and it's definitely a big loss for us if he can not. I would say he's one of the best special teams players we have, but I also think we have some guys who are going to step in and play hard because, like I said, everyone believes in the system. It will hurt us a little but, but it's going to give someone else the opportunity to show what they can do on special teams as well. I have complete confidence in whoever Al's going to put in for him if he's unable to play.
The Meadowlands is notoriously windy, so I'm just hoping it's not going to be too bad so I won't have to deal with it. If it is, it's similar to Monster Park so I'll just treat it like any other game. You can go some places that aren't usually windy and the wind ends up blowing pretty strong, so you can't worry too much about that. You just have to be prepared if those are the cards you are dealt with and do your best.
When it comes to wind, the first thing you have to take into account is if it's blowing hard enough to affect the ball from the time I drop it until it hits my foot. Most people wouldn't think that in that little bit of time the wind can move a ball, but it can move the ball an inch or two which can actually totally throw your punt off. So that's the biggest concern, because if you hit a perfect punt, the wind is going to affect it, but it's still going to be a good punt. A 35-yard punt into a stiff wind is not a bad punt. Some people might think that's not a very good punt, but the wind can do that sometimes. But if the wind moves the ball during your drop and you don't hit it well, the wind is going to affect it even more because you probably won't get as tight of a spiral on the kick and the wind will really get after those wobbly balls.
We've had the benefit of a bye week and we worked on all phases of our special teams. Just because you're doing well in something doesn't mean you don't need to work on it. We worked on punt, kickoff, punt return, kickoff return, field goal and field goal block. We touched on all those areas, and although we focused on a little more than others, all in all, we're just trying to stay sharp in all facets of special teams. Hopefully the extra work gives us an advantage on Sunday.