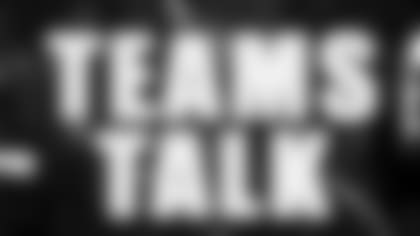 A sometimes overlooked aspect of the game is special teams, but not this season, and not on 49ers.com. Each week, we'll feature Teams Talk, a column dedicated to special teams and those who play on them. These teamers will share their breakdowns of the upcoming opponent and give you some insight on some aspects of special teams you might not be too familiar with. Playing a big role on the 49ers special teams units, Zak Keasey shares his thoughts in this week's column. **
Chris Kluwe, their punter, is a younger guy. He has a very quick get-off so it will be hard to block a punt against him. He just takes one step and then he lets it go. He's a quality punter so we just have to focus on trying to get better as a punt return unit every time we have the opportunity to take the field.
I think we have a pretty good read on their kicker Ryan Longwell in terms of where he might be going with his kicks. He also has the ability to so some spiked kicks and some onside kicks similar to what Joe Nedney does. We're going to be prepared for that. We've watched a lot of film on him and I think we have a pretty good game plan in that department.
They have two different punt returners, Bobby Wade and Mewelde Moore. Wade had been putting the ball on the ground early on so he hasn't been in there quite as much in recent weeks. Moore is a running back so we expect a little more of a straight up, power return versus trying to take it to the outside.
They have had several guys return kicks this year. The last few weeks, we haven't seen as much of Adrian Peterson since he's been out with the knee injury. Now he's taking more of the load at running back. Aundrae Allison has had some pretty big returns in recent weeks. I think he had four returns over 60 yards this year, and a 103-yard touchdown last week. We're definitely going to have to work our butts of as a unit. They have one of the better return units in the NFL so we take that as a challenge. We think we have a pretty good feel for what Allison is trying to do back there, and we're going to be ready to get after him and show that we have one of the best kick cover teams in the NFL.
This year has been a little turbulent for me in terms of roster moves, but it's calmed down in recent weeks which I'm thankful for. I've gotten the opportunity to be active for several games and see some time on special teams. Whether I was up or on the practice squad, I was always out there working and trying to get better so I was ready if the team did need me to step in there and play a role on special teams. I take pride in what I do on special teams, as do all the guys on this team. We want to be the best special teams unit in the league and I'm just glad I get the opportunity to be a part of that.
Playing special teams can be a big transition for a lot of guys when they first come out of college since most guys don't play a lot of special teams because they're more focused on their offense or defensive roles. I did very little special teams in college, but when I came into the league I knew it was going to be very difficult for me to come in and start on the offensive or defensive side of the ball. I knew playing on special teams was going to be big for me.
Special teams plays are different because they usually last a lot longer. Sometimes you're running between 50 and 100 yards, so there's a lot of energy on special teams and it's awesome. People are feeding off each other, competing, trying to get there and make the tackle. On our returns nobody wants to miss their block and let their guy make the tackle. We try to bring a lot of enthusiasm out there and just try to intimidate as a unit.
It was a physical, low scoring contest against the Vikings last year. We know special teams can make or break a game. We'll play a big role in this game in terms of the field position battle which can help out both our offense and our defense. If we can make some big plays, whether it's a blocked punt or big return, we can really help the team out. We're going to do our best to try to make an impact on this game.