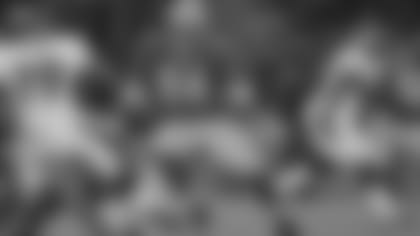 In this week's Teams Talk column, rookie running back Anthony Dixon shares his thoughts on the special teams aspect of the 49ers upcoming game against the St. Louis Rams. **Whenever we go out there for special teams, I'm always the guy jumping around getting everybody fired up. That's just me. That's how I'm used to playing football. Being from Mississippi, that's just how I was raised. It's really just the passion coming out of me. I don't want people to get it wrong and think I'm showing disrespect or anything like that, it's just my passion. I'm just getting ready to lay it all on the line.
When I'm getting hyped up liked that, I think it rubs off on my teammates a little bit too. You have to go all-out on special teams and if I can help everyone else get fired up that's great. We're all in this together.
Before this year I had never played special teams in my life. I didn't do it in high school or college, but I'm really embracing it. I love it. I get to go out there and show people I am an athlete and that I can adjust and adapt to any situation.
In fact, I don't think I had ever tackled anyone in a game before this season. I wasn't sure how that was going to go at first, but I think it went well. It feels good to bring a guy down, and I think I'm getting pretty good at it.
Overall, there are a lot of young guys on our special teams and we're all learning together. Our coaches are doing a good job of getting us prepared, and our three veteran specialists are doing the same thing. Joe Nedney, Andy Lee and Brain Jennings, those guys have been around for a long time and they're some of the best at what they do. They've been really helpful.
When you look at the Rams' special teams, they're a solid group. But I think we just have to do what we do – hit our gaps, make our blocks, stick to our assignments – and we'll be alright. They have Brit Miller on their team, and he was a great special teamer for us last year. Brit taught me a lot during training camp, so I want to show him how far I've come. It should be fun.
In their return game, they have Mardy Gilyard doing a lot of their kickoff returns and Danny Amendola does some kickoff returns and he returns punts. Gilyard and I met at all of the rookie things we went to, and we got a long pretty well. Because of that friendship, I'm definitely looking forward to making a tackle on him — nothing personal, just business. And Amendola, he's hard to tackle. He doesn't want to fair catch anything. He wants to make big plays, and I like that. It gives us something to do. I hate when opponents fair catch it. So I look forward to matching up against a guy as tough as him.
They have a solid kicker and punter too. Josh Brown and Donnie Jones have been in the NFL for a while, so they know what they're doing. Everybody says it's hard to kick at Candlestick Park, but those guys have been there before so I don't expect the wind to affect them very much.
Overall, the most important thing about this game is sending a message. We want people to remember how hard we play on special teams.