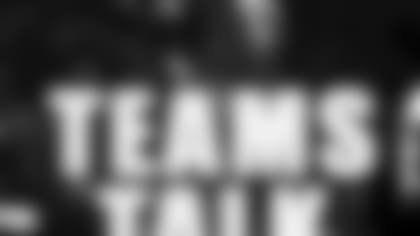 For the second year in a row, we'll feature Teams Talk, a 49ers.com column dedicated to special teams and those who play on them. This week, veteran safety Keith Lewis, checks in to share details about the road matchup against the Dallas Cowboys.**
The Cowboys have a Pro Bowler in second-year kicker Nick Folk, and he's been playing well again this season. Most kickers go through slumps, but it seems like Folk hasn't. He's only missed two field goals and has a season long from 52-yards out. I think he's been a big part of their success in his two years and he's done a great job. We know that he's going to make most of his field goals, so it's our job to put pressure on him.
While he hasn't had any touchbacks on kickoffs, Folk normally kicks it right around the 5-yard line. We are very aware of that and we're ready to counter. We have an awesome returner in Allen Rossum and we're hoping to have some big returns this week.
Rossum's success has definitely been a team effort. He's a little guy, who hits the hole fearlessly and that says a lot about him. He's fast, shifty and he's hard to tackle. Because he's so small, it's kind of hard to see him. He just pops up out of nowhere and then he's gone. He's been doing a great job back there for us.
Dallas' starting punter Matt McBriar was injured when the Arizona Cardinals blocked a punt in overtime and beat the Cowboys earlier this season. He fractured his kicking foot and was put on Injured Reserve. But they signed Sam Paulescu, and he's been doing a good job in McBriar's place. He's averaging 41.4 yards per punt, but some of his kicks travel longer, which sometimes can be tricky.
I think Dallas went back to the film and corrected the breakdowns that happened on that punt against Arizona. Every team has to go back and do that. So, we can't really expect that to happen for us. We have to create our own situations.
Dallas' core units are loaded with defensive players. They definitely have a solid core group on special teams. They try to present a physical presence and they use more button-press guys on kickoff. I think they try to play very aggressive on pretty much every special teams unit.
As far as the Cowboys return game is concerned, we have to get down the field against their punt returner Patrick Crayton. That comes down to our gunners doing a good job of taking care of the perimeter and our core guys on the inside getting downfield and locking Crayton up. We know he likes to get around to the edges on the outside. Hopefully, we can force a turnover.
They've been using Felix Jones and Miles Austin as kick returners, but with Felix out and Miles likely to miss the game on Sunday, they could possibly use wide receiver Isaiah Stanback or cornerback Orlando Scandrick as their returners. They did switch returners quite a bit prior to the injuries, so we're going to prepare for all of their options. It really comes down to us getting down the field on the first kickoff and getting a feel for the guys who they will have back there.
This week, we need a big play from special teams and we need total ball security. That's really what we're out there to do, get the ball back to our offense. And I think when it comes to special teams, that's how you measure if you're successful.