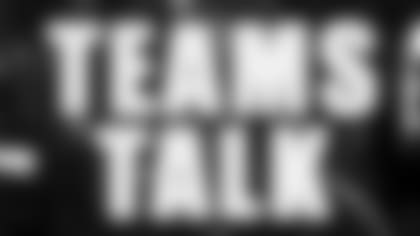 For the second year in a row, we'll feature Teams Talk, a 49ers.com column dedicated to special teams and those who play on them. This week, rookie defensive lineman Kentwan Balmer, checks in to share details about the second matchup of the 2008 season against the Arizona Cardinals.**
When you think about Arizona's kicker Neil Rackers, you think of a good kicker with a strong leg and a fiery attitude. It seems like Rackers is always trying to get in the action and make a tackle on special teams. He's really a strength of their team, because he can make kicks from long distances and he can pin teams back with his deep kickoffs. We'll just have to gameplan accordingly.
While he does tend to kick it deep, we also have to look at out for some of his squib kicks. They tried some short kicks against us the first time around, so we'll be ready for that. If that's part of their gameplan for us, we'll be ready for it.
Despite the fact that they were able to recover one of those in our first game, we were able to have some good returns against them, so we feel positive about that going into Monday night's game. We really have to be ready for any situation and our special teams coach, Al Everest, is one of the best in the National Football League. He's got us prepared for just about anything they could throw at us.
Like Rackers, the Cardinals punter, Dirk Johnson has a strong leg, but he's more of a directional punter. He tries to pin you to one side of the field and limit your options in the return game. I'm not on our punt return team, but like I said, Coach Everest will have our guys ready to go.
Arizona will be without one of their regulars on special teams as Ali Highsmith, who is a rookie linebacker out of LSU, is out for the season with a torn ACL. But that won't stop the Cardinals, because they have a good group of core guys.
As a whole, their core special teams players are fast. They get down the field and they do a good job of getting there quickly to disrupt your returns. They also play with a lot of emotion, and that's what we expect from them. They have guys like wide receiver Sean Morey and safety Aaron Francisco, who really play hard on special teams for them. We just have to account for them as best we can and try to neutralize those guys.
I remember in our first matchup against the Cardinals to start the season, how I was going head up against Calais Campbell, another rookie defensive lineman, who I played against in college. He's a good friend of mine and I look forward to locking horns with him again like we did week one. Last time, we both had some words for each other, but it was all in fun. I look forward to that matchup if he's out there again.
Right now, Arizona is using Steve Breaston as their punt returner and he's a dangerous player. He's really a threat and I think he's one of the best punt returners in the league. We have to do a good job of limiting his running lanes and staying in front of him once he fields the ball.
Running back J.J. Arrington is handling their kick return duties, now that Breaston is more involved on offense. Arrington has returned a kickoff for a touchdown this year, so I have respect for him. And I also have respect for him because he's from North Carolina like myself, so I know a lot about him. We just have to get after him. We'll be prepared to stop him and we'll need to stick to our gameplan to do that.
One thing we have to be aware of is their punt return team. The Cardinals were able to beat the Cowboys at home in overtime a few weeks back, when Morey scooped up Monty Beisel's blocked punt. We are aware of that and we'll make sure not to let that happen to us. We just have to learn from the mistake Dallas made and try not to let that happen to us.
I'd say the key of the game in terms of special teams would be controlling the field position battle. That's always a big key in our games and even more important than that is, we have to go out and make plays. Period. It's as simple as that.