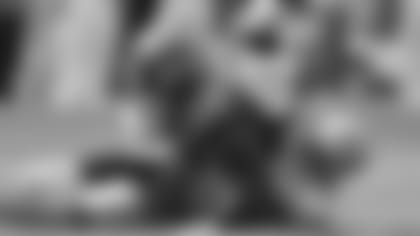 In the second Teams Talk installment of the 2010 season, cornerback Tarell Brown shares his thoughts on the 49ers Monday Night Football matchup against the New Orleans Saints.**Before moving on to your next game, you always have to look back and see how you did the week before. And when we sat down and watched the Seattle game film, I think we all saw mistakes and found areas that we need to improve on. Overall, I'd say the performance was pretty good, but I think we can get a lot better.
We just need to really focus on the little details of everything. Those details are what make or break a special teams unit. It's more than just running down field and trying to hit the guy with the ball. We really need to just focus on knowing our assignments, staying in our lanes and things like that. We have fast, talented players on our special teams; we just have to bring it all together now. It's not that uncommon to have some minor issues in Week 1, so we've addressed those issues and I feel like we'll come out and have a better performance this week.
When you look at a team like the Saints, they're the champs and they play really good football. Special teams are no different for them. Their special teams unit does a great job; they're relentless all the time, flying around to the ball. So this will be a great opportunity for us to go out there and do our best against the Super Bowl champions.  I'm sure they'll be fired up, and I know we will be, so let the best team win.
When you face a team like the Saints, the one special teams player you most need to be aware of is Reggie Bush. You have to play fast and know your responsibilities in order to stop a player of his caliber. The first time I saw him return punts in person was the 2005 BCS Championship Game when my Texas Longhorns played Bush and USC. I wasn't on special teams, but watching him from the sideline I could tell how good he was.
Bush is definitely a spark for New Orleans – a great punt returner and a great player. But at the end of the day you can't be afraid to go out there and hit the guy. We have to make sure we play fast and stay in our lanes, because if you give him a crease he can definitely break it. I think we have a great special teams group, and as long as we get 11 men to the football we'll be fine.
Their kick returner Courtney Roby is good too.
He has great straight-line speed and does a good job for them of getting the ball into good field position for the offense. We just have to slow him and Bush down. They have a lot of speed and great eyes. For us, like I said, we just have to know our lanes, know our responsibilities and know what we are supposed to do.
For our punt and kick returns, Ted Ginn Jr. is a little banged up. Obviously that's a loss if he doesn't play, but in our minds, nothing changes. The mindset here is the next guy will step up and make plays like Ted did. We believe we have a lot of depth on this team, so we feel there shouldn't be any drop-off in production. Ted will be back as soon as he can, but we have good players who will fill in for him until he returns.
Something you always have to mention when you talk about special teams play at Candlestick Park is the wind. When you come to Candlestick, that wind moves at a different pace. It blows differently than a lot of other stadiums, and opponents who don't play here very often aren't used to it. It changes a lot of things.
Garrett Hartley, their kicker, made the clutch field goal that sent the Saints to the Super Bowl last year, but he missed two in their season opener. I'll be interested to see how he deals with the wind. And punter Thomas Morstead is a young guy who's never kicked at Candlestick in an NFL game.
As much as the wind plays a factor for the kickers, it doesn't change anything for the rest of us. Like I said, we just have to pay attention to the details of the game and improve on our Week 1 performance. I think if we execute and play mistake-free football we'll be fine.