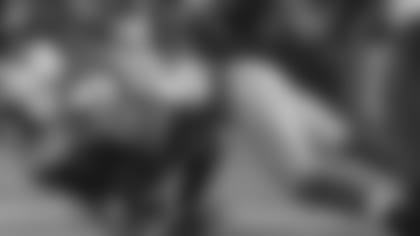 In this week's Teams Talk column, rookie linebacker NaVorro Bowman shares his thoughts on the special teams aspect of the 49ers upcoming game against the Oakland Raiders.**For us young guys, the coaches really emphasize the importance of special teams. And we know how important it is too. We might not be playing much on offense or defense, but special teams is our chance to go down there and make a play. As a group, I feel like us young guys have been doing that for the last couple of weeks and you can see opponents beginning to game-plan differently on special teams. We like that, it means we're doing our job.
Before this season I hadn't played special teams in a few years, but I know special teams is where I need to prove to the coaches that I can make it in the NFL. A lot of us feel that way – this is our opportunity to make a name for ourselves. If you're doing your job on special teams, whether that's making the tackle, blocking your guys or just being in the right place, the coaches notice and that can help you get more playing time on either offense or defense.
I actually had one of my more memorable NFL tackles last week on special teams. The Eagles were trying to double team me all the way down the field on a kickoff return, and I saw the Ellis Hobbs with the ball coming towards me and I made the tackle. Football is a game of never giving up, and that's what I did on that play. I just shed the block and did what I was supposed to do.
That hit kind of got us fired up, and that just proves that special teams really play a big part in the game. We have to be as prepared there as we are on offense and defense.
Our special teams took a blow last week when Curtis Taylor was sidelined with an injury. It looks like he could be out for a little bit, but this is the NFL so that sort of thing is going to happen. Guys just need to step up when other guys go down. Curtis is a guy who excels on special teams, and whoever is going to step into his spot, you know he is excited about the opportunity. Hopefully he can take that opportunity and run with it.
Although we lost Curtis, we got a big boost last week from Ted Ginn Jr. He had some great returns, but that's what he's been doing for years. Everyone knows what Ted can do.
I do think those returns start with us upfront. If we don't block for Ted he won't have the opportunity to show off his speed. It takes everyone out there doing their job trying to spring Ted free, and if we do that our offense can get good field position.
This season the Raiders have been doing return-man-by-committee to some degree, but Johnnie Lee Higgins has returned most of the punts and Jacoby Ford has returned most of the kickoffs. Those guys are both good with great speed. But in my mind, if we go out there and do our jobs and contain their guys we'll be fine.
And when you talk about the Raiders special teams you have to talk about their kicker and punter, Sebastian Janikowski and Shane Lechler. Those guys are two of the best at what they do. They both have huge legs and they're professionals who have been doing it for years. Plus, these guys probably know how to deal with the swirling winds at Candlestick Park, so they could provide a challenge in that regard.
But our kicker and punter, Joe Nedney and Andy Lee, are two of the best at their positions as well. So I think this should be a good matchup in the kicking game.
I was on special teams when we played the Raiders in the preseason, and I took a lot away from that game. Neither team was game-planning back then, but you still can get a feel for their personnel. The biggest thing I took away from that game is how much special teams can swing the momentum of a game. When Phillip Adams had that big punt return for a touchdown, everything turned in our favor and it really lifted the whole team towards the victory.
Hopefully we can have another huge play like that this Sunday that can spark us towards getting a win.