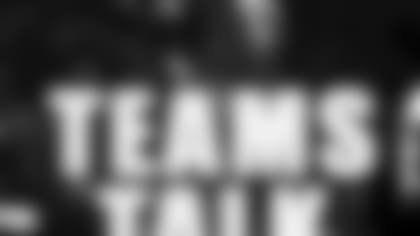 In this week's Teams Talk, veteran long snapper Brian Jennings checks in to share details about the road matchup against the Buffalo Bills as it relates to special teams. **
The Bills have a veteran kicker in Rian Lindell, who does a nice job of kicking in cold weather, but he has struggled with longer kicks this season. He missed a game-winning field goal against the Cleveland Browns a few weeks ago on a Monday night.
Brian Moorman, the Bills punter, is also great at kicking in bad weather and he's a really underrated athlete. In some games, you play teams where you think there's a possibility of them trying a fake punt, and Buffalo is one of those teams, because of Moorman's athleticism. Because Moorman is a fast guy, he gives Buffalo a weapon and affords them the flexibility to try a trick play, so we have to be aware of that on all of their punts.
Buffalo's returners are having a great season, and may be the best in the business. With rookie cornerback Leodis McKelvin returning kicks, their average starting field position has been at the 30-yard line – which is really impressive. The thing we have to do is to get to the ball and give ourselves a chance to bring him down.
Our cover philosophy is that we're only as good as our perimeter. So our guys outside need to make sure that McKelvin doesn't break anything big to the outside.
Their punt returner Roscoe Parrish is another great player, and a guy I'll have to chase down. You can't try to do too much when you're trying to tackle a good player like Parrish. For me, it comes down to mental focus. Can you stay focused on the road, in bad weather and still do your job?
Besides having talented specialists, Buffalo has really aggressive special teams players who fly around to the ball. In general, they're probably going to be the best group we've faced this year.
With the weather this week looking like it will snow, it's going to be important for us to be mentally strong. I'd say in any NFL game, mental toughness is the difference between winning and losing.
And when you're on the road, it gets magnified, special teams especially. Whether it's punt unit, field goal or kickoff teams, you have to win your battle. If you have eleven guys doing that on every play, then you have a great chance of winning the game.
Last week, we allowed a block punt and that was unfortunate because our special teams coach Al Everest prepared us for it. We should have taken care of their inside pressure, and we still didn't get it done. So we've gone over the mistake and hopefully that's the last time it will happen.
Allen Rossum has been ruled out for this Sunday, but we're extremely confident that we have other guys who can handle the responsibility. If you look at the guys we have behind Rossum, it wouldn't surprise me one bit if you saw us do a great job in the return game.
However, it's our job as an entire unit to work together and make sure that happens. Whenever you have a guy, who consistently does a good job for your team and he goes down with an injury, it takes more than one guy stepping up. It takes everyone as a unit, working together to make up for the loss. We just have to give whoever is back there the same chances we gave Rossum. We can't let guys run free at our returner.