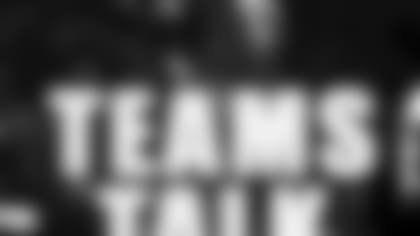 In this week's Teams Talk, outside linebacker Tully Banta-Cain checks in to share details about the road matchup against the Miami Dolphins as it relates to special teams.**
Just like in our last two games against teams from the AFC East, the Miami Dolphins also have talented returners who make big plays if you don't wrap them up and bring them down when you have the chance.
In the past two games, I think we've proved that as special teams players, we definitely want to contribute to our success. We want to put our offense and defense in the best field position possible. That's something we know we have to do well in order to win games and hopefully we can stay consistent against the Dolphins, who have a good special teams group.
Miami has a great kick returner in Ted Ginn. He really has a lot of speed and quickness. I saw him play in college at Ohio State and he was a great returner then. So it's obvious to me why they put him back there. He does a great job of making plays, and he's a guy who we definitely have to corral. We really can't let him get into open space at all.
He's only 5-foot-11, and usually when you face smaller returners they get lost behind their blockers and are harder to locate. We really want to get off their blocks so that we can find him and get him down before he can get in the open field.
Ginn also is involved in their punt return game. He and rookie wide receiver Davone Bess sometimes both line up to field punts. Ginn is usually the deep returner, while Bess is in front of him. That's important to note, because they can do reverses, fake handoffs and things like that to confuse our punt team. And they're both great returners, so we basically have to read our keys and make sure we wrap up whoever has the ball. We've seen on tape that they are both capable of breaking arm tackles.
The Dolphins also rely on another rookie to help their special teams and that's kicker Dan Carpenter, who has a strong leg. We've seen on tape that they like to do mortar kicks and pop-up kicks too. It really doesn't matter who the kicker is, if he's doing pop kicks, everybody has to be prepared to be a fielder and catch the ball at any given time in the game. We're aware of his tendencies, so we feel prepared for anything they might try against us.
Brandon Fields, Miami's punter is 6-foot-5, which means we'll definitely be able to see him back there. And we'll know for sure if he's trying to run a fake on us. From what we've seen, he's a guy who can kick the ball fairly well. When you have longer legs like he does, it gives you more leg rotation on your punts. But if he's able to make some deep punts, that means we have to stay on our guys a little bit longer up front, so our guys on the back end have a chance to return.
Last week, Arnaz Battle did a great job filling in for Allen Rossum on punt returns. I'm not sure if Arnaz or Rossum will be able to play, but whoever we have back there we'll be confident in their ability to set us up with a good return.
As for our kick return game, we feel good about having Delanie Walker and Michael Robinson back there as they've been the last two weeks without Rossum. In my mind, all three of them are capable of breaking for a long run. That's why as blockers, we know if we do our job and stay on our blocks, they'll find the opening and make the rest happen.
The Dolphins have a lot of "lunch pail" guys on their special teams units. I've seen on film that they all play really hard. I know one of their special teams guys fairly well and that's running back Patrick Cobbs. He was on the practice squad when I played for New England and he's a hard worker. Not only that, but he's a tough running back. Another one of their coverage guys, wide receiver Brandon London, plays hard too from what I saw on film.
I think their whole unit is a team that when you face them, you have to bring your best effort to work because they're going to try to out-work us and we can't let that happen. Above all, we have to play pedal to the medal for 60 minutes. I think if we can do that we'll be able to have an impact on the final outcome.