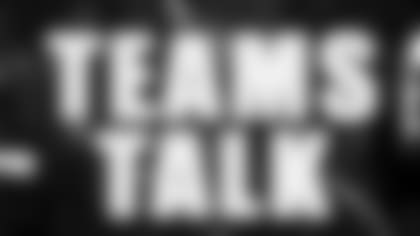 For the second year in a row, we'll feature Teams Talk, a 49ers.com column dedicated to special teams and those who play on them. These teamers will share their breakdowns of the upcoming opponent and give you some insight on some aspects of special teams you might not be too familiar with. This week's special teams return specialist, Allen Rossum, checks in to share details about his special teams role and his thoughts on the Arizona Cardinals.**
Dirk Johnson is their punter and he's a great directional punter. Whatever side he wants to go to, he's great at getting the ball to that side. You always talk to punters before the game and they always have something crazy to say like, "Have a good game next week," or "Expect a lot of fair catches today." I remember when I played against him a few years ago, he was one of the guys who always had something goofy to say like that. Fortunately, when I was in Atlanta I had a pretty good return against him, so hopefully I can do that this weekend.
Their kicker Neil Rackers is a great kicker. He's a deep kicker with a strong leg and surprisingly, he's one of the few kickers who wants to go down and mix it up on the kickoff. He's usually down there after the returner, so you have to account for him. He's always trying to make a tackle.
On their kickoff team, they have a fast group of guys. They have a veteran in Sean Morey, who spent a number of years in Pittsburgh and now he's setting the tone for his teammates in Arizona. They have a couple of other guys in Aaron Francisco and Jerheme Urban who are very fast. Monty Beisel is a physical player on kickoffs, and since they always have deep kicks they can always get down there in time to cover. It seems like when you catch the ball, they're at the 25-yard line, which is outstanding.
As far as their punt team, their interior people are very good at releasing and getting down the field to cover kicks. They always have a scheme prepared and the right personnel group to run it. If their punt is directional , they're going to make sure they get the right guys out to cover, and they get down the field very fast. It seems like, it's not just two gunners, but three or four at all times. That's something I've noticed about them from when I played against them last year when I was in Pittsburgh, and then also from the film I've watched in the preseason.
Arizona also has some good kick returners. I think Steve Breaston, if he's back fielding kicks, is a smaller version of Joshua Cribbs. He's good at getting downhill when he needs to. He's good at catching the ball, especially as a young player. I think he plays well and has a good coach in Kevin Spencer and a good scheme that helps him out as well. He has great guys blocking for him and he's had some long returns already in his career. I think those are all pluses for him. I don't really see any negatives about him, besides that he plays for Arizona.
We just have to go out and execute our plans. And knowing that they're going to be physical and fast, we need to prepare for that and return the favor. We have to play fast. We have to play physical. It's going to be a fun game. It's always fun when you know some guys on the other team and you've played against them before.
If we win the coin-toss, I'd love to return the ball. I always want to return to start the game. That's just something I love to do. If not, I know our kickoff team is going to set the tone. Either kickoff or kickoff return, you want to start out the game and set the tone for your offense or defense no matter what.
I'm very excited to play on Sunday. This starts a new era of football for me on the West Coast, I've always played on the East Coast or Midwest. I'm looking forward to it, there's an excitement in the air around here right now. From the players, to how we feel, to knowing what we can accomplish. I think we're all looking forward to seeing what we can accomplish. We're going to put it all out there on the field. We know the preseason doesn't mean anything, but if you have some success in the preseason it can roll over into the regular season. With the regular season, you always have to take things a step higher, just like the playoffs and the Super Bowl is another level. You always have to pick things up from training camp to the preseason to the regular season, and that's what we're prepared to do this Sunday.