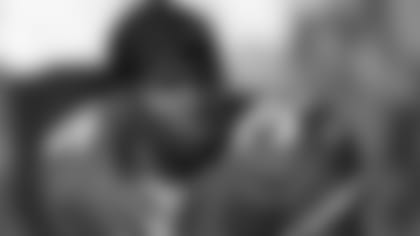 In this week's Teams Talk column, rookie cornerback Phillip Adams shares his thoughts on the special teams aspect of the 49ers upcoming game against the St. Louis Rams.**When I look back at how much our special teams unit has progressed this season, it's amazing. We have come a long ways. We're a very young group, and over the last 16 weeks we've really come together. When the season started we were pretty raw, but we spent time focusing on our technique and it has paid off.
I had never played special teams before this year, and I really learned a lot about myself by doing it. I think I showed that I can adapt to any situation on the football field. I viewed special teams as a challenge because I didn't want to be the weak link. Also, I knew this was going to be my role and I wanted to do whatever I could to help this team.
Special teams is a lot of one-on-one battles, and I have I have embraced those battles. As a cornerback, I like the intensity of those one-on-ones; it's just man vs. man competition, and I like that.
I think my favorite one of those battles this year was with Tampa Bay wide receiver Maurice Stovall. Man, he was big and I was matched up against him all game. We were going at it – he won a couple of times and I won a couple of times. But that was a fun game for me.
I mentioned how young our special teams unit is, but we have some veteran specialists who have really helped us out all season. Guys like Andy Lee, Joe Nedney, Brian Jennings and Jeff Reed have a ton of knowledge, and they have been great for us. They're almost like extra coaches because they have been good for a long time and they know what it takes to have a successful special teams unit. It's always good for young guys like myself to learn from veterans who have been on top of their game for so long.
Our biggest goal as a unit for the rest of the season is to get Ted Ginn Jr. into the end zone. That's the main thing we want to do. We know he's a great returner, and that makes you want it that much more. We know it comes down to us holding our blocks, and if we can do that we can spring him for a touchdown. That would be huge.
We're traveling to St. Louis this week to face the Rams in the Edward Jones Dome, and I'm looking forward to it. Everything's faster on that artificial turf and we haven't played on it in a while. You don't approach it any differently, but that extra speed makes it more fun.
What I took away from the Rams' special teams from our last game is they are a unit that goes pretty hard. Also, they're smart and they stick to their assignments. But we know if we take care of things on our end then we can definitely win the battle of the special teams.
Their returner, Danny Amendola, he's a smart football player and a very good special teams player. He handles kickoff and punt returns for them, and he's not the type of guy who dances around. He just hits the hole and gets to where he needs to be. He's great at what he does and we're looking forward to the challenge this weekend.
As I said before, I think that our performance lies within us, it's not about what our opponent does. Every game is about effort, it's about relentlessness, it's about the physical nature that we have to have. So we just have to bring that on Sunday and we'll be alright.