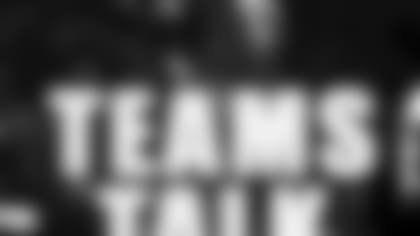 A sometimes overlooked aspect of the game is special teams, but not this season, and not on 49ers.com. Each week, we'll feature Teams Talk, a column dedicated to special teams and those who play on them. For this first column, we got long snapper Brian Jennings and Keith Lewis to share a few thoughts about the Monday Night home opener.**
Keith Lewis, Core Teams Player

The first game is sometimes a little tougher to prepare for because in the preseason a lot of different guys are getting looks. They may or may not end up making the team, and then there are sometimes number changes too, so it's sometimes a guess in terms of who is going to be out there.
We've ran into a couple of those this week trying to guess who is going to play where, who is going to return for them, and things like that.
I think J.J. Arrington will be their kickoff returner. He's a good running back, was drafted pretty high and he runs with good pad level. I think he's probably harder to get down than the other guys they've got, so I would expect to see him out there.
At punt returner, we really don't know since they just claimed a kid from the Cowboys.
Ultimately, it doesn't matter to me. My job is to just get down there and bring the ball carrier down regardless of who has the ball.
We really want to help give the offense and the defense an advantage in terms of field position, so in terms of coverage especially, we've really got to have great ball awareness and try to get that ball downed inside their 20 and keep their backs against the wall as often as possible.
We do know who two of their big playmakers are, and that's Aaron Francisco and Sean Morey. I really believe if we neutralize those two guys, we'll do very well on teams. They've both been voted alternates to the Pro Bowl so they are solid players on teams.
I don't know if everyone understands this, but we do meet on special teams just like we do on offense and defense. It's a very important aspect of the game because you can win or lose a game on special teams so you have to be solid in all three categories.
Whenever you open a big game, such as the Monday night game, you've got to be ready for anything and we definitely expect some gadget plays on special teams. Whether it is some kind of reverse, onside kick, etc, I'm sure they'll try some form of trickery. We'll be ready.
Long Snapper Brian Jennings

In going to school at Arizona State University and then living in Arizona a few months every off-season, I'm very aware of the history of the Cardinals. They've really been a team that has struggled since moving to Arizona, but they've got a new stadium and had a coaching change this off-season and are trying to make a turn just like we are. If we want to win our division and become a playoff team like we say we do, then we've really got to beat a team like this. They haven't been to the playoffs and they haven't proven that they can dominate so in my mind, they are a team we should beat. I'm sure they are saying the same thing about us too though because if you look at our record the past few years, we've been a team that has struggled. The way I look at this game is that it is a chance for one of us to take a step forward and one of us to take a step back.
On to their special teams…
They brought in a new special teams coach from the Steelers and they've always been good up there. The players are the car, and the coaches are really the driver, so we've looked to see what their driver has done in the past. It's really a matter of how quickly he can get his guys to buy in.
Their kicker Neil Rackers has a strong leg, and he'll run down and try to cover. He does do a good job of getting a bunch of touch backs, so he helps them in terms of kickoffs. He had a great season two years ago and made the Pro Bowl and we'll see what he does this year.
They released Scott Player and brought in a new guy at punter who isn't all that experienced. I'm eager to see how he does on Monday night since he's also holding for Rackers.
One of the things for a long snapper on gamedays that people might not realize is that it's a lot tougher than practice because the footballs are polished up, brand new, hard, and slippery. So, the snapper, punter, and kicker have a much different challenge on game day.
No matter how much you practice, it's different so we'll see how they keep it together and if he has any problems with his holds. They've had one week to prepare which is tough and hopefully it's an area we can take advantage of.
Their long snapper Nate Hodel does a good job. He's always been a guy who has snapped the ball well. Physically he's a durable guy. He's not a guy who we can really take advantage of or who has gaps in his game. There are long snappers out there who do have deficiencies, but he's not one of them.
As for my job, it's three fold. There's the snap, protection and coverage. Most of it is obviously getting Andy Lee an accurate snap so he has a chance to catch the ball and either put it down for a FG or kick the ball.
Coach Al Everest has also asked me to help with protection so that's something I've really focused on and something I want to get good at. I've dedicated a lot of time and energy in improving myself in that area this preseason because I want to be part of solution and help us win. One of the ways I can help us win is if I get down there and drag down that ball carrier. I'm not going to do anything spectacular out there but if that ball carrier comes my way, I'm going to grab on and hold on for dear life.
One thing I really appreciate is that Coach Al is a leader and he's got the ability to invoke greatness. He's got a vision how we can be great – how each special teams unit can help us win and every practice and every meeting that we have he's trying to invoke greatness. He really has an aggressive, attacking mentality where he doesn't want us going out there just trying to break even, do okay or not screw things up. He wants us to go win the game and that reflects on everything we are doing.
We look for that mentality to show up on Monday night!