Several teammates of 49ers fullback Moran Norris provided a helping hand to their close friend's third annual football camp and fundraiser for his foundation.
The Moran Norris Foundation camp and fundraiser dinner took place last weekend and included a two-day football camp at Delmar Stadium in Houston, Norris' hometown. The weekend concluded with a fundraising dinner geared towards raising money to help Houston's youth progress to higher standards in education and character.
Norris along with his wife and foundation president Tamara, welcomed around 125 kids to the football camp, and also paid the way for many of the youth to attend through the foundation's earnings from previous events.
The camp titled, "The Follow Me Camp" included several 49ers teammates of Norris like running back Frank Gore, tight end Vernon Davis, outside linebackers Parys Haralson and Manny Lawson, free safety Dashon Goldson and linebacker Takeo Spikes. Some of Norris' former teammates from the Detroit Lions like running back Kevin Smith attended among other NFL players who helped out as camp counselors.
Tamara came up with the camp's moniker since running backs naturally follow Moran. It's only right that his community would do the same being that he's a role model to his community.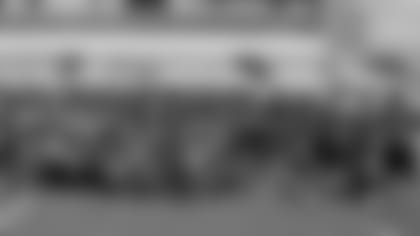 Norris' colleagues followed one of their favorite teammates by helping his cause which gives back to his Houston community.
"It says a whole lot," Norris said of the support from his teammates past and present at the camp. "I had 10 San Francisco 49ers players here along with players from the Detroit Lions and other teams. It means a whole lot when these guys take their own time to come out to my function. On top of all that, it is for a good cause. These are great guys and I thank them a whole lot."
One teammate of Norris' who spends a great deal of his time literally following the bruising lead-blocking fullback is Frank Gore. So it should come to no surprise that Norris' close friend came to support his fullback's foundation weekend.
"Anything for the kids," Gore said. "I am happy to be out here and show the kids some things. I just want to support the kids and let them know they can do what I have done."
Norris' backfield mate of last season, Kevin Smith also was compelled to support Norris' cause.
49ers tight end Vernon Davis intstructs campers at Moran Norris' third annual football camp
Photos courtesy of Jamie Collier of  Casa de Camera  
"I met him last year in Detroit when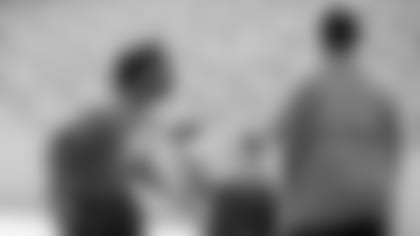 he was my fullback. He was my fullback until I had to give him back to Frank," Smith said of Norris. "He is a real good dude and it is really nice out here. I really enjoyed it."
For Norris, having the support of his last two starting running back teammates at his football camp was special.
"I keep a good relationship with all of my running backs. Luckily, every time I have blocked for a running back, they have been younger than me so they are like my little brothers and I took them under my wing," Norris said. "It speaks a whole lot when they think so highly of me. You are talking about two of the best running backs in the NFL right now."
Likewise, the campers had kind things to say about Norris and his camp.
"Moran spent time with me and showed me how to properly catch the ball and make sure your hands are in the right place," said 13-year-old camp participant John Jacobs said. "I came to learn how to run and how to jump and to be a better football player. The best part was coming here and hanging out with the pros and learning from them."
The NFL players in attendance like Parys Haralson also had a memorable experience at the camp, particularly being able to inspire youth football players.
"I came here because this is a good thing," Haralson said. "Going into the community and helping out the kids, teaching them more about football and really more about life is a positive. They get excited whenever they see professional guys out here. Everyone that started football has gone to camps like this and it is for a great cause. I am always willing to help out a teammate when they are doing something for a good cause."