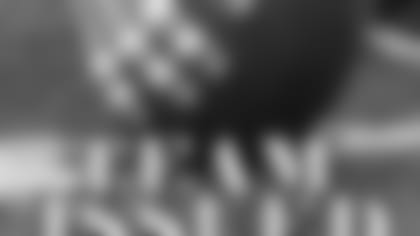 Every Monday throughout the season, 49ers.com will ask a different player to break down Sunday's game in this Team Issued column. This week, we invited offensive lineman Tony Wragge to review Sunday's win over the Rams from his perspective. **
After watching the game film, I thought we played really physical football, on both sides of the ball. From an offensive lineman's perspective, I thought we played as one up front and did a good job of handling any adjustments that might've come up during the game.
Playing physical allowed us to start fast and score 35 points in the first half, including 28 points in the second quarter – which was huge for us. That momentum from those drives carried throughout the first half and we came out in the second half looking to really pound the rock, chew up the clock and make some things happen.
As good as we played early on, I did see a couple times where we left some big plays out on the field. It seems like that happens every week, but we're trying to correct that. It's amazing sometimes to see what could have been there. The opportunities to have success on the ground were there, and that's a great thing for us as the season goes on.
On our first touchdown, Frank Gore scored from five yards out on a running play that was designed to go behind me. We ran the play right off my gap, as Eric Heitmann and I were working on a two-man blocking scheme. We had a really good double team right off the bat, and we pushed the defensive lineman back into the linebacker and Frank cut right off Eric inside on the A-gap. It was a really good run.
On Frank's second touchdown in the second quarter, the Rams were really stacked tight in the box. They did a good job of clogging up the middle and forcing the run to the outside, but fortunately, Frank had a great second effort. He stiff-armed St. Louis cornerback Fakhir Brown and used his speed to get to the corner of the end zone.
In the game, it was huge for us that all three units made big plays in the game. Our defense, playing the way that they did, creating multiple turnovers and pressuring Rams quarterback Marc Bulger, was outstanding. I think our defense did a great job.
Besides getting the ball to our running backs in the ground game, we were able to complete several long passes to the backs. The play in which Shaun Hill scrambled and found DeShaun Foster for a 31-yard reception in the second quarter was an example of turning a negative into a positive and that's how big play opportunities come about.
Sometimes, everybody gets so focused on sacking the quarterback, they forget to cover a guy, who is 30 yards down the field. And on that particular play, Shaun did a great job of keeping his eyes down the field and not at the Rams pass rush, and DeShaun did a nice job of coming back to the ball to help create a throwing lane for Shaun to complete the pass. That play was very important because it helped us get in the red zone and we were able to finish that drive with a touchdown run by Shaun that put us up 28-3 at the time.
Hill found Michael Robinson on the next drive on a play where he saw it was a one-on-one matchup against Will Witherspoon and that was one of those deals, where Shaun thought he could get the ball past Witherspoon to Robinson. It turned out to be a big play. It was tough for me to see the play while the game was going on, because I have a 300-pound man in front of me, who I'm trying to block. And we always say as an offensive line, "We're going to block until the sun goes down." But after I watched the film, it was definitely a big play for us in the game.
On that drive, Hill scored a 1-yard rushing touchdown, when he saw that the middle of the field was open and that he could dive into the end zone. But the best part of it was how Shaun let Eric Heitmann spike the ball in celebration. It's good that our quarterback does things like that, because it shows that scoring touchdowns is a team effort.
Being in the lead from the beginning of the game was nice because it allowed us to use all of our running backs. It was fun to have all the guys rotating and getting some carries. Even better, was having Frank rush for 106 yards and score two touchdowns – that's outstanding.
It was also great to see our defense have success. While three and outs are great, there is something about creating turnovers that creates an electricity in the air. When I was on the sideline watching our defense recover a Bulger fumble, or when I saw Walt Harris and Nate Clements make interceptions – it really got me going and sparked me up.
Like I mentioned earlier, because of my blocking responsibilities, I'm not always able to see how most plays end up, but after watching film, I was really impressed with the accuracy on most of Shaun's throws. His two touchdown passes to Vernon Davis and to Bryant Johnson were amazing. One thing about Shaun is, he definitely throws a nice, catchable ball. I think Shaun has got good composure and he's not afraid to make big plays and make things happen. He's a smart player as well.
Even though the score was 35-3 at the half, I don't think our team approached the second half any differently than the first. We approached it as playing assignment football, because when you get that kind of lead, there's no denying we were going to grind the clock out.
Although we didn't have the same success as we did earlier in the game, we got the job done and picked up the first career win for our coach Mike Singletary.
I think our performance in the second half will only help motivate us for the next game this Sunday when we travel to Dallas. Going back to the Monday night game in Arizona, there were so many positive things that came out of that game, which we wanted to build on against the Rams. And I think we were able to do that for the most part. Now, it's one of those deals where we want it to carry over to the Dallas game. I look forward to playing the Cowboys. It should be a really good game.