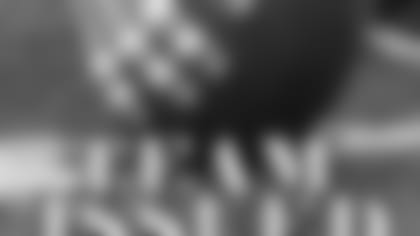 Every Monday throughout the season, 49ers.com will ask a different player to break down Sunday's game in this Team Issued column. This week, we asked left tackle Joe Staley to review Sunday's game against the New York Jets from his perspective.**
After watching the game film the biggest thing that stood out to me was our execution on third downs. We converted on 8-of-15 third down situations and that kind of execution stood out to all of us in the film room.
I think you can attribute that to a lot of things. One, our quarterback Shaun Hill was making good reads. Two, our protection held up really well against the Jets, especially on those crucial third down situations. And three, our playmakers did a great job of making plays when the ball was in their hands. Ten different receivers caught passes from Shaun and they were all big plays in the game.
Another part of the film that I noticed was the onside kick we attempted at the start of the game. I didn't even know that we were going to try an onside kick. I saw it happen just like everybody else. We didn't recover the ball, but nobody was really worried. We had confidence that our defense was going to go out there and do a good job against their offense. And they did a great job of holding the Jets to a three and out on their first possession.
When we got the ball back, we were able to drive the ball against their defense. Unfortunately the drive ended after Michael Robinson lost control and fumbled the ball, but we never panicked. Even after our defense stopped them, forced a punt and we muffed the return – we never panicked. I don't even think we paid attention to it. I think we did a good job of continuing on as usual and we were fortunate to get some of those fumbles back. But nobody was in panic mode. We just kept executing, because they weren't stopping us on offense. We had confidence especially after that first drive and how we were able to move it right away, and we felt like they weren't going to be able to stop us defensively.
Once we got to our second drive, it felt like we started to get on a roll offensively. Shaun hit six different receivers on that drive and somehow I managed to be the one who scored a touchdown.
I'm sure everyone has seen the play, but Jason Hill caught a pass over the middle and then fumbled as he started to turn towards the end zone. I happened to be the first one to get to it. I jumped right on it and people were trying to get the ball from underneath me but I was yelling that I had it.
When the ref signaled that it was a touchdown, I was excited about scoring and I knew I had to spike the ball. From what I saw on tape, it looked amazing. I made sure to watch our highlights after the game to see it again as well.
The Jets answered our touchdown with one of their own, but we did a nice job of responding. We put together a long drive and essentially ran most of the clock down to end the first half. It was nice to finish that drive with a touchdown. And again, it came on a third down play where Shaun was able to hit Frank Gore in the right flat for an easy touchdown.
On that play, Shaun did a great job of recognizing the Jets defense and how they were showing an all-out blitz. He could tell that nobody was directly covering Frank, so he got the ball to him quickly and Frank was able to walk in untouched. That was really a good drive for us, because we had the ball forever and kept the ball away from their offense. It put us up 14-7 going into half time and looking back, it was really a key drive for us in the game.
In the second half, Frank sprained his ankle early on, but DeShaun Foster and Michael Robinson did a great job in his place. As an offensive lineman, it doesn't really matter who is carrying the ball for us anyway. We don't block any differently and to be honest, I don't even know who is running the ball most of the time because we go in and out of the huddle so fast. We just know it's our job to open holes for whoever is back there.
In the third quarter the Jets took advantage of an interception and tied the game, but our defense played really well the rest of the way out and we put up ten points to put it away. I think our defense did a good job of getting us the ball throughout the game, but especially there at the end.
We added a field goal to take back the lead, and fortunately dodged a bullet when their following kickoff return for a TD was called back due to holding. But to be honest, even if we had ended up trailing at that point, as an offense, we felt like we could go down and score.
That's exactly what we did on our next drive when Shaun threw a 3-yard touchdown pass to Bryant Johnson.
By looking at the tape, you can see that Shaun took a really deep drop in the pocket. He was going back a ways on that one, but he needed every one of those steps to make that throw. It was a good catch too.
I have to say the crowd was great the whole game, not just at the end. They were really loud the entire time. And was possibly the loudest at the very end of the game, when we sacked Brett Favre on back-to-back plays. Parys Haralson sacked him on third down and Justin Smith followed with a sack on fourth down to end the game. Justin was really excited. He immediately did a little dance. It was pretty funny. I liked it.
I think it was kind of symbolic of how the whole game went, getting a sack on the final play on defense. The defense really put the game away for us, and it was exciting to watch.
Coach Singletary talked to us about finishing games all week, and I think we did an excellent job of doing that against the Jets.