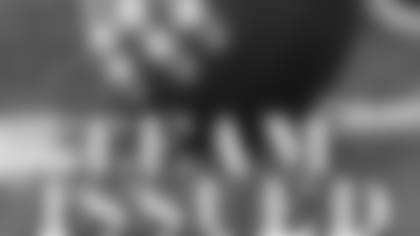 Every Monday throughout the season, 49ers.com will ask a different player to break down Sunday's game in this Team Issued column. This week, we asked defensive lineman Justin Smith, who had six tackles and a sack against the Patriots, to review the game from his perspective. **
We knew coming in to the game what their plan was and that was to keep their defense off the field, run the ball, let Matt Cassel play mistake-free football, which is not too many long throws, except for that one deep ball to Randy Moss to keep us honest.
When the Patriots answered our opening touchdown with the 66-yard touchdown pass to Moss, I was part of a stunt up front and unfortunately they were able to make a big play. Moss is a hell of a receiver, Cassel threw a good ball, and Moss made the catch.
I think they had quite a bit of yards rushing and that's not good. They sustained drives, they moved the ball on us and they made plays when they had to make plays. From that standpoint, I don't think we played well at all.
They were able to run effectively on first downs, which helped them get into manageable second downs, and then their playbook just opened up. I think the biggest thing is we should have done a better job of getting them in second and nine, or third and seven plus. Sunday, we didn't do it.
We're just not stopping our opponents on third downs for whatever reason. We have to go back to the drawing board a little bit and make sure that we understand what other teams are trying to do to us, and put ourselves in the right situation as players up front and across the board to make more plays. Football is a pretty easy game really, on defense you make plays, and we didn't make them.
As the game continued, our lack of stops on third downs allowed them to pick up chunks of yards here and there and they kept the chains moving. That was really big because they controlled the clock, finishing with a time of possession of 39 minutes for the game. The Patriots controlled the clock and scored when they needed to score.
Kevin Faulk's two-yard touchdown run before the end of the first half was a good example of that. They went 80 yards before the end of the half and put themselves up 17-14 going into the half.
One crucial play on that drive was the personal foul I was called for because they would have been kicking a field goal, and instead had a first down at the 6-yardline. There's really nothing to talk about on that play. A play like that has never happened before to me. I had my hand on the side of his neck when I went for the sack and I think they flagged me for that.
Although we sacked Matt Cassel five times in the game, it's all about winning. We didn't win, that's all that matters. It doesn't really matter at all how many sacks we picked up, the final result is what we care about.
In the second half, they were able to control the game with their running game, and we have to do a better job of stopping the run, while also getting after the passer.
When Faulk scored a two-yard touchdown on the direct snap in the third quarter after the Rodney Harris interception, we were prepared for that play because we've seen it before. Anytime you have a running back in the backfield in that situation, you are prepared for that kind of play. We went over it in practice, and so it wasn't anything new. They just made a play. Cassel sold the fake, but my job is to play the blockers, and his blockers led me to the play and Faulk was running the ball.
Even though we didn't play the way we wanted to play, we were actually still in the game trailing 27-21 in the fourth quarter. That's when our inability to get off the field on third down became even more frustrating. On third down with 20 yards to go for a first down, Cassel found Jabar Gaffney for 13-yards which set up a 49-yard field goal. Plays like that worked for them as throughout the game they kept running the bubble screen with Wes Welker and Gaffney making plays underneath. On top of that, they were making people miss and they were picking up extra yardage.
For most of the game, they were giving us the same look and they can run a couple of different plays and formations out of it. One thing I think they do well is they give you the same look on the plunge dive as they do on the bubble screens, and so it's one of those plays where you have got to rally. Unfortunately, we just didn't get the job done.
We have to have a short memory. It's disheartening. I think we lost a game that we should have won. And I think everybody feels like that, but the Patriots won it.
We have to get back, learn from it. It's not the end of the world, we're 2-3, and we'll try and come out and get a win next week.