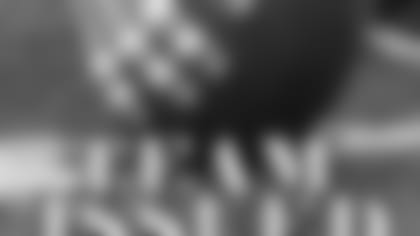 Every Monday throughout the season, 49ers.com will ask a different player to break down Sunday's game in this Team Issued column. In this column, we asked linebacker Joe Staley, who had nine tackles against the Saints, to review the game from his perspective.**
Heading into the game most of our focus was on Reggie Bush. Deuce McAllister hadn't played all year and we weren't sure he was going to play. Still, there are no excuses we can make after the loss. When players come in to the game, you have to learn to adapt and play football. I think for the most part he wasn't the biggest factor in us losing the game though. We tackled him when we needed to, but they just made plays when they had to.
I think that was the biggest part of the game, they made the plays when they needed to and we didn't.
Early in the game we were able to get pressure on Drew Brees. On a blitz we had called, I came up the middle and I noticed he was trying to step up in the pocket. There was a lot of room in there, so it wasn't like I could go and tackle him. I had to make sure I could make a secure tackle. The way Brees plays quarterback, if you go in there on a blitz and go low, he'll step around because he can move really well. You have to get your hands up because he gets rid of it fast if he sees you blitzing. On that play, I wanted to knock the ball down, but he was able to get rid of it. It was just a good play by the quarterback, who was able to let the ball go right before I hit him.
In the first half, we allowed some big plays which put us behind, but that's part of football. You're going to go through some ups and downs in these games. Sometimes you're going to be down by one point, sometimes you're going to be down by a lot. One thing we pride ourselves on as a defense is playing hard until there's no time left on the scoreboard.
At halftime, we didn't make it so much about adjustments, but more that we had to make more plays and not give up so many big plays against us. We tried to do that when we came back out and unfortunately things still didn't go our way.
One of those plays where that was evident was on the flea-flicker. I thought it was a run at first because I saw their offensive linemen had high hats. I kind of got caught down there in the run and I decided to keep coming at the quarterback and unfortunately I couldn't get there. I made an effort to put my hands up and hopefully make Brees throw the ball crazy. But like I said earlier, they just made plays when they absolutely had to, and that's the National Football League for you.
Later in the game, I thought we had a nice goal line stand. Once again, it's all about finishing. We could have given up on that series. Nate Clements could have given up chasing Devery Henderson when he saw him way in front of him, but he didn't. That's the nature of our defense, we go all-out. On the fourth down play in the red zone when the fullback caught the pass, Michael Lewis could have just grabbed the guy, but he hit him with everything he had and the ball came out and I hustled over there to get it.
I do think we finished as a defense, even when we were already behind. That's something we do take pride in.
After the game I was asked about having a good game personally, but I was more frustrated about what happened to us on defense than whether or not I may have played well. Anytime something isn't going right with our defense, I'm held accountable as our defensive captain. Whether it's the back end or the front end, it's my responsibility to get us straight. That's my job, and so I was frustrated but definitely not to the point where I felt like our defense isn't any good or not the type of defense I thought we could be this year. I truly believe that we've yet to play our best football. We've got to continue to work every week and we'll be fine.