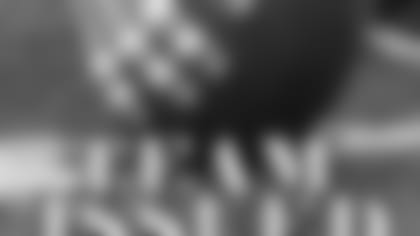 Wide receiver Josh Morgan reviewed Sunday's game against the St. Louis Rams in this week's Team Issued column.**
After watching the film of Sunday's game, I think our poise was the biggest thing that jumped out to all of us in the film room. We came back from a 16-3 deficit and found ourselves in the same situation that we were in the week before against the Miami Dolphins, with a chance to win at the very end. In that game, we didn't make the plays that we needed to in order for us to win. But this week, we made those plays.
Our defense really saved us. We had a couple of turnovers and we kept putting our defense back on the field.
They kept playing hard and forced the Rams to have a couple of three-and-outs, and continued to play a great game despite our mistakes. On film you could see that they played fast and played real smart. They made a lot of great tackles on Steven Jackson, who is a tough running back to bring down. They basically bailed us out and gave us a chance in the end to win the game by holding them to a field goal when they were in the red zone, and then intercepting Marc Bulger to seal the win. I say hats off to the defense, because they played a great game.
Another thing that stood out when we watched film were some of the runs by Shaun Hill. Shaun is what you would call deceptively fast. He doesn't look like he's moving anywhere, but he's actually really going.
I think it was definitely frustrating how we weren't able to put drives together in the first half. We had trouble picking up first downs and getting drives started, and even when we did move the ball, it seemed like we'd end up turning it over.
But we kept fighting and Coach Singletary told us after the game that we took a step as a team. Things weren't going perfectly for us. But it was really big for us to stick together and come back. We knew the entire time that if we played our game and took care of the football that we were going to be in position to win.
From looking at the film in the third quarter when Shaun threw the interception on a pass intended to Jason Hill, we just saw that the cornerback sat there and read it. He was actually guarding me and I took my route at an angle and the cornerback fell-off and read Jason's route. He jumped it. I don't know if the corner was in a zone or responsible for Jason, but Jason ran the right route and the corner read it and was looking right at Shaun and he made the play.
After that turnover, Coach Singletary got the offense together and let us know we weren't looking good as an offense. He basically told us we were stinking up the joint. He got us together and we rallied around Shaun. It's Shaun's team and Shaun is our quarterback. He's our leader and when he had all of us together he told us what he wanted to do. We made some changes to handle their blitzes and from then on, we ended up being successful on offense.
After that meeting, we went three-and-out on the next drive. But on our following possession, things started to click and we were able to get Isaac Bruce his 1,000th catch in the end zone. Just like Isaac would say – glory to God. It's a blessing for him to reach that mark. And what better way to do it than on a touchdown that got us back into the game. I was the one to point it out to him; I don't even think he knew it was his 1,000th catch. When he came to the sideline I pointed up to the scoreboard to let him know it was his 1,000th reception. And then I told him that I was going to get that one day.
When the Rams got the ball, our defense stepped up and Nate Clements made a great play on third down breaking up a pass intended for Torry Holt. That was really big.
Isaac made another catch to move up the all-time receiving list, and Bryant Johnson converted a big third-down and four on our last drive that put us on their side of the 50-yard line. On the next play we were able to score when I caught a 48-yard pass, which gave us the lead 17-16.
It was supposed to be a comeback route, but if they blitzed, we were supposed to change the route. Heading into the game, our sight adjust was supposed to be a quick slant, but one of the changes Coach Martz made during the game was that we would change it to a nine-route, which is a straight go route. Before the snap, Jason Hill pointed out the blitz and we both ran nine-routes. And Shaun just threw it up and I went to go get it.
I had to make a tough one-handed catch, but I kept it in close to my body and as soon as I got it, I made sure I locked it down. I just had to go get the ball. As soon as I saw it up there, there was no doubt it in my mind that I was coming down with that ball.
I felt good about making that catch – it was a big play. But I still thought there was too much time left on the clock.
I was excited to watch our defense finish the game, and for Tarell Brown to get the game-icing interception at the end, that was the exact kind of big play we needed from them.
At that point, I felt like I could really be excited that my touchdown helped us win the game.
It made for a really sweet flight home!