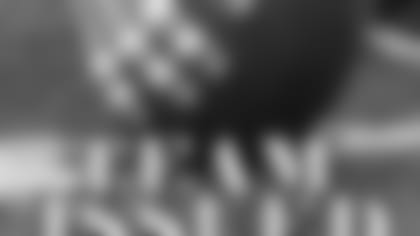 Every Monday throughout the season, 49ers.com will ask a different player to break down Sunday's game in this Team Issued column. This week, we asked outside linebacker Manny Lawson to review Sunday's game against the Dallas Cowboys from his perspective.**
After watching the film, I'd say that on defense the things that stood out as far as what we could have done to better improve our chances of winning the game were really a lot of small things.
One example of that would be taking the wrong step in the backfield when we were trying to sack Tony Romo. We were just inches from either getting a sack, causing a fumble, or having Romo get rid of the ball faster than he wanted to, but that wrong step prevented us from getting there. That was really one of the biggest things we noticed after watching the game film.
I think those wrong steps made all the difference in allowing Romo to find Terrell Owens down the field for a number of big plays. I also think when Dallas got those big passing plays, like the 75-yard touchdown in the second quarter; it was our fault. All of us, meaning the entire defensive unit. It's not ever just one segment of the defense that is responsible for big plays like that. Yeah, they threw a few deep balls, but if we as pass-rushers up in the front seven would have gotten a better rush, Romo wouldn't have had a ball to throw, because we would have had a sack or caused a fumble. It's hard to say what Owens was able to do on some of his big gains, because I was one of the guys responsible for rushing the passer, but I really think he just had a good game overall.
Against their running attack, our defensive front had a really good game. They didn't let Marion Barber get going, and they allowed Joe Staley and Takeo Spikes to have room so they could make plays. That's big, because those two make a lot of plays in the run game. Barber had 59 yards on 19 carries, and most of the credit for stopping Barber, should go to our defensive linemen. I think Aubrayo Franklin, Justin Smith, Isaac Sopoaga, Ronald Fields and Ray McDonald really stepped up.
Trailing in the second half, we were in need of a turnover and I was able to get the ball back to our team on a play that was ruled a fumble recovery. It looked like more of an interception of a backwards pass, but that was the ruling.
It was a play created by our pass rush. I tried to disguise my rush like, by making it seem like I was going to drop into coverage. However, if the running back did come my way, he then became my responsibility. That's what happened as Tashard Choice looked like he was trying to block me. I ended up moving to the side, but then I saw that he was running a wheel route. I saw the quarterback look in his direction and I was ready to make the tackle, but I saw the ball up in the air, rolled around on the ground and right before the ball hit the turf, I was able to catch it.
On the field, they were ruling it an incomplete pass, but I immediately told the ref that we wanted to challenge the call. Regardless of if they would have called it a fumble recovery or an interception, I just knew that the ball never touched the ground. I went over to Coach Singletary and told him we should challenge it. He asked me, "Manny, was it a fumble?" And I said, "No Coach, I caught it." So when he asked if it was a fumble, I said it didn't matter because I had caught the ball. There was never a doubt in my mind that I had caught the ball.
It didn't really matter to me if they ruled it an interception or fumble recovery, just as long as we got the ball back to our offense.
With us being down by a couple of scores, we really had to get to Romo and try to create another turnover. But, it's really tough trying to sack Romo. You're really hoping that he doesn't see you coming, so he can't side-step you.
For me to get a sack on him late in the game, it was mainly because we had great coverage down the field. Our linebackers and defensive backs had great coverage, and I couldn't ask for anything more. They bought me time and all I did was rush around the edge, trying to grab on to Romo and hold on for dear life.
I think my length helped me out very much so on that play. A lot of people joke around and say that I have "Go-go gadget arms," but these arms and these legs, which I've been blessed with, have allowed me to make a lot of plays. That was one of those situations.
It's kind of hard to say I played good, because we lost. To me, that's an oxymoron. I feel good and I'm glad the coaches are having more confidence in me.
I'm proud that our defense kept playing hard for the entire game. I think it goes to show the type of character we have on defense. We aren't a team who needs to use subs because guys aren't playing their hardest. When we're out there, we're going to play hard until the whistle blows, or when the horn sounds and it's game over. Regardless of the score of the game, we're going to play hard until the end. I think that's what we did against the Cowboys. We just wish it would have been a different outcome on the scoreboard.