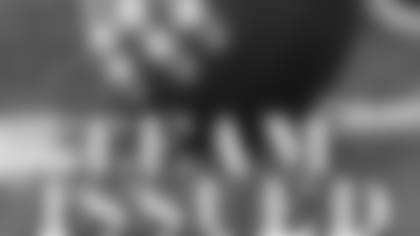 Every Monday throughout the season, 49ers.com will ask a different player to break down Sunday's game in this Team Issued column. This week, we asked quarterback Shaun Hill, who saw his first regular season action of the 2008 season last week against Seattle, to review the game from his perspective.**
After watching the film, obviously there were some missed plays out there on the field and we're not making enough of them to win games. There are a few errors, here or there that has been preventing us from doing that. We just have to eliminate those errors, be more consistent and be able to make the plays that are there to be made. I think if we do that, we'll be fine. It seems like in every game, there are a few plays, you don't know when they're going to come up, but when you look at the film you're like, 'Man, that was a game-changing play!' Those are the ones we need to eliminate.
While we had a couple of fumbles early in the game, our defense did an excellent job of holding them to field goals.
Right before the half they intercepted a ball and returned it for a touchdown, and Coach Singletary gave me a chance to play. When I was called in the game, I was excited for the opportunity. I've always tried to stay in the game plan and what we're trying to accomplish on offense, so that whenever the opportunity would present itself, I would be ready. For the most part, it's all been mental reps for me, but if that's all you are getting, you have to make the most out of them. It's something I've always done, and something I'm sure every backup quarterback in the NFL does that.
In the second half, we put together a six minute drive to start the third quarter, but weren't able to convert on a third down pass I tried to throw to Isaac Bruce. Something spooked me on that play, and I kind of sailed the throw to Isaac. I definitely did not want to make a mistake like that, because it took points off the ball.
Anytime you get down there, you'd like to come away with touchdowns and we just weren't able to do it enough in the game. Turnovers and penalties really hurt us throughout the game. We just have to really apply ourselves in these next two weeks and make sure we can turn this thing around in the second half of the season.
Fortunately at the end of third quarter, we were able to put together another long drive that went into the fourth quarter and scored a touchdown when I found Jason Hill open in the middle of the end zone. We had a few penalties on that drive, but fortunately we were able to overcome them. At one point we were in a 2nd and long situation, but Isaac Bruce got open and made a 16-yard catch. That play was big because it helped us get into a third and two, instead of a third and long. Whenever you get challenged with adversity, I think it's important for us to overcome it more consistently. It's tough to score when you shoot yourself in the foot, but fortunately on that drive, we were able to overcome and come away with seven points.
At the very end, I fumbled the ball late in the game, but David Baas was able to recover it. On that play, the referee actually took out my primary receiver Jason Hill, who was covered up. I had him for a nice completion which would have been enough for a first down, but the ref stepped up in his route and took him out. I ended up bringing the ball back in and it got knocked out of my hands. When I'm in the pocket, I just need to make sure I'm more firm with the ball so that doesn't happen again.
Overall, I wouldn't say I was happy with how I played. Any time you lose, I don't think you can be satisfied with how you played.
The game was frustrating because we turned the ball over early in the game and it's frustrating anytime the game doesn't go the way you'd like for it to go. I know that we have two weeks of very hard work ahead of us. I also know this team and I know the type of character we have and I know the guys are looking forward to, and are willing to do whatever it takes to have a better second half of the season.
I have been asked a few times about what I think of Coach Singletary. I know guys on the team really like Coach Singletary's passion and how honest he is with us. The thing I really admire about him is, he's going to hold people accountable. It doesn't matter who they are. I think as a player, the way you have to look at it is, if you do your job every day, you're not going to be one of the guys he was talking about in his post game speech.