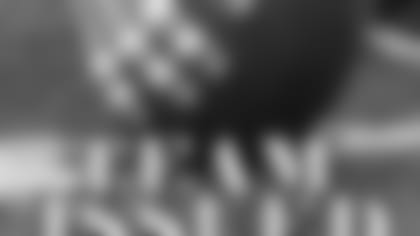 Quarterback Shaun Hill reviewed Sunday's game against Washington Redskins in the final Team Issued column of the season. **
Normally when we come in on Monday we watch film and go over the things that worked and didn't work for us, but this Monday, we had a meeting with Coach Singletary and everyone began to pack up their lockers because it was exit day. Although we weren't able to break down the film, the game is still pretty fresh in our minds.
On our first drive we were able go right down the field and score, primarily since we were having success running the ball. When you do that, it opens things up and we were able to get a couple of short completions, basically taking what they were giving us and executing the plays that were called.
We had a shovel pass called on our second down play from the 3-yard line, but they did a good job of taking that away. When I couldn't get the shovel pass off to DeShaun Foster, there was an opening to run it, so I kept it and got in the end zone for the touchdown.
As soon as I scored, David Baas was the first offensive lineman coming over to me with open arms. He was ready for it, unlike Eric Heitmann who I had to holler at to get his attention earlier in the season against the Rams.
Later in the first half, we were able to get Frank Gore past the 1,000 yard mark for the third consecutive season and he's the first running back in franchise history to do that. We heard it announced over the PA and everybody in the huddle was excited about it, but we were in the middle of a drive and had to continue taking care of business.
We seemed to lose our rhythm and we fell behind going into the half, but our defense came up huge in the third quarter forcing Clinton Portis to fumble. The turnover set us up on their side of the field, and fortunately we were able to capitalize. We used five straight run plays and the guys up front did a great job for the backs, who ran hard on that drive. Foster did a great job of plowing through the line when we got inside their 5-yard line for a touchdown, and he rewarded Chilo Rachal for his block by allowing him to spike the ball.
I have to say that Chilo's spike beats all of the offensive linemen's spikes this year. It had such great elevation and a great rebound off the ground.
After that score, our defense did a nice job of getting the ball back to us again by forcing a punt and we were able to move the ball for a go-ahead score. One play that comes to mind on that drive was Michael Robinson's catch over their outside linebacker. That was a huge play. I saw that Rocky McIntosh had his back to me, so I figured if I put the ball up in the air for Mike, he would have a chance and he made a great play to come down with the ball.
In the fourth quarter, a lot of guys came up with great catches and that was probably the difference in the game.
Robinson also came up big with a 2-yard run on a 3rd and 1 play at the 11 that set up our next touchdown. On the next play, I found Jason Hill on a quick flat route and no question – that was a great effort on his part for him to get into the end zone. It was certainly not an easy play to make, but he made it for us and we got up 21-17 on them.
When the Redskins came back and tied the game late in the fourth quarter 24-24, we felt as long as there was time on the clock, we had a chance to win the game.
Coach Martz gave me a couple of the calls he was thinking about sending in before the drive started, and everyone remained confident that we could get the job done. We had a couple of timeouts which helped out a whole lot as well, and I just felt that on our bench there was really an awful lot of calmness. We felt like we knew what we had to do, we had plenty of time to do it and two timeouts helps. That was huge.
On that final drive, all the guys were making plays and we got into field goal range after a 21-yard completion to Bryant Johnson. That was a big play – what a great catch by BJ. He managed to hold onto the ball despite getting drilled, and that play set us up in range for a game-winning field goal for Joe Nedney.
In my opinion, there's a lot of ways to win a game. The most important thing is to win. We had our moments in the last two games where we struggled but when it came down to get it done, we were able to get it done.
That says a lot about the character of the guys on the offense and really the whole team in general. In both of those games the defense kept us in the game. There's no quit in this group and as long as there is time on the clock, we're going to play every down and see what happens. It also says a lot, to have those struggles and not get down as a group. When you are able to make those plays late in the game, it speaks a lot of the character of the guys in the locker room.
After the game, everybody was excited to hear that Coach Singletary will remain as our head coach. We really feel like we're on right track and we're all excited about our future here. We're really looking forward to turning the corner and getting this franchise where it used to be.