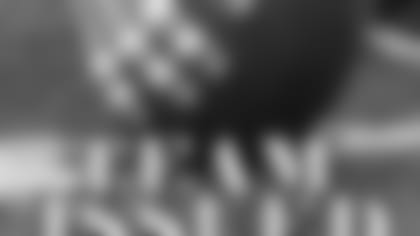 Every Monday throughout the season, 49ers.com will ask a different player to break down Sunday's game in this Team Issued column. This week, we asked defensive tackle Aubrayo Franklin to review Sunday's game against the Buffalo Bills from his perspective.**
Just like in any game, if our offense scores and the other team's doesn't, than we usually win the game. So it was big that our offense scored on their first possession, which allowed our defense to play with the lead.
With the lead, our defense did a nice job of making things uncomfortable for Bills quarterback Trent Edwards in the pocket. Guys like Kentwan Balmer and Rod Green were able to disrupt his rhythm, with pass deflections and quarterback pressures. I think our coaches and players really do a good job on that sub defense.
But overall, we had a great game capitalizing on the protection of Buffalo's line. When guys got back there, they made Edwards, and in the second half JP Losman, throw it faster than they wanted. Pressure is not all about sacks, but also about making them throw incomplete passes and doing anything to move the opposing quarterback off his mark.
On defense, we capitalized in the red zone and that was one of the points our defensive coordinator Greg Manusky reinforces every week. He always preaches to us that if a team goes down the field, we need to force them to kick field goals. They only scored three points on four red zone possessions, and that was really big for us.
After we stopped them from getting a touchdown on their first trip to the red zone in the middle of the second quarter, I wasn't totally shocked when Buffalo missed their 20-yard field goal. Our defensive field goal unit is very good. They've blocked two kicks already this year, so those guys are always able to put pressure on the other team. I don't care if it's a chip-shot or a long field goal, our defensive field goal team will get after you.
The biggest reason we were able to disrupt them inside of the red zone on their other trips was because of good play-calling from Coach Manusky. To go along with the play-calling, we had a lot of attitude and showed a lot of heart in those circumstances. I think everybody did a good job of playing together. When it came down to it, we didn't want those guys to get in the end zone.
We didn't have to blitz too much, as Manusky was really calling the right plays at the right time. We were able to execute his play calls and get off the field.
Coach Manusky also helped us in our matchup against the biggest offensive line in the National Football League. He had a really good game plan, where he had us moving up front. We weren't just standing there with a bulls-eye on our chests, trying to take on those big offensive linemen. Instead, his play-calling created mismatches inside for us.
I think that it also comes down to guys having a lot of heart. Head coach Mike Singletary said it was going to be a black and blue type of game and that we needed to control the trenches.
For the most part, I think we were able to do that. Marshawn Lynch was able to get over a 100 yards rushing, but we were able to hold him out of the end zone.
I have to say that Lynch is a really good running back. He's one of those types of guys, where he'll run into the line and at the very last second, he'll make a cut, like an amazing cut, where he'll cut-back like three or four different holes. And he has the speed to take it the distance any time he carries the ball. He's probably one of the best backs in this league, and we left the game with a ton of respect for him.
Every week, we want to keep the other team's running back under 100 yards so that was a goal we didn't reach, but we were happy to get the win. And we also have things to look at on film, which will help us get better.
Since we were able to keep them out of the end zone for most of the game, the Bills felt like they had to go for a fourth and two from our 7-yard line in the final quarter. On that play, I felt like they were going to run the ball considering the type of physical back they had in Lynch. Instead, they passed the ball and Ray McDonald had a good jump off the line of scrimmage and got to Losman, forcing him to throw an incomplete pass.
The funny thing was that before the play I talked to Ray, asking him, "If you get a tip that it's going to be run – let me know." He didn't say anything, so I figured out at the last second it was going to be a pass.
We had a great call on that play, and Ray really got off the ball, kept rushing, and gave extra-effort to break up the play. Anytime you can get a fourth down stop, it's a turnover. We were all excited to make that stop late in the game.
When Buffalo got the ball back and we stopped them on third down, I was a little shocked that they tried the field goal with five minutes left, after having gone for it in the red zone on that previous drive. But when I saw them miss another field goal, I was really happy.
Buffalo had one last final drive to tie the game with two minutes left, but fortunately, we really had great effort from all the guys. Justin Smith was able to sack Losman and Donald Strickland had two nice tackles. Those guys really went the extra-mile to close out the game. And that really shows that they have heart and they were giving it their all. Justin and Strick – they always play hard.
It was nice to go cross country and be the first West Coast team to win on the East Coast, although I didn't know it at the time. I have to say, the plane ride was definitely more relaxing and we were all happy the entire way home.