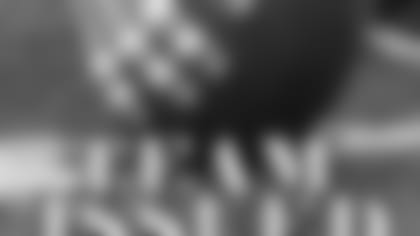 Every Monday throughout the season, 49ers.com will ask a different player to break down Sunday's game in this Team Issued column. This week, we asked wide receiver Arnaz Battle, who caught three passes for 39 yards against the Eagles, to review the game from his perspective. **
On offense I feel like we came out and were able to move the ball, get some explosive runs in the run game and put some points up on the board. But what we needed to do is do a better job of making it a four quarter game and competing all four quarters. It's a matter of just learning how to finish and win those types of games when it goes down to the wire.
This is the NFL, it's very competitive and there are a lot of talented players. We have to go out there and make the most of our opportunities and find ways to continue to put points on the board for all four quarters.
I thought one of the biggest plays of the game was Ray McDonald's blocked field goal that Donald Strickland returned for a touchdown. That was a huge momentum boost for our team, especially because it was the last play of the first half.
At the time, I felt like that type of play is the one that could possibly turn our season around. It gave us momentum and that swing to get things turned in the right direction in the second half.
I felt like we had an opportunity to win the game when we came out of the second half and scored on the first drive. We felt like we were controlling things.
The longest catch I had in the game was on a 26-yard pass on the third play of that second half opening drive. It was kind of a hot route based on their coverage. I found an opening in the defense and JT O'Sullivan and I were on the same page. He was able to put the ball on me and I was able to get up field and get some yards after the catch.
On that drive we were just in sync. We made a couple of key plays. Isaac Bruce started off with a four route and made a great catch across the middle of the field to pick up 21 yards. We just made plays the whole drive and that's something we've got to continue learning how to do. Frank Gore finished it off with a 6-yard touchdown which put us up 23-17.
I have to say it was nice to get Frank Gore 101 rushing yards. The wide receivers were able to make some blocks downfield for him and that's something we take pride in. It's our job as wide receivers to help Frank get into the secondary and spring him for some long runs. We take a lot of pride in that and we work hard on it during the week. I think when you have a running back like Frank, you have to give yourself that extra push to know that he's breaking tackles behind you and about to spring out in the open field.
After Frank's touchdown, we got another field goal on our very next drive but then the momentum shifted.
In the fourth quarter we ended up trailing by a touchdown, 33-26 and needed to drive down the field in a hurry with little over a minute left in the game. We completed a nice play to Josh Morgan out at midfield, but then Juqua Parker intercepted JT's pass and returned it 55 yards for a touchdown.
That was a play we've completed in the past, but there was miscommunication. The play was a lock route, and we didn't have a sight adjustment built in on it. It was the end of the game and they kind of fell into it and were able to make a play out of it.
Looking back on it we need to learn how to finish games and learn how to win.
In the fourth quarter it's hard to say what went wrong. We just stalled on a couple of drives, weren't able to move the ball, and lost our rhythm. The turnovers were clearly very costly and allowed the Eagles to put up a bunch of points on us.
Although it was a tough loss, we still have confidence and swagger on offense. We have to make corrections from the film and go back out there next Sunday against the defending Super Bowl Champions, the New York Giants. It's another great opportunity and each week is another opportunity. We just have to find ways to get this thing turned around in the right direction.