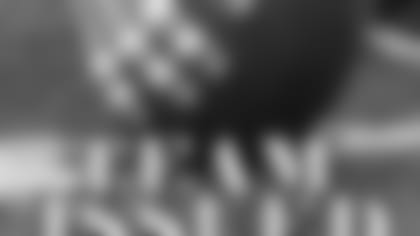 Every Monday throughout the season, 49ers.com will ask a different player to break down Sunday's game in this Team Issued column. For this first column, we asked linebacker Parys Haralson, who had 2.5 sacks against the Cardinals, to review the game from his perspective. **
I had hurt my shoulder in that last preseason game and so anytime you get hurt or have some soreness you worry about how it is going to hold up. But, then you get that adrenaline rush from the game and you are excited about playing and you quickly forget all about it. So by the time kickoff happened, I wasn't even concerned about it.
I do play on special teams but I wasn't out there for the opening kickoff, so my first snap came on defense in one of our sub packages. As the game wore on, I did see some action on special teams as well, and we made some mistakes on teams. They got better field position than us, and we had penalties and that turnover. We know we can't do that. You can't turn the ball over as many times as we did, not get any turnovers on defense, and still expect to win. It just doesn't work.
On defense I worked primarily against their right tackle Levi Brown. Brown is a bigger guy than me, so leverage is everything. That's really true in football period. Some guys study and plan different techniques against a certain guy, but to be honest, I just go out and play. I think if you just go out and play hard and give effort, you'll just react well and make the right moves. If I'm out there thinking too much, I know I'm pretty much getting nothing done. I just try to go out and play hard and then look up at the end and see the outcome.
People asked me about getting sacks after the game, but honestly, that really doesn't matter because we didn't get the win. When we start winning games, I'll be happy about getting sacks, but until then, it just means you didn't do enough out there.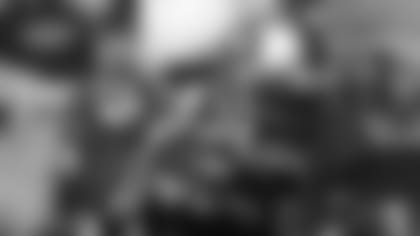 We were getting a lot of pressure in the first half, but we didn't keep it up the way we needed. I may have been the one to come away with sacks, but we were all getting after him. Justin Smith was taking on some double teams and that helped out the rest of us. Ray McDonald was getting there in his face. Also, our secondary did a great job covering on the back end so he really had nowhere to throw the ball and that allowed us to make plays in the first half. We did give up the one long pass to Steve Breaston for 40 yards and that was a situation where we gave Kurt Warner too much time. Warner has been around this game for a long time and he can read defenses and he knows what is going on. A guy like him, he's going to make a play now and then and that one hurt.
In the second half, I'm not going to take anything away from Arizona. They did do some good things against us, but we also did some things to hurt ourselves out there. We were on the field for a long time in the third quarter, but that was really our own fault. We should have gotten off the field, and made the stops. Regardless of the turnover on the kickoff, we have to keep playing hard and give it our all.
I still don't know who they called the late hit on in the third quarter – if it was on me or Ray. I saw it today, but I don't know what the call was exactly, or why they made it. Regardless we've got to go out there and try to get a stop, but things like that handed them a first down, and kept their drive alive.
So after they had gotten the field goal, they walked away with a touchdown on that fourth down and that hurt us. That was definitely a momentum killer.
They were able to make third down plays and keep drives alive again in the fourth quarter. We pride ourselves as a defense on being able to get off the field, and we weren't able to do that. We helped them to extend drives by not making plays and they were able to eat up the clock on us.
For the most part they were just dinking and dunking against us. They knew where the markers were and they were getting there. We made our shared of mistakes too by not wrapping up or taking the right angle to get them stopped and off the field. They kept picking up key first downs in that second half that we should have prevented.
We have to go out and keep our mistakes to a minimum. They were able to get turnovers, but we didn't get any turnovers on defense. We've got to go out and try to create more turnovers and help get our offense better field position.
I thought our offense did a great job moving the ball. We had the turnovers but the running game looked strong and JT O'Sullivan hooked up on some nice throws. I'm actually confident about our team despite the loss. We let one get away from us but I think there's reason to be excited. We are going out there and playing for each other, and we see progress being made. Today, we went to the film room, corrected our mistakes and now we are just ready to get onto Seattle and put that one behind us.