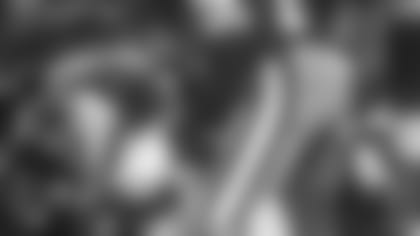 Throughout the season the 49ers recognize alumni players by selecting an honorary game captain for each of its home contests during the 2008 season at Candlestick Park. For Sunday's game against the eagles, former wide receiver John Taylor will serve as the honorary game captain. *
John Taylor lived the dream of many young boys -- scoring the game-winning touchdown in a Super Bowl. Now, the man who caught a 10-yard pass from Joe Montana with 34 seconds left in Super Bowl XXIII, giving San Francisco a 20-16 victory over Cincinnati, is turning a new path in life.
This third-round pick out of Delaware State definitely left his mark on the game, earning two Pro Bowl selections (1988, 1989) and three Super Bowl rings. ESPN ranked Taylor as the 25th Greatest NFL Draft Steal of all time earlier this year.
In nine NFL seasons all with the 49ers, he recorded 347 receptions for 5,598 yards (an average of 16.1 yards per catch) and 43 touchdowns. He also picked up 1,517 yards and two touchdowns returning punts, and added another 276 yards bringing back kickoffs.
During a Monday Night Football game against the Los Angeles Rams on December 11, 1989, Taylor scored touchdowns on two receptions of over 90 yards, an NFL first. He also set a record for most receiving yards in back-to-back games with a total of 448 when he had 162 at Atlanta in the previous game and 286 on 11 receptions on the night of the two long touchdowns. The 286 yards were a 49ers record until Jerry Rice broke it with 289 versus Minnesota on December 18, 1995, while the two-game mark held up into November of 2006 when Chad Johnson of the Cincinnati Bengals combined for 450 receiving yards in back-to-back games against the San Diego Chargers and New Orleans Saints.
Playing as a second option to the all-time NFL receiving leader Rice, Taylor still managed a pair of 1,000-yard receiving seasons. Taylor first hit the mark when he made 60 catches for a career-high 1,077 yards in 1989 with 10 of his receptions going for touchdowns. He topped the milestone again two years later with 1,011 yards on a career-high 64 grabs.
John was known by his teammates as the best athlete on the 49ers squads during their dynasty years. The only skill Taylor lacked was speed. At the 1986 NFL Scouting Combine he turned in a disappointing 4.67 time for the 40-yard dash, but that had no bearing on his ability to catch a football. At the combine, his incredibly large hands measured 11.2 inches in length – still an NFL record for receivers.
Upon retiring after the 1995 season, Taylor returned to his first passion in life. In 1998, he formed J.T. Taylor Trucking Inc. – transporting products from coast to coast. Two years later he opted to downsize and decided to become a driver himself.
"I knew trucking before I knew football," he explained. "My grandfather and all of my uncles drove, so I grew up around it."
He seems content and lives a quiet life. Driving truck seems to have filled the void that was once occupied by the sport of professional football. As a matter of fact, it has allowed him to leave the game completely.
"Out of the people who know I played football, the majority of them are aware that I don't really follow the game much anymore," he said. "I tell them, 'Hey, I no longer play football and probably know as much about the game as you do. But if you want to talk about trucking, I'll talk to you about that all day.'"
Whether or not John Taylor follows the game of professional football today, 49ers fans will always remember him for that game-winning touchdown catch in Super Bowl XXIII and maybe living their childhood dream through him.