Tavares Gooden is the ideal special teams contributor. In fact, he's really a standout player when he gets on the field for special teams plays.
Since joining the San Francisco 49ers one season ago, the backup linebacker has excelled as a core member of Brad Seely's special teams units, working on both coverage and return units.
Gooden brings a certain pride and appreciation to his profession. It also allows him to make show-stopping plays all over the field.
"There are only so many people that can play in the NFL," Gooden said as the 49ers prepare to play the Detroit Lions Sunday night. "There are less than 2,000 guys in this league, and only 11 of those guys can play on the field at one time for each team. Knowing that I have a spot on this team as a key person brings on responsibility... I really take pride in that, everybody takes pride in it, and I think that's what develops us into a good team."
In 2011, Gooden was part of a group that finished first in the NFL with a kickoff return average of 27.4 yards and also led the league with the highest 20-plus yard kickoff return average in 2011. More than 84 percent of the team's returns went back past the 20-yard line.
Gooden doesn't just bring stellar play to the 49ers special teams, he's also an emotional leader.
The fiery linebacker is known within the team's locker room for playing with a youthful exuberance often exhibited by his big hits and the energetic celebrations, which often follow.
"Any time I make a play I'm going to get up and celebrate," Gooden said. "That's how I have always played. At every level of the game my coaches have told me to let my personality shine. Football is a boy's game that I have been playing since I was 10-years old.
"I only know one way to play, and that's to be excited about the game."
Gooden's enthusiasm will be on full display when San Francisco's 2012 home schedule kicks off against the Lions.
The 6-foot-1, 242-pounder's game-changing ability was evident last season when the two teams met in Detroit.
Gooden delivered a bone-crushing block on a Lions coverage player near the San Francisco 40-yard line during a punt return late in the fourth quarter. That hit helped spring Ted Ginn Jr. for a 40-yard return, which set up the 49ers on Detroit's 35-yard line with just under six minutes remaining.
The 49ers offense capitalized on the great field position during the ensuing possession as Alex Smith engineered the game-winning drive capped by a Delanie Walker touchdown catch.
Plays that often go unsung on special teams, like his vital block in the 2011 Detroit game, have become Gooden's bread-and-butter as an NFL veteran.
"I'm starting to learn it's not all about who makes the tackle in special teams," said Gooden of how he's grown under the tutelage of Seely, the team's assistant head coach/special teams coordinator. "When you look at how good a special teams player is it shouldn't just be based on tackles. It's is this guy letting people get to the ball, letting people make tackles or is he playing like a monster? What determines a great core special teams player is how he does on all four phases, not just one phase."
Gooden has developed into a great specialist largely because the path to a starting linebacker spot has been pretty much blocked at his two NFL stops.
Drafted in the third round by the Baltimore Ravens out of Miami in 2008, Gooden has spent almost his entire career playing behind All-Pro linebackers like Joe Staley, NaVorro Bowman and before those two, Ray Lewis in Baltimore.
Instead of dwelling on a lack of playing time at linebacker, Gooden has embraced his role on coverage and return teams becoming a leader of the core special teamers in the process.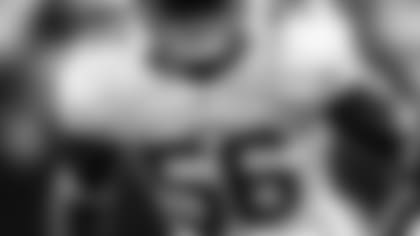 "I don't get on the field for many plays on defense," said Gooden about his approach to playing almost exclusively on special teams. "When I get to make a play it's very special to me. I don't get too many of them, but when the opportunity to make one comes it means that much more because I don't know when the next one's going to come. I don't take it for granted."
Fellow specialists like Anthony Dixon, C.J. Spillman and Larry Grant all look to Gooden as a source of inspiration when they take the field.
"Tavares is like an older mentor to me," Dixon said. "We all see the extra work he puts into the classroom. He's always taking notes and asking questions.
"Tavares' experience is one of the best things you get from him, but you also get a whole lot of energy. He is one of the guys that keeps the energy going, and at the same time keeps the chemistry. He's a guy everybody gets along with, a great teammate. He's all out every day."
Gooden has developed a special relationship with the rest of the team's special teams regulars. He believes the core group's friendships will translate to the team developing into an even more effective unit on the field.
Gooden's on-field swagger has become somewhat renowned around the 49ers locker room. Fullback Bruce Miller feels Gooden's on-field celebrations are "the best anybody on the team can offer."
That exuberance has rubbed off on his teammates in a positive way as the 49ers special teams were among the NFL-leaders in multiple statistical categories last season.
The team's kickoff coverage unit -- nicknamed "the Tony Montana Squad" for their pre-kick dances set to Future's song about the character from Scarface, which plays over the Candlestick Park sound system before each kickoff -- ranked third in the NFL with an opponents' average starting field position at their own 20.6-yard line.
The Tony Montana squad sums up what Gooden and the rest of the special teams are about. They don't just make plays, they do it as a team and with style.
"When Tony Montana plays or somebody makes a big play on special teams, it's a crowd momentum builder," Gooden said while looking forward to the home opener. "Still, at the end of the day if we don't go out there and execute it means nothing.
"We are going to be pumped up, but at the end of the day you have to do your responsibility. There is no one marquee guy. If everybody does their responsibility, what they're supposed to do, everybody is going to eat."
Heading into Week 2, Gooden is looking for the San Francisco special teams to get better at taking care of their responsibilities.
A fourth-quarter 75-yard punt return for a touchdown by Green Bay's Randall Cobb was one of the only blemishes in an otherwise-impressive season-opening win last Sunday.
Gooden was critical of the team's coverage on Cobb's touchdown run, but he's eager to show the team has made the necessary corrections against Detroit.
"The biggest thing right now is continuing to have phenomenal effort," Gooden said. "It's how much you improve from Week 1 to Week 2, which determines how your team's going to be."
Gooden himself has steadily improved throughout his career to the point where he is a consistent playmaker on special teams, playing a vital role for a 1-0 team that has its eyes set on a Super Bowl run. !