When the San Francisco 49ers travel to the East Coast this Sunday to take on the defending Super Bowl Champion New York Giants, the game presents a major opportunity for the 49ers to make a statement to the entire National Football League that they are better than their 2-4 record indicates.
"Anytime you go against number one, you want to knock them off," safety Mark Roman said after Thursday's practice. "It's just a challenge, as men, athletes and competitors – we want to rise up to that challenge."
Stuck in the middle of a three game losing streak, in which the 49ers defense have allowed over 30 points to the Saints (31), Patriots (30), and Eagles (33) in consecutive weeks, the focus this week is to stop the number one ranked Giants offense and their running attack, as well as limit the Giants big gains, which has been a reoccurring theme during the recent losses.
Through five games, the Giants high-powered offense leads the NFL with 419.4 yards per game and is also first in rushing yards with 181.2 yards per game.
The Giants use three different backs, but primarily hand the ball off to Brandon Jacobs and Derrick Ward, who average 5.7 and 7.4 yards respectively.
Jacobs presents a much different threat to the 49ers defense than Ward.
Standing at 6-foot-4, 264-pounds, Jacobs looks more like your average defensive lineman than tailback.
"He's like Justin Smith (6-foot-4, 285-pounds) at running back basically," outside linebacker Tully Banta-Cain said. "Once he gets momentum going, he's tough to bring down. He's definitely a guy we have to focus on getting eleven hats on the ball and bringing him down, because he will break tackles."
But even more important than getting all eleven to the ball is stopping Jacobs at the line of scrimmage before he can get his momentum going.
"That's the big thing, because you really don't want for him to get started," linebacker Joe Staley said. "When he gets started, he's a crucial guy to bring down."
Willis knows Jacobs well from the time they spent during a commercial shoot in the offseason, but that won't stop Willis from going after Jacobs every time he touches the ball.
"When it's time to do your job, you do that to the full degree," Willis said. "If I'm with him, I'll laugh with him, but when it's time to put the pads on and buckle the chinstraps, that's a whole other game."
The Giants also showcase another style of runner in Ward, who is more of a change of pace back to compliment the power style of Jacobs.
"They're real tough. Jacobs is just a big body and it's hard to get your arms around him," Roman said. "The other guy, Ward, is a little quicker, a little shifty. They all have different strengths and their offense uses them to their strengths."
Whichever ball carrier is in the game, the 49ers defense will have to make an effort to stop the run by neutralizing the blocking of the Giants offensive line.
"They like to pull, get the guards out and get on the second level. So for Brandon Jacobs, the first people who are there trying to tackle him are the little guys on the back end. We have to make sure we contain the run, knock the pulling guards out and keep them in the middle," defensive end Justin Smith said.
Smith thinks the Giants have people fooled when it comes to their label as mostly a power running team.
"They get you going with misdirection, then they jump back and seal block you, so it's not necessarily a powerful run game, as much as it is a misdirection run game," he said.
The Giants feature a play-action passing game that's predicated on the success of the run game. If the 49ers stop the run, they should be able to slow down both.
"They're a run first football team and they like to set up a lot of play-actions," Roman said. "We're definitely making it a point to stop the run and keep it under wraps as much as possible."
Since the Giants typically run on first down, it's critically important that the 49ers corral Jacobs and Ward quickly, keeping New York in longer down and distance situations.
"We just have to keep them off schedule. That's by stopping the run and limiting their first down gains," Roman said. "When they're doing a lot of third and shorts, it's easy to call plays on third and short. When you get in third and medium and third and long, it's harder for them to call plays."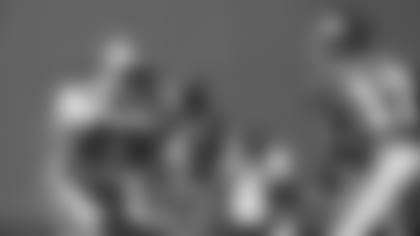 Quarterback Eli Manning has been off to a good start when it comes to operating the Giants offense. Despite his struggles last week against the Cleveland Browns, in which he threw three of
his four interceptions for the season, Manning has impressed the 49ers defense on film.
"I think he plays well within the scheme of the offense," cornerback Walt Harris said. "He's very poised. He has a lot of big targets to get the ball to. But most of all, they have a great running game that takes a lot of pressure off of him."
The targets he's been throwing to the most, wide receivers Plaxico Burress and Steve Smith, both have 22 catches, but Burress is more of a home run threat. Given that the 49ers have allowed several explosive plays in the passing game as of late, stopping Burress and his 14.4 yards per catch average is a must.
"It's important, especially for us on the back end," Harris said. "Not to give up anything big is definitely important. We just have to continue to improve, but most of all we have to play well as a team."
While the 49ers have a clear grasp and respect for the Giants playmakers, the unit heads into this weekend with the firm believe that concentrating on their own defensive execution is the key to solivng their woes.
"The challenge this week is not about their offense, it's not about the Giants, it's about us," Willis said. "It's about our defense and how it's time to start playing the way that we're capable of playing."
And once the 49ers start competing the way Willis believes they are cable of, the wins should start to pile up.
In the minds of many of the 49ers, the road to the playoffs starts this Sunday with a solid performance against the defending Super Bowl Champs. A big win would certainly push the 49ers on a path similar to the Giants of a year ago, who struggled to a 0-2 record out the gate.
"You're going to have teams who start out hot, and then they're going to go through adversity. Then, some of those teams even fall off," Spikes explained. "It's the usually the teams who won it all or go very deep in the playoffs that pick up their stride somewhere in October/November. They just start running the table and they stay up under the radar until it becomes close at the end of the season. That's been my experience from over the years that I've played. We still have time, taking into consideration, we're two games back of Arizona."