In 12 NFL seasons, he's had more than 140 tackles three times (100 or more nine times) and has been an unquestioned leader on the four NFL franchises he's played for. But these days, 49ers middle linebacker Takeo Spikes is adding to his reputation with the online messages he sends out in 140 characters or less.
Just like most of the NFL's stars of today, Spikes is on Twitter (@TakeoSpikes51), the ever-growing social media sight based out of San Francisco.
Now over 325,000 fans "follow" him just like hundreds of teammates have over the course of his playing career. They're also getting real-time accounts of what it's like to be an NFL player.
"I don't have an exact reason why I started it… I like talking I guess," Spikes bashfully said after the conclusion of his second season in San Francisco.
Even without the Twitter account he started last August, Spikes immediately endeared himself to the 49ers Faithful after signing with the team prior to the start of the 2008 season. He did so by intercepting a pass for three consecutive weeks in the first half of the season. Spikes' takeaways came against the likes of Drew Brees, Matt Cassel and Donovan McNabb.
Even more special than the interceptions were his Bruce Lee, karate-inspired dances that followed.
Spikes finished his first season in San Francisco with 122 tackles, three interceptions, two forced fumbles, and one sack. His West Coast foray was so successful, the 49ers inked Spikes to a two-year deal last offseason to make sure he and Patrick Willis could continue to grow together. They did just that and Spikes followed those numbers up this past season in impressive fashion, totaling 95 tackles, four sacks and one fumble recovery.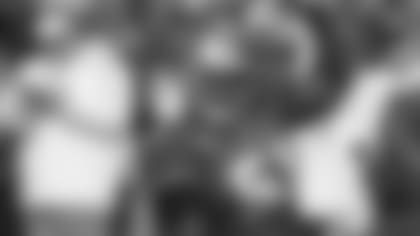 And once again, the Bruce Lee dances were a common sight.
The celebrations were almost as consistent as Spikes' willingness to communicate with fans through his social media and media endeavors. Throughout Spikes' 2009 campaign, he sent out updates via Twitter to let fans know what he and his teammates were thinking. Spikes also replied to several fan questions throughout the year.
"I think Twitter is good for the league, the teams and players in general," said Spikes, one of the 49ers NFL Players Association reps. "Now you have a direct way to get your word out instead of giving it to somebody else and risking the chance of them misconstruing your message."
Spikes isn't just communicating through Twitter, he recently created his own Facebook page for his fans that now span across the country thanks to his previous stops in Cincinnati, Buffalo, and Philadelphia. Although the social media age developed later in his career, Spikes is happy it wasn't around for his early years.
"I would have been using Twitter and Facebook in all the wrong ways back when I was a rookie," he joked.
But beyond the updates that usually come from Spikes' cell phone, the well-versed veteran also has a passion for broadcasting. That interest manifested this season into the birth of two TV shows: TV49's Spikes TV and Comcast SportsNet Bay Area's TKO TV.
The shows gave viewers access to the idiosyncrasies of NFL players, Spikes in particular.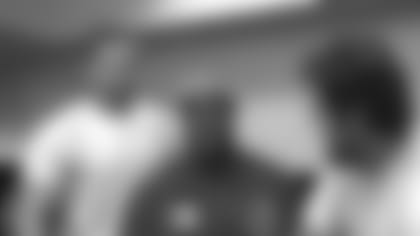 On Spikes TV, five vastly different episodes allowed his teammates to have some good natured fun while answering Takeo's questions. But the highlight of season one was the infamous, "Saltine Cracker Challenge." Spikes gathered up a handful of willing teammates (mostly unsuspecting rookies or hungry vets) to see if they could eat six saltine crackers in less than a minute. Needless to say, the football players who had been sweating profusely out at practice had no chance of swallowing the crackers.
It soon became a TV49 instant-classic.
Spikes' Comcast show equally had highlights of its own, including the introduction of Spikes' favorite meals. Never before had the world seen a player eat a sardine omelet or Vienna sausages, let alone see it in high-definition.
That was the case at least until TKO TV was created.
"I loved showing that side of my life; it was something I always wanted to do," Spikes said. "Doing that showed our personalities that you don't get to see on Sundays. I think it was good from that aspect, so I enjoyed that part of it the most. To be able to get it off the ground this past year was a lot of fun; I look forward to doing more of the shows next year."
Out of all the episodes, Spikes' favorite had to be the one where he broke down the travel outfits of his teammates scattered throughout the locker room.
"My favorite was the fashion show in the locker room," Spikes recalled. "[Rookie defensive tackle] Ricky Jean [Francois] never let us down!"
Spikes became comfortable on camera after spending time at the NFL's Broadcasting Boot Camp. Current and former players attend the camp to get a week of broadcasting training for potential jobs. Spikes' trip a few seasons back has paid dividends each time he switches roles and becomes the person doing the interviews.
"I learned a lot at the camp. It teaches you not necessarily how to stay on script but if somebody gives you an answer you weren't expecting, you have to be able to adjust. That's the biggest thing I've learned from the boot camp. I learned the correct way how to do things. To me, what's important is that you can't go into it trying to sound like everybody else."
If Spikes' two shows are any indication of what's to come, he'll have a job in the industry one way or another.
"What makes you unique is just the way that you are. That's big to me."
Judging by his legion of growing fans through his social media endeavors, they'll be a lot of people tuning in to watch.