The 49ers took a break from their normal football routine Tuesday to tackle an even bigger challenge, child literacy.
Offensive linemen Joe Staley and Tony Pashos and tight end Joe Jon Finley spent the morning at the Santa Clara City Library reading holiday-themed books to local children.
"These guys did a great job reading, they can come back any day and take over for us," said Susan Baier, Division Manager of Youth and Extension Services for the Santa Clara City Library. "The 49ers have a great tradition of supporting literacy and we are thrilled to have them here today."
Dressed in their 49ers-themed Santa Claus hats, the players read some of their favorite children's holiday books to the kids including The Night Before Christmas, Bear Stays Up for Christmas, Snow Dude and Olive the Other Reindeer.
Baier said one of the most important factors in a child's academic success is whether or not they are read to before formal schooling begins. And perhaps nobody on the 49ers knows the importance of child literacy more than Staley, who grew up with a librarian for a mom.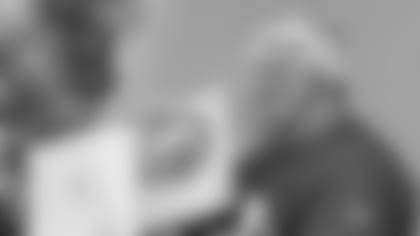 "My mom always read to me as kid and that helped me be able to read really early," Staley said. "That gave me a jump start on elementary school."
Tuesday marked the third time in the past 15 months that Staley participated in an event supporting child literacy. The first came last September when he was a part of the Kindergarten Kickoff event in which the team donated four bookcases full of books to a Bay Area kindergarten classroom. Then in February, Staley participated in the All-Stars Helping Kids Read-Along event at Candlestick Park.
On Tuesday, Staley's experience was apparent.
"They were all fantastic, but No. 74, Joe Staley, he put a lot of expression and humor into his story," Baier said. "They were all great, but if I had to give an award Joe gets it."
However, Pashos and Finley wouldn't let Staley take the award uncontested. Finley was the only player to read two books, and Pashos joked that despite his bushy beard and Santa hat, nobody would mistake him for St. Nick.
"I do have the beard, but it's not white," Pashos said. "And I'm all muscle, where Santa has some fat to him.
"When you are made from steel and iron and meanness like I am, there's no mistaking," he added with a laugh.   
This event was a part of the Santa Clara City Library preschool story time it hosts every Tuesday morning.
This event was also the 49ers first Community Tuesday event for the month of December. The theme for December is showing respect for schools, families and the community.
Other events this month include:
On December 8, the team will stock the shelves of a local food bank. At the event, players and their families will help prepare food boxes for the Commodity Supplemental Food Program (CSFP), which is a federal program that provides a monthly box of nutritious USDA food to low-income seniors, mothers and children.
On December 15, players' and coaches' wives will visit a local Build-A-Bear store to build stuffed animals for patients at  Lucile Packard Children's Hospital and hand-deliver them at a later date in the month with their husbands.
On December 22, players will be paired with low-income youth in the VISA Shop with a Player Program where the youth will be given gift cards, courtesy of Visa, to buy presents for their families during the holidays.
Every time the 49ers perform community service work, they educate the community about the franchise's award-winning RESPECT campaign. The RESPECT campaign teaches youth and the community the necessity of showing respect for their schools, families and communities.