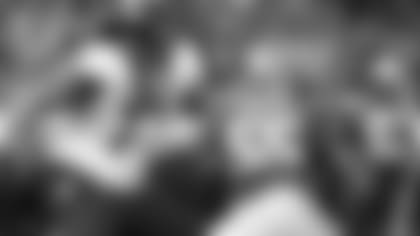 The 49ers were defeated 34-31 in Super Bowl XLVII. The 49ers Public Relations staff presents the following game notes from Sunday's game against the Baltimore Ravens.Making Super Bowl History:**
The 49ers became the first team in Super Bowl history to have a 300-yd. passer, a 100-yd. rusher and 2, 100-yd. receivers in a single game. QB Colin Kaepernickthrew for 302 yds., RB Frank Gore added 110 yds. rushing, WR Michael Crabtree tallied 109 rec. yds. and TE Vernon Davis recorded 104 rec. yds.**
RB Frank Gorerushed for 110 yds. and 1 TD on 19 carries. He set the franchise Super Bowl record for rushing yds. in a game.
Gore's 6-yd. TD run marked his 4th rushing TD of the postseason.
Vernon Owns the Postseason:
TE Vernon Davishauled in 6 receptions for 104 yds. He tied the Super Bowl record for receiving yds. by a tight end.
Davis registered his 4th career 100-yd. game in the postseason. He now ranks t-1st in NFL postseason history for the most 100-yd. receiving games by a tight end [TE Keith Jackson (4)].
Davis joined WR Larry Fitzgerald as the only players in NFL postseason history to register 4, 100-yd. rec. games in their first five career playoff games.
WR Michael Crabtree tallied 5 recepts. for 109 yds. and 1 TD. This marked his 2nd 100-yd. game this postseason.
QB Colin Kaepernick completed 16 of 28 atts. for 302 yds. 1 TD and a QB rating of 91.7. He also had 7 carries for 62 yds. and 1 TD.
Kaepernick's 15-yd. TD run marked the longest TD run by a QB in Super Bowl history.
Super Bowl XLVII marked Kaepernick's 10th NFL start. His 9 starts entering the game were the 3rd fewest for a starting QB entering a Super Bowl.
Fewest Starts Among QBs Entering a Super Bowl in NFL History
DT Ray McDonald notched his first sack of the postseason, bringing down Ravens QB Joe Flacco. He now has 3.5 career postseason sacks.
LB Ahmad Brooks brought down Flacco for his first sack of the postseason. He now has 2.0 career postseason sacks.
CB Tarell Brown striped Ravens RB Ray Rice and recovered the loose ball. It marked Brown's first career postseason FF and FR. The takeaway led to a 34-yd. FG by K David Akers.
Akers Continues to Climb the Charts:
With 3 FGs and 2 PATs vs. Bal. (2/3), K David Akersnow has 175 career points in the postseason, the 2nd most in NFL history.
Most Career Postseason Points, NFL History
Gary Anderson, Pit./Phi./SF/Min./Ten.
Akers has also now scored a point in all (24) playoff games he has played in, the 2nd longest streak in NFL history.
Most Consecutive Games Scoring
Akers now has (39) made fields goals on (46) attempts in his playoffs career. Both are the 2nd most in league history [Adam Vinateri (48 FGM – 58 FGA)].