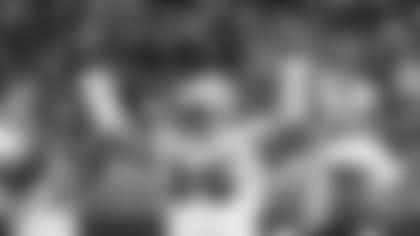 Linebacker Tully Banta-Cain signed with the 49ers last off-season after spending the first four years of his career with the New England Patriots. Banta-Cain enjoyed two Super Bowls while with the Patriots, and shares his thoughts as his former team revs up to go for their fourth Super Bowl victory.**
We went to the Super Bowl my rookie year, which was a very surreal experience because I grew up wanting to play in the Super Bowl and my first year in the League, I ended up going to one. Everything was incredible - from the fans waiting outside as we got to the hotel in Houston to the bags with all the Super Bowl apparel to the accommodations.
The Media Day at the stadium was incredible and a little overwhelming. I even talked to international reporters, which was great. They would have us read things off a card in a different language, and so you know it's going to be broadcast somewhere else in the world so I thought that was pretty cool. Some of the questions they asked were pretty random and some were fairly basic. You don't want to buy too much into it and think you're a media superstar though. That was easy for me as I wasn't one of the big names on the team and I wasn't on the podium or anything so I think the media attention that I received was pretty fun and on a much lower scale.
The entire atmosphere in Houston was a lot to take in. Being a rookie, I was like a kid in a candy store, but the veteran guys who were there with me really helped me focus. I thought that played a big part in our success. A lot of guys can get caught up in everything and forget they have to play a game, but our veteran guys didn't allow that to happen.
The game itself was just a spectacle with the cameras flashing left and right and celebrities everywhere you looked. The opening kickoff was like being in a dream. It was hard to believe. Until a few months after the game, I just felt like I was waiting to wake up.
In my second year, we played in the Super Bowl again and won against the Eagles in Jacksonville. I kind of knew what to expect going into it that year, but it was still the same type of excitement and adrenaline rush. The prestige was the same and so was the attention you got as a player.
Just being there at a Super Bowl is an accomplishment in itself, but winning is the icing on the cake. When they drop confetti down, you get a great feeling from making it that far at this high of a level. It was definitely a blessing.
After that, I definitely felt like I was spoiled, but at the same time I felt like I had a hard road leading up to my NFL career. I had never been a part of a championship team or an elite football organization. I went to Cal, which is a great school, but it's not known for its football even though they've produced some great players. When I was there, we struggled and we had some bad seasons. I had a lot of high hopes going into the draft, thinking that I was going to get drafted high, but I ended up slipping all the way to the seventh round. So, being with the Patriots, I almost felt like everything came full circle.
I still had to earn my way onto the team. I ended up getting injured in training camp so I didn't even practice initially, and I didn't play until the sixth game of the season because I was on PUP. I played special teams and I earned my way onto the team because they could have just left me on injured reserve, but I had shown that I could play at that level and contribute. So, yes, I felt like I was spoiled after winning two Super Bowls in two years, but at the same time I had earned it. It was a satisfying feeling.
As I already said, the opening kickoff was special and that was probably my most memorable moment. It is really the peak of that whole week because of the anticipation leading up to the game. There's a lot of anxiety, you're very nervous and you feel like you're running in slow motion. It just hits you that you're playing in the Super Bowl, and all the lights are flickering from the cameras and you know the whole world is watching. Once the opening kickoff is over you just feel like you're playing football, but it definitely peaks right at kickoff time. When you win, there is that feeling of achieving something that most players who have played this game never had an opportunity to do, and that's special, and rewarding.
So my old team is back in the game this week and I really have no inclination of what's going to happen. I think both teams have a good balance of veterans and youth. The Patriots have been in that position before so I think they know what this week's all about. From a psychological standpoint, they should have a handle on what to do this week. I think the Giants have a lot to prove and they have already proven a lot this season. They played the Patriots pretty well before so I don't think either team will have an advantage or disadvantage from that. I think both teams are pretty good, and I think it's going to be a good game. I wouldn't be surprised with a victory either way. The Giants are the underdog, but they are capable of winning and the Patriots are capable of losing.
I have talked to some of my old teammates just to congratulate them on what they've done this year. They kind of joked around with me and told me I should have had one more year on my contract so I could be there. I'm glad I'm with the 49ers though. I wasn't a big name on those teams and I contributed by playing special teams, but now I have the opportunity to help the 49ers get to the Super Bowl and be one of the main contributors. It's all relative and I think it worked out. I'm proud of those guys and I'm definitely glad I can say I was a part of that team and that organization, but now I get to sit and watch and see how they perform on Sunday.