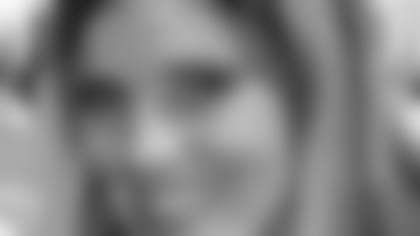 Over on our social networking site, 49ersfaithful.net, we have a few official team bloggers including two of our players in Manny Lawson and Marcus Hudson. All this week, 49ers.com writer Chrissy Mauck will also blog from the Super Bowl.**
As our former linebacker Keena Turner would say, always start with the end. Well the end to Sunday's Super Bowl threw the majority of the media into a tailspin since few and far between felt that the New York Giants stood a chance of preventing the New England Patriots from creating history with a perfect season.
Anyone who called a 3-0 Giants lead at the end of the first quarter should hop the next flight to Vegas, but Eli Manning looked stellar on that opening drive. I was running around up in the auxiliary press table section so I wasn't tracking it, but I know he made some key 3rd down conversions.
As the game wore on, Manning got a little off on his timing and hurried some throws he maybe didn't need to, but that last drive was something else! Tom Brady is still Tom Brady, but he didn't have his best game and was outperformed by Manning. What a day for the Manning household by the way. Peyton was shown several times throughout the game cheering on his baby brother and with the win, I'm guessing they had to have made history of their own. I have to seriously doubt that there have ever been two brothers playing quarterback who won Super Bowls in consecutive seasons.
So in the end the Patriots fell and the unlikely Giants pulled off an upset. I will give credit to both Darrell Jackson and Nate Clements who predicted a win for New York, as well as Alice Keys. The pre-game performer said earlier in the week that she'd be finishing her US Tour in her home state and the soon to be home of the Championship New York Giants.