Over on our social networking site, 49ersfaithful.net, we have a few official team bloggers including two of our players in Manny Lawson and Marcus Hudson. All this week, 49ers.com writer Chrissy Mauck will also blog from the Super Bowl.
TUESDAY PM - My plan was to track down Trent Dilfer and get him to blog about Media Day, but I was unable to hook up with him during the frenzy at the Cardinals stadium out in Glendale, so here I go.
I was assigned Tom Brady, who had apparently sat down with a one-on-one interview with Dilfer prior to the start of the one-hour Patriots media session. Apparently, Brady agreed to do the interview with Dilfer, who flew in just for the day, although he is expected back later in the week to be on set with the NFL Network.
While the cameras flashed in his face, Brady took a few pictures of his own of the crowd surrounding his podium before taking a seat. Deion Sanders kicked off the questioning and was the only "media member" who wasn't cut off until Deion was ready to be cut off. It just goes to show how much respect he still commands.
My job was to tape and then transcribe the interview, essentially providing quote sheets for the thousands of media covering the Super Bowl. I taped almost 30 minutes of the interview, which was mostly friendly banter and various television or radio stations asking for a shout out. One woman wore a veil and asked Tom Brady if he would marry her. Tom declined the proposal but let her down gently, which apparently was not the approach of his head coach who let the woman know in no uncertain terms that she could not hold a candle to Brady's current supermodel girlfriend.
As much as he's on television, I hadn't really listened to too many of his press conferences, but I primarily wanted to know exactly when it was that Brady, to my knowledge a native Northern Californian, developed an east coast accent. It was only a few words, like "yesterday," but it was straight up Boston.
In case you are wondering, his ankle feels great. Let's be real though, even if it's not, this guy isn't going to miss the Super Bowl.
Once I felt I had enough serious football questions on record, I headed off to find my next assignment, Brady's left tackle Matt Light. After about ten minutes of jovial questions and answers regarding his hair, Light did respond to the comments by Osi Umenyiora and then talked football. He seemed like a bright guy, and was very witty with his responses, which is always appreciated!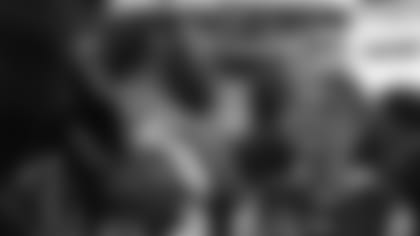 By the time I finished with Light I had about 12 minutes to observe the frenzy. I briefly greeted Jesse Palmer, who spent two brief stints with us. I also spotted Maria Menounos from ET and grabbed a quick photo, and then got some photos of our favorite morning show hosts back in San Francisco – Lamont & Tonelli – who were putting Sully up to asking some off the wall questions of Brady. Randy Moss was holding court and drawing many laughs. I heard someone ask why he's talked to the media so much more this year and he said it was only because he received a letter from the NFL threatening to fine him if he repeated his routine from the year before in Oakland.
The Giants arrived just as we were wrapping up with the Patriots and I headed back with the quote team to the Media Center to start our transcriptions. Right outside of the Media Center is one of the ESPN sets and Terrell Owens was up on stage. He had some funky looking winter hat on that he really needed to lose.
I've got a 6:15AM departure for Patriots quotes in the morning, so I'm calling it an evening.