Sunnyvale Department of Public Safety Teams up with 49ers for Gatorade Junior Training Camp
*
Local Police Officers Man the Drills for Students to Pass, Catch and Hydrate*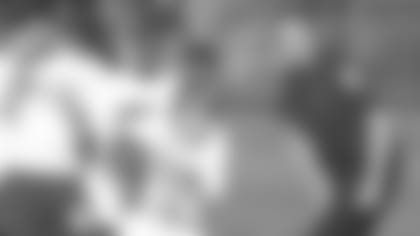 The field conditions at Columbia Middle School in Sunnyvale, California during a 49ers' Gatorade Junior Training Camp on Tuesday, December 2, were vastly different than what the 49ers themselves faced in their recent victory in Buffalo this week. Instead of dealing with the rain and the cold and a slippery turf, the camp participants completed a successful day of passing, catching and running drills during a sunny December afternoon.
"I'm so happy we get to be outside today," Clayton, a sixth grade football player, said. "My favorite activity is where you get to run through the dummies and tackle the one at the end. I love watching the 49ers. Some day I want to be the one that scores touchdowns. But I like defense, too."
As a special treat for the 160 middle school students, the Sunnyvale Department of Public Safety was on hand to staff the drilling stations during the camp. The police officers led the boys and girls through quarterback, wide receiver, and running back drills while reiterating the importance of safety and hydration throughout the experience. They also encouraged the kids to complete the drills fully and to their best ability, cheering them on as they passed through the stations.
"Whatever we can bring these kids, not only in the physical activity but in the importance of learning about leadership and respect, is huge," Sunnyvale Police Captain Doug Moretto said. "We just thank the 49ers so much for this opportunity with the School District. As a police organization, we value being connected to our community, specifically to the schools, and now the 49ers are a part of that."
The students, outfitted in their Gatorade Junior Training Camp t-shirts, were visibly excited about learning the different skills from the 49ers staff, led by Youth Football Representative Ryan Myers. There was some added thrill at being taught by the city's elite crime enforcement officers as well.
"It's cool that the police officers are here," Clayton said. "They're making sure that everyone is being safe and knows how to do the drills. They are pretty good at them, too. "
The Gatorade Junior Training Camp was the perfect example for the boys and girls to stay active and healthy in the winter months, while stressing the importance of hydration during physical activities. The support of local police officers also gave the youth a chance to see in person the meaning of respect and giving back to the community.
"Having the police officers here with us sends a really important message to the kids at Columbia Middle School," Joanne Pasternack, 49ers Director of Community Relations, said. "We can show them that the 49ers and the Sunnyvale Department of Public Safety will work together to teach them about respect in the community."