The 49ers offense started off the game with five straight run plays by Frank Gore. While Gore netted only 12 yards total, it softened up things for Shaun Hill in the passing game, as Hill found himself with all day to throw and completed four out of five passes, including three long balls of 16, 15 and 18 yards a pop. After converting on three consecutive third downs through the air, Hill finished off the opening 13-play drive with a touchdown strike to Isaac Bruce, who schooled rookie Leodis McKelvin for the score.
"They know we are going to come out and make it a physical game and they had to commit to the run," said tackle Joe Staley. "When you pass 40 times a game, you'll get boxes where they won't bring that safety in as much and leave him more in coverage, but after those first five runs, we were seeing a lot more 8-man boxes after that as they were committed to stopping the run. We were able to get a lot of plays early on because of that."
Unfortunately it was the last bit of lasting momentum for a 49ers offense that finished the game with only 195 yards of net total offense.
Hill completed 14 of 23 passes for 161 yards and a 96.5 QB Rating, with Bruce, and Jason Hill catching the lion's share of his passes. Both had five grabs with Bruce totaling 67 yards, in comparison to 55 yards for J. Hill.
Two other players meanwhile missed out on opportunities for big pass plays.
The first was on a 3rd and 5 play just after the two-minute warning in the first half on what would have been at least an 18-yard completion when first-year player Dominique Zeigler allowed the wet ball to slip through his hands.
"Obviously it does make things a little tougher," said Hill. "Like you said, it's hard to catch the ball and sometimes when you're getting the ball out quick it's hard to grip the ball well. It's part of the game though, and both teams have to deal with the same elements."
The second was a third quarter deep ball pass to tight end Vernon Davis for what would have been a 37-yard touchdown had he not pushed off for a pass interference infraction.
Gore also ended up having a tough day on the ground, finishing with 24 carries for only 66 yards and a 2.8 average. He also was charged for a fumble after officials reviewed a play where the ball had popped out when he landed on the ground, and determined that Gore had never been touched by a Bills defender when he attempted to hurdle some traffic.
"I'm just upset about myself, not being the guy I'm supposed to be every week," said Gore.
**Winning on Special Teams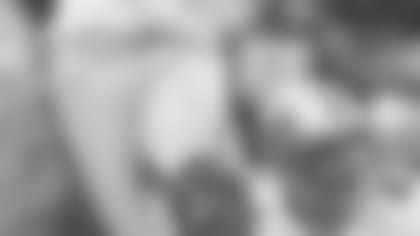 The Bills have been so successful with their special teams units that they opted to feature them during pre-game introductions.
"Man, that's special," said cornerback Tarell Brown. "That means they have a lot of respect for their special teams, and they do a great job as far as that group."
But turns out, it was the 49ers who proved to be truly special in Sunday's win.
Kicker Joe Nedney connected on his only field goal try, just getting a 50-yard kick over the crossbar, while Bills kicker Rian Lindell had two out of his three field goal attempts hit the left upright.
"In conditions like this, the snap and the hold are extremely important when the ball is slippery," said Nedney. "They didn't have the most crisp operation out there and that makes me all the more happy that I've got Brian [Jennings] and Andy [Lee]. One inch at the line of scrimmage can be feet (at the end of a kick). Those two guys did a great job, and they had a rough one today."
The Bills have enjoyed outstanding starting field position on the year because of their top returners in Roscoe Parrish and Leodis McKelvin, and they did win those battles for the most part on Sunday.
Nate Clements had only one punt return for three yards.
Parrish meanwhile set up his team up at the 25-yardline after a 26-yard punt return in the fourth quarter that was aided by a 15-yard penalty by safety Keith Lewis. However, the elusive receiver also committed a special teams no-no by fielding an Andy Lee punt at the 1-yardline. He was stopped a few yards later at the 7.
McKelvin had only one chance at a kickoff return, and got 37 yards out of it. The Bills ended up averaging 18.3 yards per return however as Fred Jackson took a kick back only 18 yards, followed by a squib kick that was covered for no return by a Bills linebacker. Tight end Delanie Walker finished with a 19-yard average on his two returns.
Lee, who did so well in getting the wet ball down for Nedney's long field goal, also had an excellent day punting with six kicks for 284 yards, a 47.3 net and a 39.2 average. He had a long of 58 and three times pinned the Bills inside their own 20.
In comparison, Bills punter Brian Moorman had a long punt of only 29 yards on three chances, and finished with a 26.0 average and a 25.0 net, as well as one punt pinned inside the 20.
"They had a great special teams group but our coaches had us prepared and we came out and played hard," summed up Brown.
**Both offensive and defensive units for San Francisco were perfect when it came to touchdown scoring in the red zone. The 49ers first and only offensive touchdown of the game occurred when the 49ers were inside the red zone, while the defense prevented the Bills from scoring any touchdowns despite four trips to the red zone.
"We'll build off it, because it is confidence knowing that you could make a play here and there, but at the bottom line if you get into the red zone, that's our zone, we will not let you in, at the worst we'll give up three points," said linebacker Takeo Spikes.
In fact, the defense gave up only three points the entire game, something Spikes credited to defensive coordinator Greg Manusky.
"We actually get two days of red zone work in, somewhat on Thursday and our true red zone day on Friday," explained Spikes. "Greg's ability to be able to teach us the little nuances, he can tell us what they're going to run, but a lot of people don't tell you why they run it versus certain stuff. And for him to be able to put us in that position, that's the reason why we're going to be effective in the red zone. With certain calls you're going to get certain stuff, and when you're able to teach certain guys that, then you understand why you can take it to the next level. You can know where you can cheat; you can know where I can't cheat at, you can know when I can depend on where my help is going to be at, and that's what happened."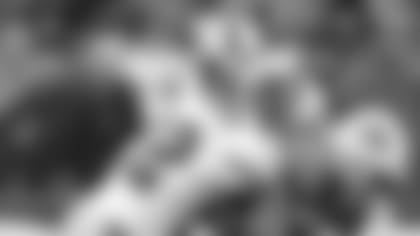 Happy Homecoming
**
Cornerback Nate Clements didn't get to come up with any interceptions or big punt returns against his former team, but he got the most important thing that mattered – the W.
"I don't think it really hit me until I stepped on the field and got into the game and the crowd screaming and everything," said Clements. "But just to come back and get a victory, it just feels good. It's an emotional victory for me and it just felt great."
**CB Walt Harris started and finished the game despite having a hamstring injury that kept him out of practice until Friday.
"I held up. I was kind of concerned about it but as the game went on, I felt that I would be alright," said Harris.
In the final series of the game, Harris did move inside as the 49ers loaded up on defensive backs, knowing that Buffalo needed to throw the ball. Hill was part of a secondary that greatly shored up last week's numerous explosive pass plays.
"We wanted to come into this game focused on not giving teams anything cheap. We feel that if we can force teams to drive the length of the field on us, it would be difficult for anybody. As a team and a defense we did fairly well in that aspect."
Although Chris Hannon was active for the game after being brought up from the practice squad on Saturday, he did not get to play.
Blame it on Singletary

Takeo Spikes said the 49ers are "absolutely" a better team than they were four weeks ago, and it's all head coach Mike Singletary's fault.
"I say that in all sincerity and honesty, no disrespect to Coach Nolan, I love Coach Nolan," said Spikes. "But I think… Coach got a lot of heat for sending Vernon into the locker room, and a lot of heat for his tactics as far as motivational tactics. But as a player, you will want to be challenged. We, myself, Pat (Willis), were brought up in that in the linebacker room but to be able to feed that into the entire time, even when times are bad, a belief that he continues to instill in us."
Smart Play

Quarterback Shaun Hill could have thrown the ball away just prior to the two-minute warning but that would have helped Buffalo out by stopping the clock. Instead, Hill took an 11-yard sack by Chris Kelsay.
"I kind of got flushed. You throw a ball to a tightly covered receiver, then the clock stops. If I run out of bounds the clock stops. If I take a sack, then we'll go ahead and the clock will run down to the two minute warning. So, yeah that's why I took the sack there instead of throwing it away."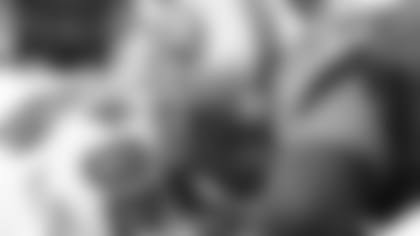 Big-Time Plays and Players
**Linebacker Joe Staley finished the game with a team leading 14 tackles, a pass defensed, a quarterback hurry and a forced fumble.
Defensive end Justin Smith finished the game with 1.5 sacks. Both occurred late in the game to help prevent the Bills from a comeback.
Nose tackle Aubrayo Franklin finished with only two stops, but linebacker Takeo Spikes credited the defensive lineman for his own 9-tackle game.
"He's big," said Spikes. "He's one of the guys, who never really gets any credit on a national level. Sometimes, not even on a local level. But you're hearing it from me, because this guy is a baller. He's a big-time baller."
Turnovers

Each team had one turnover in the game.
Linebacker Patrick Willis forced a Marshawn Lynch fumble in the second quarter, which was recovered by safety Mark Roman. The 49ers got three points out of it.
Running back Frank Gore gave away a fumble after hurdling some traffic on a sweep play, hitting the ground and having the ball pop up. Buffalo challenged the play and got a reversal as the officials ruled that Gore had never been down by contact, and that the loose ball was thus up for grabs.
The Bills got the ball at the 49ers 18-yardline but got nothing out of it as the defense held on a 4th and 2.
Challenges

While the Bills won the challenge on the Gore fumble, they lost one a few plays prior when they fought for a pass interference call to be overturned since they felt Shaun Hill's pass was tipped. Although a Bills defender came close, the wobbly pass was just a poor throw in wet conditions and the Bills lost the challenge.