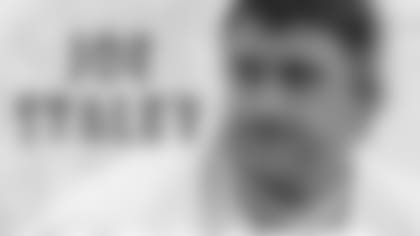 First-round pick in the 2007 NFL Draft out of Central Michigan, tackle Joe Staley will share his experiences as a 49ers rookie, on and off the field.**In this latest installment, he wraps up the preseason and talks about the start of the season.
My thumb is okay. It's healed, but now I don't want to take the brace off, which I know is weird because I complained about it being such a nuisance to me at first. Now it's comfort and I just think, why not keep wearing it so I don't break it again?
I got food again for the veterans before the plane ride to San Diego and it went very smoothly, unlike my last experience that I shared with everyone. I went to Posh Bagel and it was a great operation there. Everything was professional, on time, exactly what I wanted, and even some extra. Popeye's is out of the picture right now. In my mind, I'm not going back there ever again but of course Jonas and Larry like it. So we'll see.
I got my first start against San Diego. It was alright. There was one play in particular I messed up and it was my last rep, so it was hard to put it behind me because I didn't get to redeem myself. I've got to just let stuff like that go though, but I still have a hard time with that right now.
It was frustrating overall because we just couldn't get anything going offensively, but we didn't have a lot of time to be out there either.
We had about three days off, which had I realized I probably would have flown back home. I didn't really know how much time we had though so I just stuck around. Me and Big Country (Zac Herold) went over to Dave and Buster's quite a bit to play this game they have there called Derby Owners Club. You create a horse, you train it, you race it and you can retire it and breed it, so you are a virtual horse trainer. It's very addictive, I guess the way crack is to some people. We went there every day and played for about five or six hours. I even looked into buying the entire system but it's pretty steep and I think it might take up too much of my time. If that game is still around one day when I retire from football, I'm totally going to purchase it and just sit around all day playing it. I think it would definitely be worth it. For now, I had to go cold turkey with the game so I could focus on getting ready for Arizona.
However, one day we also decided to go to a real race track and went up to San Mateo, along with Harvey Dahl. It was fun. We didn't really bet, but it was just cool to watch them. I had never been to anything like that before.
Cuts really sucked. It's hard because I got to be really close with some guys. Sean Estrada was my roommate most of the time since we came in so to see him go was disheartening. It stinks to see guys go and it's so quick. They come up here, and they are just gone pretty quick. It is a wake up call and lets you know that every day you have to bring your A game. You can't have an off day because there is always the potential you can be cut.
Pat Estes made the squad and the next day he's gone, so you really have to bring it every day.
I'm excited. I'm not really nervous, just more excited for my first game and the opportunity our team has. This week is definitely a lot different than any preseason week has been. Practice has been a lot more amped up and coaches have thrown a lot more at us, as far as schemes and what we are going to do. I think everyone has done a good job picking everything up.
My preparation has gone up tenfold. During preseason I didn't do too much at home but this week I've spent about 3 hours per night looking over game tape and my playbook. I feel pretty confident. In the walk thru today, I felt pretty confident in my assignments and in the guys around me.
I'll plan to get over to the stadium pretty early. I like to get there and just get out there and stretch out on the field and hang out at the stadium. I don't get too psyched up or anything. I just listen to my music and take it easy right before the game. My mom and dad and my sisters are coming in on Saturday for the game. Hopefully, I'll get to hang out with them some on Sunday.
Arizona is an aggressive group. They do a lot of stuff that is unique to me, because it's my first NFL game, in terms of blitz schemes. They are an athletic bunch and they are physical. They'll try to hit us in the mouth so we have to come out early and try to punish them in the run game.
I'm excited about blocking for Frank Gore. I'm pumped to play regardless of who is back there, but he definitely makes everyone look better because he's so talented. He can make someone miss and go 80 yards and then we look like we're really something special!
Outside of that, I'm very upset Entourage is done. The season finale was on Sunday, and it was just okay. It's really becoming an average show. I still am into Flight of the Conchords, which also had its season finale. I hope they continue with it because I really like it, but I have read reviews of some people who say they just don't get it. I love it, and hope it comes back.