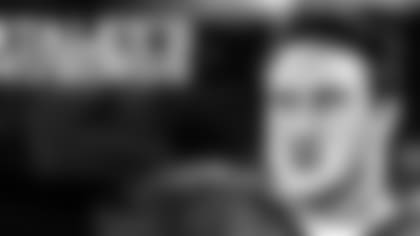 Left tackle Joe Staley continues his 49ers.com blog with updates from the 2011 offseason. Check out the latest edition of "Staley's Musings: Random Thoughts from a Big Guy."**We're a few weeks into the offseason now and everything is going well. A lot of guys have been around doing what we can to get ready for next season. Obviously it's a long ways away, but we have to put in the work all offseason if we want to get this thing turned around.
I've been in the weight room at the 49ers facility as much as I can, getting my body right. I have everything I need there. Plus it's fun to work out with the guys who are still here. I've already had many compliments on my swoll-ness. Keena Turner told me I look very cut, and that means a lot. Adam Snyder said, "My God, you look huge." Our head strength coach Mark Uyeyama said, "Ooooeeeee, he's getting big."
After I leave the weight room today I'm going to the dentist to fill my five-year quota of seeing him. I figured now is a good time.

I don't mind the dentist. I hated it when I was a little kid, but I don't mind it now. I was the kid that always had cavities when I was 10 and 11, but the thing that I hated most about the cavities is they would put that suction thing in your mouth to make sure your mouth was completely dry. It would just weird me out that my tongue felt like sandpaper. It was like a cat tongue. The dentist was like, "Does this hurt?" And I was like "I can't feel my tongue!"
But I haven't had a cavity since I was little kid, so I haven't had to deal with that feeling in a while.
Going to the dentist is just one way that I'm trying to grow up this offseason. I also started cooking for myself – just experimenting a little bit in the kitchen. I can cook pasta, I can grill meat, I make myself eggs in the morning and I can whip up a few other things. I know it's not much, but I'm cooking and that's a big step because I never used to do that.
So I'll stay here and workout and cook for myself all offseason, however I do have one vacation planned. I'm going to Hawaii with my girlfriend for a week. But that's it.
I stay here in the offseason because I have a home here. Plus, I get to work out for free here, which is better than paying for a membership at a gym. I have everything I need in the Bay Area. I'll go back home to Michigan and visit when it gets closer to summer, but why not stay here until then?
Obviously, a lot has changed with the coaching situation around here lately. I met with Coach Harbaugh already and I really liked him. He has great energy and I think he'll do some really good things here.
One of the coaches who is still around from last season is my o-line coach, Mike Solari. I like the fact that he's still around and I think it's especially good for the rookies Mike Iupati and Anthony Davis. Solari just has a good rapport with all of the players and he knows who we are, what we do and what we respond to. So him still being here is great.
Away from the field, I've gotten back into Twitter. I've had an account for a while, but I stopped using it. But now I have a new outlook on life with the whole growing up thing and I'm getting back into it. Plus, I think its fun to interact with fans and have them keep up with me and I like keeping up with them. I respond to a lot of people too, so hit me up on there, @jstaley74.
I don't have many followers now because I've barely been on there. My girlfriend has about 400 followers because of her soccer, and I made a competition with her. I told her I could get more followers in a week than she has right now, and she's been on there for a year. Hopefully this blog will help me overtake her. There are bragging rights on the line here, so help me out Faithful.
I get a chance to watch a little more TV in the offseason, and one of the best things I've seen lately was when Giants' closer Brian Wilson was on the George Lopez Show last week. Hilarious. He's a guy I'd like to sit down and hang out with, but I think it could get weird.
His beard is great; I can't grow a beard like that though. If I started now it'd take like three years to look like his.
Another show I watch a lot of is Jersey Shore, that's my guilty pleasure. And every episode just gets better. Like last week, when Ronnie and Sammi were fighting and Ronnie says to her, "You bring me a piece of pizza, not a protein shake?" – hilarious.
One thing I didn't watch was last weekend's Pro Bowl. I actually watched re-runs of Pawn Stars instead, which is the best TV show on right now.
But as far as the Pro Bowl is concerned, making the Pro Bowl isn't my goal for next year. My goal is to win games, and everything else will take care of itself. I want to be on a winning team and go to the playoffs. That's my goal. I don't care about the individual stuff. I don't care if people think I'm good. I don't care if I go to the Pro Bowl. I just want to win.
Well that's all for now. I have to head to the dentist, hopefully I'll still be cavity-free. But be sure to stay tuned for more of my blogs, and maybe we'll get in an episode of the Joe Show this offseason. Oh, and don't forget to follow me on Twitter to help me win my competition with my girlfriend.