At 25 years young, Joe Staley occasionally gets tired. It's understandable. When you're constantly putting together double-digit tackle performances and dishing out some of the most devastating hits in the game, you're sure to get a little worn down from time to time.
But whenever a mid-week practice could potentially bring the three-time Pro Bowler to a lethargic state of mind, he needs no other jolt of excitement than looking over at the unmistakable grin on the face of his fellow 33-year-old inside linebacker Takeo Spikes.
"Sometimes you show up and you love to be here, but at the same time, your body is like… 'I'm just not feeling it today.' But when I see this man coming out there with a smile on his face and moving the way he's moving… If he can do it, I can do it too," Willis said. "So yeah, I believe his energy rubs off on us big-time."
How could a personality as large as Spikes' not?
After all, the 6-foot-2, 242 pounder is a well-known name across the country. He played his college ball in the South (Auburn), was drafted to play in the Midwest (Cincinnati Bengals), later signed in the Northeast (Buffalo Bills and Philadelphia Eagles) and has strengthened the 49ers defense, an immensely popular West Coast team.
All the experiences, 13 years of NFL football with four different teams, have given Spikes a unique perspective. In each stop, he's been a prominent figure and a go-to guy for young players seeking advice and inspiration. He's also the team's NFL Players Association representative, a sign of respect and trust from his 49ers teammates.
It was the exact same way when he signed with the 49ers at the start of training camp three seasons ago. Spikes came in without the look-at-me antics – it was his look-at-how-I-work mentality that earned him even more credibility. Immediately, the 49ers locker room let Spikes in as one of their own. Soon after, Spikes and Willis became especially close.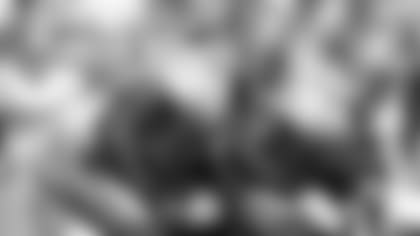 "We have a special relationship, we do," Spikes said. "It really started off the field. When I first got here, we just made it known to each other. For me, I need for you to help me get to where I always wanted to go, to the playoffs, an opportunity to play for the ring.
"For him, he was coming off his first Pro Bowl season and with the experiences I knew, it was about helping him get better."
Willis has made the Pro Bowl each year of his career, but said he credits Spikes for raising his level of play each week.
It all goes back to the mentality Spikes brings with him every day to work.
"It's an honor to play besides Spikes. It's been truly a blessing," Willis said. "He helps me do my job a lot easier. It's fun playing with him, he keeps me going."
The duo, along with the rest of the 49ers defense got going in a major way last week, limiting the Cardinals to just 13 rushing yards. Their play was a big part of it, as the two instinctive linebackers were able to make plays all over the field, whether it was against the run or the pass.
And when the two are making those types of plays, Spikes likes to remind his younger counterpart the importance of enjoying the moment.
Call it his brand of leadership.
After Willis blitzed right up the heart of the Cardinals offensive line last week and sacked Derek Anderson, within seconds, Spikes encouraged his teammate to do something seldom seen from Willis, a dance.
Willis smiled immediately and obliged by doing a little maneuver as Spikes cheered him on.
"You gotta celebrate," Spikes said with a smile. "It's a tough game. Whenever you do something good, I believe in, let's celebrate with the guys. You have a feel-good session because you earned that. That goes all the way back when I first start to playing."
Spikes has had reason to dance at times this season, but wasn't able to celebrate after his interception last week against the Cardinals. He was too busy looking to get up the field as well as find a faster defensive back to pitch the ball to. Spikes did toss the ball back to cornerback Nate Clements, who put together a nice return, but the play was negated after Spikes was ruled down by contact.
The creativity after the interception was appreciated by Clements, Spikes' former teammate in Buffalo as well as a groomsman at his wedding.
"I've been playing with Spikes for a long time and that's what I expect," Clements said. "That's what he brings to the team. He's playing with a lot of energy, excitement and a lot of passion."
In addition to high-energy performances against the run (74 tackles and one fumble recovery) Spikes has been an asset on passing downs too with five pass breakups to go along with two interceptions.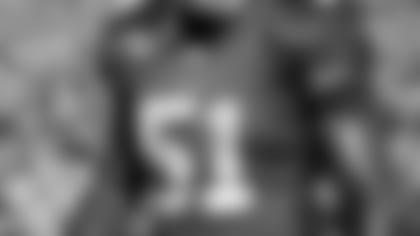 Spikes said it's nutrition which can be credited for his youthful play. The Sandersville, GA, native has always had a distinct taste in food, but jokingly said his weekly routine has made a difference.
"Mondays and Wednesdays, I go with the Vienna Sausages with the Club or Ritz crackers. Thursdays I like to have fried bologna on a nice slice of white bread, toasted, with two swipes of mayonnaise on top," the ageless linebacker said with a smirk.
While some might questions his favorite snacks, there's no doubting his impact on the 49ers defense this season.
He didn't play in the 49ers loss in Green Bay last season, but will be back in the lineup this time around to make sure the outcome is different.
"This game is big for many reasons," he explained. "No. 1, it's a chance to gain ground in our division. No. 2, a win this week could be paramount. Anytime you want to be in the class of the good teams, you have to go out and beat a good team. This is a great challenge for us."
Spikes' style of play and influence will be needed in the remaining five games.
"I always like to have fun. To me, when you into a game uptight, it's not good. I like to have fun and the only way you can create your fun is just do it."
Notes and QuotesFor all the success the 49ers had against the run last week, it could be quickly forgotten facing a pass-first Packers team led by quarterback Aaron Rodgers. The Green Bay signal caller has earned the 49ers respect, especially from Willis. "Aaron Rodgers is one of the best quarterbacks in the league, I feel he is. He has some great receivers out there, good running backs, they have a good offense. Our defense is going to have to be prepared like we are, I like the game plan that we got in, and we're really looking forward to going up there. We got to get a win, however we do, we got to get it. It's going to take a team effort but our defense is really going to need to show-out."
Rookie right tackle Anthony Davis performed quite well against Arizona, as evident by his solid run blocking, including an impressive block on Brian Westbrook's 8-yard touchdown run. This week, he'll occasionally line up against Clay Matthews, Green Bay's best pass rusher and the NFL's league-leader with 11.5 sacks. The matchup won't be a constant though. Offensive coordinator Mike Johnson said the Packers like to move the second-year linebacker around.  "We'll have to be ready as a protection group. So it's not going to be solely on Anthony Davis. It's going to be a group effort to try to make sure that we get these guys blocked in a passing situation."