Most Samoans don't grow up with grandiose dreams of playing in the National Football League. In fact most natives of the small island country, which is located approximately midway between Hawaii and New Zealand, are much more enamored with a game that's native to the area - rugby.
This was also the case with 49ers defensive end Isaac Sopoaga who had never played football until he was 17 years old. At that point, the local high school coach who had come to Sopoaga's house to visit with two of his brothers decided to also recruit Sopoaga. Although reluctant at first, Sopoaga decided to give football a shot. He would quickly find out that he made the right decision as he went on to win defensive player of the year honors in his senior season.
Sopoaga continued his football career at the College of the Canyons in Southern California, setting the national junior college record for sacks in a season with 31 in 2000. He would then transfer to the University of Hawaii where he was an all-conference selection in 2002, and with just five years of football experience under his belt, Sopoaga was selected by the 49ers in the 4th round of the 2004 draft.
With his contract expiring at the end of the 2007 season, Sopoaga was in no rush to leave his home away from home, and re-signed with the 49ers just days before the start of free agency in order to stay close to family, teammates and an organization to which he had grown accustomed.
"The most important thing for me is to stay here in the same place with my same teammates," said Sopoaga. "Plus, I don't like to travel and in San Francisco I am the closest I can be to my family. After coming from Samoa where it's hard to earn five dollars per week, being in this situation where I get paid very well to do something I love is amazing!"
While he came from such humble beginnings, Sopoaga has steadily gained a reputation as one of the fiercest and strongest players on the team. He has improved every season since he's been in the NFL, culminating in a career high 58 tackles and a career high-tying 1.5 sacks in 2007.
Sopoaga credits his improvement in part to some simple motivation from 49ers defensive line coach Jim Tomsula.
"It's like coach always tells us, if you want to go somewhere you have to turn it up a notch in your work ethic and your performance during the season," said Sopoaga. "If you do that, the coaches can tell. I just try to put myself in that situation by going all out, fighting and being tough on each and every play."
Without question, the coaches noticed Sopoaga's improved play in 2007 and rewarded him with increased playing time as the season wore on.
While most players of his size may not be initially viewed as the most athletic players on the field, Sopoaga showed the ability to play nose tackle, defensive end and even linebacker, where he played during one game last season against Seattle.
"Those positions made me learn different techniques as the season progressed and I think that really helped me," said Sopoaga. "When I put all those things together, it gave me an idea of what I wanted to do going into this season. Now I know how I want to play, react and use my energy against the man in front of me."
Defensive coordinator Greg Manusky witnessed that consistent energy from Sopoaga in his first year directing the 49ers defense, and is eager to utilize the ever-developing defensive linemen even more in 2008.
"When you get a guy that physical, with that size and that much talent, now he just has to get better in the scheme, defeating blockers and doing what we ask him to do," said Manusky.
Manusky expects Sopoaga to play primarily at left defensive end this year, a change Sopoaga is very excited about.
"Moving from nose tackle to defensive end takes a lot off pressure of me," said Sopoaga. "When you're playing nose, you have to worry about the ball and up to three other guys in front of you. While I still have a big responsibility, now I can focus more on beating the man in front of me and I'm going to do that to the best of my ability."
Sopoaga's best will be needed as he has some large shoes to fill heading into the season. The defensive end roles last year were filled by Marques Douglas and Bryant Young. With Young retired and Douglas now playing for Tampa Bay, two critical areas of the defense needed to be filled.
Having had the locker adjacent to Young, Sopoaga learned much from Young over the last four years, including how the venerable lineman led by example and "finished everything with speed." Sopoaga said he plans to draw from those lessons as he steps into his role as one of the senior members of the 49ers defensive line.
"B.Y. showed me how to be a leader," said Sopoaga. "My locker was right next to his and I saw how professional he was in everything he did. We all have to step up to replace his leadership, but especially me. Now I'm looked at as the 'old guy' because I was here before everybody. I have to try to fill the shoes that Bryant Young left behind. I have to set a good example for the new guys and the younger guys who are returning."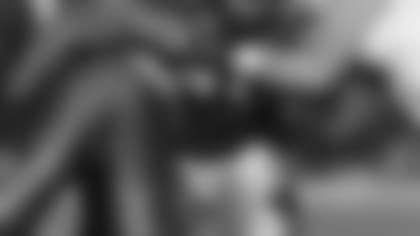 In addition to setting an example in the 49ers locker room, Sopoaga is also committed to serving as a role model. Along with fellow Samoan NFL players Domata Peko, Pisa Tinoisamoa, Lofa Tatupu and others, Sopoaga has given back to the place he still calls home. They have supported the expansion of USA Football and Pop Warner leagues to the islands, taking a grass roots approach to get kids connected with the sport at an early age.
Largely a result of Samoans' success in the NFL, football is starting to take root in Sopoaga's native country and he aims to continue to grow the sport, eventually holding yearly youth football camps. It is something that Sopoaga wants to do simply to "lift his spirit."
"I have a lot of pride in my island and my people," said Sopoaga. "They have rooted for me and supported me. I'm not the only Samoan in the NFL, but I want to thank them for all that they've done for me. That's where I came from and I wish them all the best."
It would be safe to assume that they wish him all the best too. After all, as far as his NFL career is concerned, the best may still be in front of him.