The first practices of Senior Bowl week will take place Monday afternoon. Here's a look at a few of the key position and key players on both teams.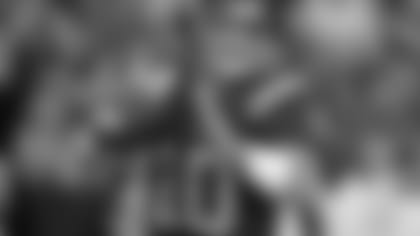 QB John David Booty, USC **
Booty probably is the biggest name of the quarterbacks here at the Senior Bowl after leading USC to an 11-2 season. Despite missing three games to nurse an injured finger on this throwing hand, Booty put up big numbers with 2,361 passing yards, 23 touchdowns and 10 picks on the year for a 138.1 QB Rating. Booty comes from a football family and as a Shreveport, Louisiana native, he will likely be a hit here in the South this week. NFL scouts like the USC QB because of his very sound techniques and mechanics.
QB Chad Henne, Michigan
Four year starter at Michigan, Henne won a lot of games, and awards, for the Wolverines. He threw for 1,938 yards in his final season, 17 TDs and 9INT for an overall 86.6 QB Rating. The 6'2, 220 pounds quarterback is liked by NFL scouts for his strong arm and physical skills. He's been inconsistent throughout his career, but many teams will bite on this gifted QB.
WR Lavelle Hawkins, Cal
One of the bigger names of the North's receivers, Hawkins is well known in the Bay Area. Hawkins played high school football in Stockton before enjoying a career at Cal. He finished his senior campaign with 72 catches for 872 yards and six touchdowns. He's got good hand-eye coordination and good hands.
WR Adarius Bowman, Oklahoma State
Bowman's production dropped somewhat his senior campaign, but he made the most out of his opportunities on a struggling offensive unit, and still came up with a 1,000-yard receiving season. He's a big body receiver with the physical tools to play in the NFL.
RB Chris Johnson, East Carolina
Johnson was a big time contributor as a returner throughout his career, but he had a phenomenal senior campaign at running back with 1,423 yards and 17 touchdowns. He's a short and thick running back with excellent speed and is the best running back featured at this year's all-star game.
LB Keith Rivers, USC
Rivers is one of the better linebackers at this year's Senior Bowl game and should be a first day pick. The three-year starter and team captain was a semifinalist for the 2007 Butkus award. As an every down linebacker, Rivers racked up 78 tackles (second on his team), and a team-high 3 fumble recoveries. Considered the leader of a defensive unit stacked with talent, NFL scouts like his intelligence and work ethic.
NT Sedrick Ellis, USC
Ellis is the one of the best defenders on the North squad, one of the better defensive lineman in the draft and a likely first-round draft pick. He reminds scouts of Chargers NT Jamal Williams in terms of his build. A two-time All-American first teamer, Ellis started 13 games for USC and amassed 58 tackles, including 12.5 stops for a loss and 8.5 sacks.
QB Erik Ainge, Tennessee
A three-year starter for the Volunteers, Ainge was an add on after Brian Brohm dropped out. Ainge is no slouch, having thrown for 3,522 yards and 31 touchdowns in his senior campaign. He led his team to a 10-3 season before winning the Outback Bowl with a 365-yard passing game. He's a tall, thinner type QB. He doesn't have the strongest arm, but he knows how to play the game and makes good decisions.
QB Colt Brennan, Hawaii
Brennan transferred from Colorado to Hawaii and made a name with himself with an undefeated 2007 season and 4,343 passing yards. He piled up 38 touchdowns and only 17 interceptions in June Jones' offense, production that has earned him NFL consideration. At 6'3, Brennan is a tall, skinny quarterback who will likely be a mid-round pick.
RB Tashard Choice, Georgia Tech
Choice is the top running back on the south squad, and has enjoyed back to back 1,000 yard rushing seasons for Georgia Tech. He also had 14 catches for 107 yards last year, but he's not a speed guy. He's 5'11, 210 pounds but runs like a much bigger back, making his living between the tackles.
RB Jacob Hester, LSU
Hester is another big name running back in this week's all-star game, although he's being projected more of a fullback in the NFL. He does have natural run skills and can catch the ball out of the backfield and was extremely productive at LSU with a 1,000 yard season. Hester should be a mid-round pick.
WR Limas Sweed, Texas
After enjoying 46 catches in his junior year, Sweed battled injuries in 2007 and finished with 19 catches for 306 catches. He's still a highly respected receiver who will make a mark in the NFL. He's athletic and shows great body control and can make acrobatic catches.
WR Early Doucet, LSU
Doucet is the other big name receiver on the South squad this year. He was a key producer for the National Championship team as a receiver and a returner, coming up with big plays in big games. Doucet almost came out after his junior year with 59 catches for 772 yards, but he returned for his final season and caught 57 catches for 525 yards and 5 touchdowns.
LB Phillip Wheeler, Georgia Tech
One of the top defensive players on the south squad is linebacker Phillip Wheeler. He's very athletic, fast and should test extremely well at the Combine and his Pro Day. Look for Wheeler to be a first day pick.