The San Francisco 49ers will continue to recognize its alumni by selecting an honorary game captain for each of its home contents during the 2008 season at Candlestick Park. Honorary game captains reconnect with the 49ers family, while also participating in the coin flip prior to the start of the game. This Sunday, former wide receiver Freddie Solomon will serve as the Honorary Game Captain. Check out this feature story on the former player.
---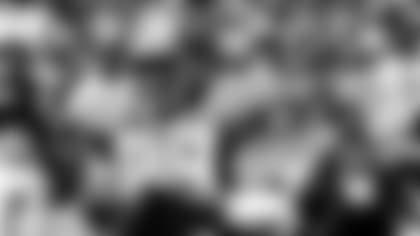 FREDDIE SOLOMON- POSITION: WIDE RECEIVER - HEIGHT: 5-FOOT-11 - WEIGHT: 185 POUNDS  - HIGH SCHOOL: SUMTER (SUMTER, SC) - COLLEGE: TAMPA - SAN FRANCISCO 49ERS: 1978-85*
 After four losing seasons in five years, the 1978 San Francisco 49ers began trading for success. They acquired nine players, but the only one who made a major contribution toward San Francisco's eventual turnaround was wide receiver Freddie Solomon.
Picked up from Miami for halfback Delvin Williams, Solomon played in every game that first season and led San Francisco with 31 catches and 458 receiving yards. Unfortunately, even with the new faces in the lineup, the 49ers still went 2-14.
Solomon and his teammates didn't realize it at the time, but things were about to change the following season with the hiring of Bill Walsh as head coach.
"He was a lot different from the previous coach," Solomon said. "He was innovative and creative in his approach to the game, so you could feel there was a difference in what was going on there. There were players coming and going. He was trying to put together the right pieces to the puzzle to make his team come together."
The puzzle was completed during Walsh's third season and Solomon's fourth in 1981 when the 49ers went 16-3 overall and defeated Cincinnati in Super Bowl XVI. Solomon was San Francisco's leading receiver in the 49ers first Super Bowl victory with four catches for 52 yards.
"I never really dreamed a lot about the excitement and the enthusiasm of it," Solomon said. "What I used to think about was how I continued to evolve as a player. The excitement came along with it — it's hard to explain. There's still excitement that's going on many years later. There are a lot of people that have never seen a (Super Bowl) ring. They want to see it. They want to touch it. They want to ask questions about that journey. It's something I will cherish.
"Throughout my tenure with the 49ers, we worked very hard and we had a lot of fun," he continued. "Mr. D. (former Owner Eddie DeBartolo) and Walsh created an environment with some key ingredients — by this I mean (Joe) Montana, Fred Dean, Ronnie Lott, Jack Reynolds and on and on. It was a pleasure and fun to be able to go out day in and day out — and be competitive in practice and on Sundays."
Solomon, who caught 310 passes for 4,873 yards and 43 touchdowns during his eight seasons in San Francisco, was there for every step of the organization's rise to the top. He experienced the low of back-to-back 2-14 seasons in his first two campaigns, as well as the high of twice hoisting the Lombardi Trophy.
"We had the greatest fans and I got to play with several of the great players of all-time," Solomon said. "Also being able to play in Walsh's system and being a part of DeBartolo's leadership — there were a lot of factors that made it exciting. It was like magic!"
Two of those great players included Montana and fellow receiver Jerry Rice, who joined the club as a first round draft choice in 1985 — Solomon's final year.
"There was an aura, a presence about Joe when he first came there," Solomon said. "And that presence to me was 'We will win! And we will win big!' He was cool, never rattled, a quiet leader — one of the great field generals."
"Jerry brought all of his talent with him when he arrived at the 49ers training camp," Solomon continued. "There were things that needed to be polished and pointed out, and there were several players who helped accelerate that greatness we saw throughout the years."Solomon also played a major, if lesser known, role in "The Catch.""That's the first thing I think of when asked of a significant 49ers memory," he said. "Joe made a great throw and Dwight (Clark) made a great catch. It's a play we're very proud of because it gave us the first opportunity to play in the Super Bowl."
We all remember Clark's famous leaping grab that helped the 49ers beat Dallas in the 1981 NFC Championship Game, but how many remember it was Solomon who was the primary target on the play, but slipped coming out of his cut.
Although Solomon's legacy may never be the same as that of Montana and Clark, he's thankful for his pro football experiences.
"I'm grateful for what God gave me and for the experiences I shared with the players, the coaches and the fans," he said. "I wouldn't change anything. I was truly blessed to be given the opportunity during that time. I hope I did an adequate job. My only hope is we protected what the pre-49ers had given us with the integrity of the game. I hope these young players of today will learn what that means and will protect their legacy of the game as well."
These days Solomon lives in the Tampa, FL area with his wife, Delilah, and works in community relations for the Hillsborough County Sheriff's Department.
"I try to help people, mostly kids," he said. "We put together some programs to try to teach them self-esteem and discipline. We also put on programs where I get involved with the youth sports leagues around the county, primarily football. During the summer, we put together some camps for the kids. And we also put on a coach's clinic for the adults."
Solomon remains a truly wonderful and inspiring person. Sunday, the organization will recognize his remarkable contributions and achievements by bestowing upon him the title of Honorary Game Captain.