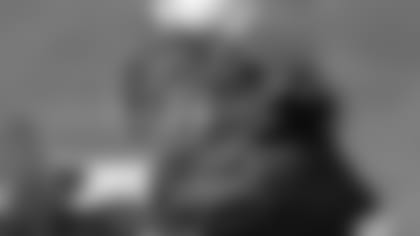 Veteran linebacker Derek Smith gave us his game day breakdowns throughout last season. Fortunately  this off-season the 49ers were able to lock up Smith for the next few seasons and after his first week of OTAs, Smith checks in to share his perspective on the progress of the 49ers defense.**
Things are coming along pretty good out there for us after our first week of OTAs.
We are just knocking the rust off a little bit, getting comfortable with things again, getting the feel of working with everyone, and getting the communication down. I think things are going pretty good.
I see a marked improvement from everybody. We had a lot of young guys last year and this is our second year in the system so everyone is more comfortable in it, and everyone is that much further ahead than we were last year at this time. I definitely see an improvement overall in the team.
It's fun to have Jeff Ulbrich back from his injury. We work together well. He's a good guy to have out there, he's a good leader, he works hard, and knows what he's doing. It's good to have him back out there.
We had only one change to our defensive staff and that was bringing in Johnnie Lynn to work with the secondary and he's really working hard with them and trying to get everyone on the same page and give them a good understanding of what we are trying to accomplish.
We had so many younger guys in the secondary and they got great experience last year. I always say experience is the best teacher and I think the guys are even more comfortable now than they were last year. They've had enough time playing to where things have really slowed down for them, and we've reinstalled everything and so you have a chance to rehash it in your mind. You already have the foundation from last year and now we just build on top of that. Guys feel more comfortable and things are looking good.
You start off with the most basic defenses and put them in and as you go along, you keep specializing and getting into your third down defenses, your redzone defenses down the line and finish up installing with goal line and short yardage. I'd just be guessing as far as a percentage, but I feel like most of it has been installed.
Coach Singletary is always the same guy out there with all of us linebackers and he keeps pushing us to get better. I just try to work on little things during OTAs and then prior to training camp I try to really take time to set my goals for the season.
Overall, so far, so good out there.