For quarterback Alex Smith, Monday's organized team activity at 49ers headquarters, the first of four this week, are as vital as any other snaps he'll take this summer.
"As a quarterback, these are a little more meaningful for us," Smith said after the team's morning practice. "We're not hitting, but for us, we get a lot of looks out of it. You're working on your reads, your timing, because things change a bit."
"We need to be efficient in our thought process," Smith said. "From the huddle to the end result, making sure everything is sound."
Smith has already shown greater command of Jimmy Raye's offensive system in year two, but he's not alone. Each player on the offensive side of the ball has developed a greater understanding of the offense, not just from the perspective of their position.
"Initially you're worried about getting your job done, focusing on your area," Smith said. "But now the more comfortable you get, the more everyone picks up the bigger picture."
For Smith personally, working off of last year's playbook has only increased his play-making ability.
"I feel absolutely confident about what we're doing, protections, all of our route concepts, what I'm expected to do and I feel good about coming in and doing it," Smith said. "I understand the system, where I can take shots, where I can gamble a little bit and when not to. I think you understand all of that. I'm just really comfortable right now."
Equally comfortable with Smith's progression are two of his primary targets, Pro Bowl tight end Vernon Davis and third-year wideout Josh Morgan.
Ten of Davis' NFL-record 13 touchdown receptions by a tight end were thrown from Smith last season, including three in the first half at Houston. Not bad, considering it was the first time they played football together in a regular-season NFL game since Nov, 12, 2007. The duo continued their growing connection down the home stretch of the season, as Smith found Davis in the end zone in six of the final seven games of the season.
"He looks awesome," Davis said praising his signal caller. "I'm excited about Alex. I'm with him 100 percent and I can't wait to see him out there this year. He's going to do a fantastic job."
Morgan also flourished with increased playing time, catching 22 passes for 179 yards and two touchdowns in the final five games of the season. Morgan said he anticipates great things with a full offseason to work on timing with Smith and the rest of the 49ers offense.
"We feel confident with everything that's going on," Morgan said. "The best part of it was that we were in the right places, I know everyone knew what they were supposed to be doing. Alex looked great out there too. He took control of the team and made all the necessary corrections at the line of scrimmage."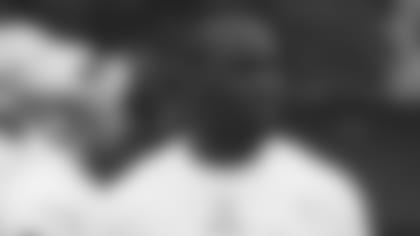 On the other side of the ball, nine-year safety Michael Lewis could recognize the same things Davis and Morgan were seeing from the 49ers offense on Monday.
"Wow, they looked explosive. They're getting better every day," Lewis said. "The wide receivers look explosive and fast. It's going to be an exciting offense… They're going to make this defense better."
Lewis' unit has their work cut out for them during organized team activities. With player safety being one of head coach Mike Singletary's biggest points of emphasis, the defensive players have to tone down their aggressive play and play smart football.
"It's tough because we're competitive, we want to get interceptions… to let up a little bit, it's kind of tough, but we understand the situation," Lewis said. "The offense is working on timing and getting everything crisp."
Veterans might have a better understanding of their playbooks, but the 49ers 2010 rookie class has had to play a game of major league catch-up. After completing their first rookie minicamps a few weeks back, the players have had limited time with their new playbooks in time for this week's OTAs.
The 49ers selected eight players in the draft, two in the first round, but that doesn't mean those players will be given their roles; they'll have to earn them first, especially the high draft picks.
"Just because we drafted a guy in the first round, we're not going to bring him in and put him in as a starter right away," Singletary said. "When they get out here, they're going to dictate, they're going to tell us they're ready. More than anything right now, it's the learning curve. It's learning all of the little details that come with the position."
Drafted and undrafted rookies all have similar mindsets during their first week of practices with the veterans: Earn respect.
"Nobody out here is going to give up their job; you have to prove yourself out here. You have to run 110 percent, you have to work extra hard and prove that you belong," undrafted free agent cornerback Patrick Stoudamire said. "It was real good to see how it's done at practice, the tempo and their aggressiveness."
For many of the rookies, the chance to work with players they've seen on TV over the years was a memorable moment.
"It was good to see those guys work," said Kyle Williams, the team's third, sixth-round pick in this year's draft. "You don't really notice at first, but then when you're in the huddle with these guys it's like, 'Oh wow, we got a squad over here!'"
Notes and QuotesIn typical fashion, defensive coordinator Greg Manusky had a little fun with one of the veterans to start practice. As the players finished up stretches and huddled up before the start of practice, Davis had noticed his helmet was missing. For a good 5-10 seconds Davis was scurrying around to find his helmet until he saw Manusky hiding something behind his back. Manusky gave the helmet back and the two shared a laugh.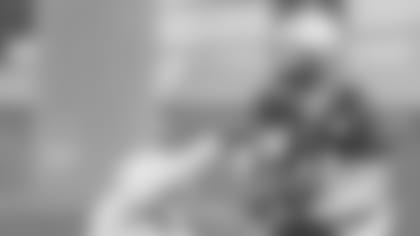 Smith completed several passes in the practice session, but the most impressive were two of his completions to Morgan. Early in the team period, Smith fired a deep crossing route to Morgan for a 20-yard gain with plenty of room for Morgan to run in front of rookie linebacker Navorro Bowman. In the next team period, Morgan caught another strike from Smith, this time on a dig route in front of cornerback Tarell Brown.
Rookie cornerback Phillip Adams came up with the first turnover of the week, when a pass deflected off of wide receiver Ted Ginn Jr.'s hands and into his own. Adams had blockers and a nice lane up the left sideline after the bang-bang play. He celebrated after practice by agreeing to terms on a four-year contract, making him the first of eight 2010 picks to sign.
Backup quarterback David Carr showed great athleticism on a designed bootleg. Carr sold the play-action fake to running back Glen Coffee to his left, then rolled right and found Morgan running a comeback down the right sideline in front of safety Reggie Smith and cornerback Keith Smith.
Newly signed cornerback Will James spoke with the media for the first time since signing with the 49ers last week. James previously worked with secondary coach Johnnie Lynn in New York, and was pleased with the reports he got back from ex-Philadelphia Eagles teammates Lewis and Takeo Spikes. "All the basics are the same in every defense, it's about coming in and learning the terminology," James said. "I think it's a great opportunity for me, any time you have a chance to come to a playoff contender and you have a chance to add something to that, I look at it like it's a great opportunity. I'm going to compete and help this team in any way I can."