One thing the 49ers insist didn't show up during film review of last week's loss to New England was the Patriots whipping their tails. Instead, head coach Mike Nolan believes his defensive unit in particular is beating themselves because of technical and mental errors.
The 49ers defense best slam the brakes on those errors, because on Sunday they face one of the more talented offenses in the NFL in the Philadelphia Eagles.
But before even getting into the problems the Eagles can present, defenders like rookie Kentwan Balmer, said the 49ers defensive unit has to first concern itself with its own shop.
"You always have worry about your team before you worry about somebody else's. We have got a lot of play-makers on this defense and that's what we're going to do, make plays. We have just got to come out and play defense the way we're capable of playing. I have got the utmost confidence that we'll stop anybody if we put it on ourselves and play like we're capable of playing."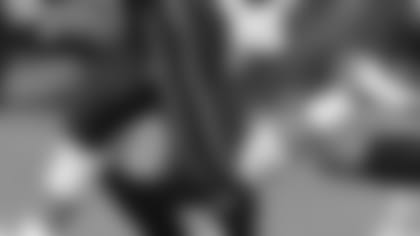 Unfortunately, lack of third down conversions, explosive pass plays, problems stopping the run and an inability to keep the opposition out of the end zone have all been factors in the 49ers back-to-back losses.
Safety Michael Lewis, who will play against his former team for the first time since departing after the 2006 season via free agency, believes that the issues boil down at least to one common theme.
"We just have to do our job, be technique sound, whether it be holding the gap, or whether it be shooting the gap to make the play. We just have to do our job," said Lewis. "I think we kind of get caught up in trying to do extra stuff instead of our job and that kind of hurts us, especially on third downs."
To do one's job, one must know what that job is. While Lewis' and former Eagles linebacker Takeo Spikes already have a very familiar understanding of Philadelphia's personnel and what they like to do with it, the pair believes extra film study is vital this week.
"I just think we need to continue to communicate better, understand certain situations as far as down and distance, especially on third downs, what they like to do, what they don't like to do in certain situations," said Spikes.
And as Lewis pointed out, even when you know what play is coming - like the McNabb shovel pass to Brian Westbrook at the goal line – the Eagles are still awfully difficult to stop.
"They are really hard to defend against because they try to confuse you with different sets and formations and stuff," said Lewis. "They try to get you thinking and then they hike the ball, boom, there's the play. It's one of those things, where film study is going to be crucial this week.
That's one of the things coach has been stressing, we have to know to this opponent soundly."
One new wrinkle that Lewis immediately picked up on from his early look at the Eagles is that quarterback Donovan McNabb, whose arm he says looks stronger than ever, is taking more shots vertically this season.
That's a by-product of a very talented and deep receiving corps, led by rookie DeSean Jackson.
"I got a chance to watch him a little bit while he was in college out here at Cal, and he brought that same level of confidence to the NFL, which is great for them. He's been out there making
plays for them. "
But Jackson is only one of a few potential headaches that McNabb and his overall fifth-rated passing offense present to a 49ers back end that has surrendered explosive, and costly, pass plays in recent weeks. The unit went from being a 7th ranked passing defense to a 19th ranked passing defense following poor outings against New Orleans and New England.
"It's a very big challenge because this is probably by far the best group of wide receivers we've faced this year – as an entire group," said Lewis. "All the guys can get deep. They run great routes. They catch the ball, which is key for the offense. It's one of those things where technique has got to be sound, and we just have to do our job."
The 49ers defense also needs to do a better job presenting a united front against the Eagles run game. Large chunks on first and second down run plays by New Orleans and New England allowed those offenses to stay in very manageable third down situations.
"When you talk about stopping the run, it takes all 11, not just the front seven," said Lewis. "Everybody has to be a cautious of that and getting up there and stopping the run. The run game is a major factor as far as us getting off the field. We have to be able to stop the run."
Spikes took it one step further, calling it a must.
"It's critical. It's always the same," said Spikes. "You need to first stop the run because if you don't stop the run, you don't have a chance to win. If you don't stop the run, you'll never when the pass is coming so you are off balance. You are playing the pass when they are running, and you are playing the run when they are passing, and so it's all bad."
Getting after the run game will require the 49ers to penetrate the blocking of an offensive line that Nolan called "one of the best in the NFL." The unit has had to make due lately without their two-time Pro Bowl guard Shawn Andrews, who has been dealing with back spasms, but even without his services, they are a stout bunch.
"They're an athletic group," said Balmer. "They're big, they're physical, they're well-coached. They're everything you want in an offensive line. We just have to come ready to play."
Although running the ball hasn't been a strong suit for the Eagles 28th rushing offense, with Brian Westbrook in the backfield, Philadelphia maintains the potential of busting it open at any point. The explosive playmaker is dealing with two fractured ribs and sat out Wednesday's practice, but his former teammates expect him to suit up and go on Sunday.
"Broken ribs are not, this guy is a top three back in the league and I believe that wholeheartedly," said Lewis. "He's Reggie Bush and more – a guy who can run between the tackles as well as take it to the edge and a guy who they split out at wide receiver sometimes and get the ball in his hands. He's an explosive player.
"He's a competitor. He wants to help his team win at all costs. He wants to proof those naysayers wrong who say that he won't play hurt. He's a tough guy, and he wants to play and I know he's going to be out there on Sunday."
And even though he might not be at full strength, Spikes insists that Westbrook's presence alone changes the complexity of the game.
"This is my opinion and something I know as a fact after playing the game so long – as a premier player, if you are healthy, you are that much better than everybody else," said Spikes. "Even if you do get hurt, and you are a step slow, you are still that much better (Spikes held up his fingers a half inch apart) than everybody else. We understand that coming into this game." Wednesday Practice Notes:
LB Manny Lawson (hamstring) did not practice today, although head coach Mike Nolan hopes to have him back for Sunday. T Jonas Jennings (shoulder) also missed practice. Jennings has not yet been ruled out for the game, after being early scratches the last few weeks.
LB Roderick Green also missed the afternoon session due to a stomach virus.
RB Frank Gore and CB Walt Harris missed practice per a schedule set up by the coaching staff.