When the Seattle Seahawks visit the 49ers this Sunday afternoon at Candlestick Park, both undefeated teams will be meeting for sole rights of first place in the NFC West.
Seattle is coming off a 28-0 victory over the St. Louis Rams last week at home; giving first-year head coach Jim Mora his first win with the franchise.
It also was the first time the Seahawks had held an opponent scoreless in almost two years.
Seattle's 1-0 start could be attributed to their veteran quarterback Matt Hasselbeck, who appears to be healthy after an injury plagued 2008 campaign where he started only seven games.
Without Hasselbeck in the lineup for most of last season, the Seahawks finished the season 4-12 in coach Mike Holmgren's final season. One of Seattle's four wins was a 34-13 victory in San Francisco that spoiled the coaching debut of 49ers head coach Mike Singletary. Hasselbeck did not play in that game, backup quarterback Seneca Wallace picked up the win that day.
To make sure that game is not in their minds, it's likely the 49ers will treat this Sunday's home opener like their week one matchup with the Arizona Cardinals, forgetting last season and focusing on the present task at hand.
At the current moment, the 49ers will have to prepare for an improved Seattle team better than the one they split the season series with last season.
Last week, Hasselbeck overcame a shaky start that saw him throw two of his first nine passes to the Rams to ultimately complete 25-of-36 passes for 279 yards, and three touchdowns.
Two of Hasselbeck's touchdowns came in the second quarter which gave the Seahawks a 14-0 lead going into halftime. From there, a continued solid defensive effort kept the Rams off the scoreboard and allowed Seattle to put up two more touchdowns for Seattle's final result.
For the game, the Seahawks picked up 25 first downs on offense, racked up 446 total yards and converted 8-of-19 third downs. The only sour note for Seattle's offense was their three turnovers, two of which came on Hasselbeck interceptions. The other came on wide receiver Nate Burleson's first quarter fumble.
In addition to Hasselbeck, tight end John Carlson got off to a tremendous start to the 2009 season, catching six passes for 95 yards, two of which were for touchdowns. Carlson figures to be one of Hasselbeck's first options in the passing game this year, especially in the red zone. Burleson also added seven catches for 74 yards and a 12-yard touchdown grab of his own.
Free agent addition wideout T.J. Houshmanzadeh contributed as more of a possession receiver with six catches for 48 yards in his first game with his new team. Last season, Seattle was decimated at the wide receiver position by injuries for their first meeting with the 49ers. However, they should have ample firepower this time around. The Seahawks also have veteran wideout Deion Branch and impressive rookie Deon Butler at their disposal. Branch however, sat out of the Rams game with a hamstring injury, but he could return this week.
Seattle also has two solid options in the running game with capable backs Julius Jones and Edgerrin James. Jones rushed for 117 yards on 19 carries last week with a 62-yard touchdown run. James added 30 yards on 11 carries.
The Seahawks were able to make plays in both the passing and running game because of their offensive line play. Nine-time Pro Bowl left tackle Walter Jones has been recovering from offseason knee surgery and will return the following week, leaving six-year pro Sean Locklear in his place. Locklear is surrounded by a solid front that includes rookie right guard Max Unger, the team's second-round pick.
One final note about Seattle's offense, Wallace took one snap against St. Louis as a "Wildcat" quarterback. On that play, Wallace threw to Hasselbeck, who threw back to Wallace for a 24-yard gain.
This Sunday, Seattle's defense will be without a familiar face to the 49ers Faithful.
That face being, former 49ers outside linebacker Julian Peterson, who was traded in the offseason from the Seahawks to the Detroit Lions for defensive end Cory Redding. The team replaced Peterson by drafting outside linebacker Aaron Curry fourth overall in the draft. Curry got off to good start in his pro career, with four tackles in his first start. Redding came up with two tackles against St. Louis.
However it was second-year defensive end Lawrence Jackson who made a bigger impact than Redding by coming up with a sack. Defensive tackle Brandon Mebane and linebacker Lofa Tatupu also added sacks showing how the Seahawks defense can bring pressure from a variety of positions.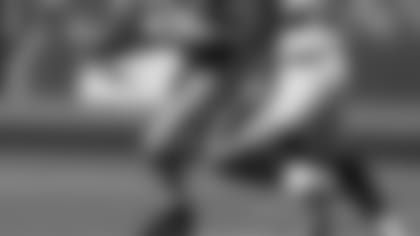 Tatupu and starting outside linebacker Leroy Hill both suffered minor injuries against the Rams, so the team went out on Monday and re-signed linebacker D.D. Lewis, who they waived before the start of the season to add depth to the defense in case either starters can't play on Sunday.
In the secondary, the Seahawks have talent at all positions including cornerbacks Ken Lucas, Marcus Trufant and Josh Wilson as well as safeties, Deon Grant, Jordan Babineaux and recently signed veteran Lawyer Milloy.
With play-makers on both sides of the ball, Seattle presents a great challenge for the 49ers. Expect a close game between evenly two matched teams who are looking to establish themselves as favorites for the conference crown early in the season.