Over the last seven days, the 49ers have held nine practices counting a mandatory weekend minicamp (with two double-days) and a voluntary four-day organized team activity. During that period, the team was able to build team camaraderie and work on preparing for training camp tentatively scheduled to begin July 30.
"We're continuing to make strides, continuing to learn how to work together where when we are working together, the defense and the offense is getting something out of it," head coach Mike Singletary said on Thursday. "We're getting into rhythm and that's where we want to go with it."
The OTAs started off on a down note as Singletary brought the team together mid-practice to stress the importance of not showing poor body language after a play.
"I just wanted our guys to understand that I'm not going to let them compromise," he said of his conversation with the team on Monday. "I'm not going to compromise because there's too much at stake. We have too many good coaches, too many good players to not come out here and get better."
But as the week went on, Singletary was pleased with the effort from his team and the improvements made after his speech.
"I think we built on each practice. We had good tempo [and] there were not many mistakes. Everything kind of flowed," he said. "We still have a long way to go, but the three practices we had are more of what we need to build on going forward."
Offensively, the play picked up from that point as all four of the quarterbacks looked sharp during individual and team work.
"As the week went on, I think guys got more and more comfortable," third-string quarterback Damon Huard said. "As an offense we definitely started executing our play down the stretch."
For newcomers like Huard, the seven-day practice schedule allowed them to get familiarized with the rest of their teammates, especially understanding how to work together on the field.
"I think certainly you get a feel for the guys. You get timing down, which is a big thing. And just being in the locker room around each other as much as we are that's important too," Huard explained. "We've been around each other a lot in the offseason, but being out there on field sweating together, making plays and going in the film room brings guys closer. As a group we came together this week."
Togetherness will be especially important as the team is only a month away from training camp. As the offense picks up a new system, the other side of the ball has to maintain their standard of play while acclimating new members to the defense.
"I think we got a lot better on the defensive side of the ball," linebacker Mark Washington said. "We improved our communication which helps a lot. For me personally, I was able to get more comfortable with some of the calls. And the more reps you get the more comfortable you get and I think everything became smoother over the seven days of work."
The rookies also benefitted from the minicamp and OTA session. The stretch of practices was a perfect simulation for what a week of training camp will be like.
"It definitely gives the rookies more of an idea of what training camp is going to be all about and how they'll need to take care of their bodies every day," Washington said. "If we're all working this hard together now, it can only improve when we pick things up for training camp. So this week has been big for them to get ready for what's going to happen in a month or so from now."
The players will have the weekend off and will finish their offseason workouts with a two-day OTA session beginning Monday.
First-round draft pick Michael Crabtree has literally been making a lot of strides towards joining his teammates on the practice field.
Over the last week, Crabtree has been working with the 49ers training staff on the artificial turf field while the team practices on the adjacent fields.
"As I talk to our training staff, everybody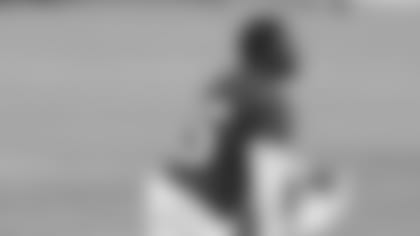 is excited about what they see," Singletary said. "I think he's excited. He's got a little more bounce to him."
Singletary recalled the first day of minicamp when he couldn't believe what he saw in front of him. It was Crabtree working with his teammates during individual drills.
"I remember the first day we came out here for minicamp and he was over there running routes, 'Well, what are you doing? You're not supposed to be out here. Who told you to come out here?'" Singletary asked of the former Texas Tech wideout.
Singletary told Crabtree to follow the orders of the team doctors and also that he wasn't worried about Crabtree not being able to practice quite yet. "We know what you can do," Singletary said to him at the time.
Asked if being able to work on striding out was a big step in Crabtree's rehab, Singletary said it's a confidence booster for his young wide receiver.
"I don't care what anyone says, when you're injured, coming back and being able to put weight on that injured spot [is important]. The more he's able to do and the earlier he's able to do it, the more confidence he's going to gain. The biggest thing is, from being such a competitive guy, I'm looking at him, I'm watching him very closely as he's running, he's competing against everybody he's running against. That's a good thing, but at the same time, I want to make sure that, 'OK, you don't have to win every race. I just want to make sure you're going at the level that you need to go at, so that when we come out there for training camp, you're ready to go.'"
Singletary also said the team will continue to monitor Crabtree's health during training camp and make sure to not over-work him while he's working with his teammates on the field for the first time.
"We definitely have to have a plan in place. Not just waiting for training camp, but how we monitor these next five to six weeks in between. What he's going to be able to do. Keep our eyes on him and monitor that progression, so when he comes back – I anticipate him having some tight hams, having some little ins and outs. It's the nature of the game. He's missed a lot of work. But, at the same time, I'm very confident in our staff and knowing those things."
Former 49ers quarterback and current ESPN football analyst Trent Dilfer attended practice Thursday to shoot a piece on the hill the players use for training.
Upon recognizing Dilfer standing on the sideline during team stretches, Hill asked him, "Who's guest are you?"
Dilfer zinged back, "I'm here to watch you run up the hill!"
Moments later, defensive coordinator Greg Manusky noticed Alex Smith's haircut and said, "Nice haircut!" Without hesitation Hill teased, "He did it himself with a flowbee at home."
When the team got together for 11-on-11 work, the emphasis was working on various third-down scenarios. On the second play, Smith hit Frank Gore on a quick pass in the right flat. Gore was uncovered on the play and easily marched down the sideline for a would-be touchdown.
During skelly (7-on-7) work, wide receiver Michael Spurlock caught out-patterns from the right and left slot from Smith and then Hill within a couple of plays of each other.
When the team reconvened for more team work, Smith saw a linebacker blitz and found Vernon Davis wide-open in the middle of the field on a hot read.
Later, Hill completed a dig-route to his left finding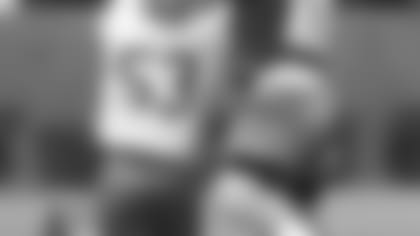 Dominique Zeigler open in front of Marcus Hudson and Lewis Baker.
Play of the day honors went to rookie tight end Bear Pascoe. Pascoe caught a deep post pattern over the middle by reaching over Jeff Ulbrich and hauling in Alex Smith's 30-yard pass.
"I think I got too wide on my route," Pascoe said after practice. "But I'm taller than Jeff is and I just made it work. Alex put it in the right spot and he gave me a chance to win [possession]."
Towards the end of practice during 11-on-11 work, the defense almost had Smith surrounded in the pocket, but the athletic quarterback side-stepped the rush to his right and hit Davis along the left hashmarks on a flag route.
For updates on all things 49ers-related, be sure to follow us on our Twitter account.