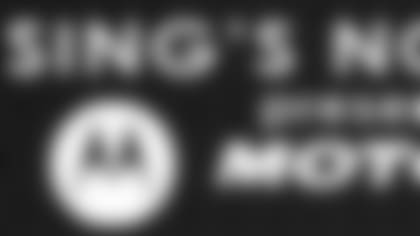 RE: Any word on Frank Gore? **
"It's the same thing it'll be a game time decision. Hopefully he can go but if not, we've got the same deal as we had last week. [We] got to get ready to roll."
RE: Did he do a little bit more today with the trainers than he was doing at this point last week?
"Yes. Yes, he did. That's always a good thing."
RE: Some individual stuff?
"I don't think that he did any individual stuff. I just think that he came out, walked around a little bit, just kind of tested a bit and see what he could do. But I think it's still more treatment than anything else right now, and see how it responds."
RE: He is unlikely to practice tomorrow?
"Unlikely."
RE: Does the surface in St. Louis factor into the decision?
"It has something to do with it. Anytime you're playing on this even thought it's supposed to be softer than the grass something that says it isn't but hopefully he just continue to come along and maybe Sunday it's 'hey, I can go,' we'll see."
RE: And the play of Deshaun Foster does that give you a little more comfort level?
"Yeah, I thought he ran physical. I thought he ran hard, protected the ball. All of the things that we have to have. The offensive line did a nice job blocking and he ran up in there and found some holes. He gained some extra yardage, moving the pile, so I'm very encouraged."
RE: I understand that there was a collision yesterday in practice between [Josh] Morgan and [Mark] Roman?
"Yes."
RE: Was there any lingering injuries from that?
"No, no. Basically just following protocol today just to make sure that [if] they're any lingering effects that we see them and make sure that we look at them after practice and make sure that there's nothing more than what happened yesterday."
RE: Was there a concussion involved?
"I don't think so because neither one of them are dizzy. Nothing like that, just taking precautions, that's all."
RE: So the protocol is if there's a big collision like that in a non-contact thing you'd be very careful of that?
"Yeah, you just want to back off and just kind of [say] 'ok, let's see,' let's give it some time, give it 24 hours if there's anything that develops [like] nausea, dizziness, whatever it might be we need to look at it but they're fine [that's] what were hoping for."
RE:  Isaac Bruce, on the verge of moving into number two on the all time receiving list
"I think for him I know it's big. Anytime you do anything like that it's says a lot about your career and I think for him to go back to St. Louis where he's known very well and performed in front of those fans for many years, I think it's big for him and I think our offensive line will have some motivation to do the best that they can, protect the quarterback so he can have time to throw it to him, so it's a very nice thing to be able to achieve."
RE: Alex Smith said something interesting yesterday when we asked him about his view on the changes that you've made
"I think the No. 1 goal for me was just to bring clarity and to make sure that guys understood exactly what the expectations were and exactly where the boundaries were and what the repercussions were if they didn't happen that way. Not that I'm going to lose my mind or anything like that, but to me it's good to know what you can and cannot do, what is and is not acceptable, for everyone, including myself. It's not just something that we hold them accountable to, as a staff, as a head coach, everybody represents the team and we do it a certain way and everybody has to be accountable."
RE: When you say can and cannot do, are you talking about on field things, behavioral things?
"Yes, I'm talking about everything. I'm talking about everything and it's more focusing on the positive things that you can do. What you want to do, so that you are moving in the right direction. If we are talking about the others things and were focusing on the negative attention, then we are doing something wrong. I just think the guys have just taken it and ran with it in terms of, 'You know what, we want to be a great football team, we want to move in the right direction, we want to move together. Everything that we can do that enhances team, then that is what we want to be a part of.'"
RE: How important is it for an NFL team today to have things in black and white because there are so many ulterior things that players have to deal with these days?
"I think it's huge. I think it's like anything else. If there's any ambiguity about a particular thing, then you are going to be slow to respond, one way or another and I think when things are in black and white, I think I move faster. I think I make quicker decisions. I think I respond faster and that is what we are trying to do."
RE: Have you gotten wind of this David Letterman bit that he's done?
"I haven't seen the second one. I saw the first one and I'm still trying to figure it out. It's really interesting, but I haven't talked to Aaron [Salkin] about the second one yet, but it's interesting. I don't know what that deal is."