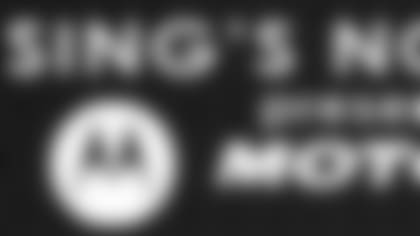 "This morning we had a chance to congratulate our guys who were making the Pro Bowl, particularly Joe Staley and then we had several alternates and I think you guys may already know that, but it was a very good day, a very good way to start the day. Any questions?"
RE: How does Willis rate in your mind as a player this season as opposed to his rookie year?
"I think his rookie year Patrick was someone that a lot of teams didn't know about. They only knew about his speed. But at the same time, he was rookie so they really didn't know what to expect, and as the season got underway and they saw how fast he could respond and react to certain plays, and he just had a great year last year. This year, he really had to work that much harder because teams knew about him, and were really making sure they focused on him and they accounted on him on just about every play. You could see if they were going outside, they had guys really trying to get guys position to cut him off – hold him, grab him, whatever. In spite of those things, he still was able to overcome some of those things and make plays, and I think to me that's a sign of a darn good linebacker."
RE: Do you expect him to be a regular All-Pro for several years to come?
"I would be disappointed if he wasn't. I just think he's one of those guys that is only going to get better. He made All-Pro his rookie year, [and] he came back this year, and I told him at the beginning of the preseason 'It's going to be different this year. It's not going to be like last year'. Not only did I tell him but all the guys the better you are, the better you have to become because every step you take, the other teams are really going to try to consistently do the things to try and eliminate you from making that play."
RE: He played every snap last season and [every snap this season] up to this point. Is that something that impresses you as someone who played that position?
"Yes, its consistency, toughness. He's a guy that in order to get better, you have to be there. You have to practice, you have to take care of yourself both mentally and physically, and put yourself in position to make plays. He's still continuing to learn how to study. Takeo Spikes has been great for him. Takeo is like his big brother. He and Pat are really spending a lot of time together, studying and understanding what has to happen in the game. Jeff Ulbrich is another tremendous asset. He's like another brother to Pat and those guys are really close and they continue to talk. Takeo and Jeff continue to pour a lot into him. And there's just so much that he still does not know and that's the frightening part about it, so I'm really excited about him and what he's going to bring to that position in this game."
RE: When did you arrive at the point where you knew what you really needed to know for this position to be effective?
"I think after that third year. After that third year, you've about seen everything, and then it's just a matter of trusting your instincts and honing your skills because you're always trying to work on getting better. You're always trying to anticipate that next move, that next step. Then it becomes that chess match for a guy like Pat. I just think he's going to continue to blossom, and I'm really excited about his approach to the game. He's a true professional and he really works at it."
RE: Isaac Bruce was named the Len Eshmont Award winner. What do you think he has done in that locker room to win that sort of respect from his teammates?
"I think any time you have someone with the amount of credibility that Isaac Bruce has, and the amount of consistency. Once again, you're talking about a guy that first of all he knew Mike Martz's system. Some of the younger receivers, and we've got quite a few of them, just gathered around him and were able to learn the little things about the details about running routes the way you should run them. When you look at someone like Isaac Bruce who is continuing to try and learn, continuing to perfect his craft…and he's not a guy that will say, 'Hey, I know that. Why are you telling me that?' He's always, and I don't care who it is, anyone can say something to him about a route and the way he ran that route, and he'll take full responsibility. 'OK, you know what? I'll get it better. I'll do it better.' And when you have that, rather than, 'Hey, I ran the route the way I was supposed to run it.' When you have that attitude, that's a true professional. It's a credit to him, and I'm really thankful that when you have guys like that in the locker room, it makes your job as a coach that much better."
RE: Is he kind of the anti-diva in that way?
"I think what he is is a guy that knows exactly who he is. He knows what it takes. He's been there, done that. There's nothing new under the sun for him. When you're sure of who you are, and you've achieved just about everything there is, you can just kind of take a step back from all of the games and all of the other stuff and just be yourself. I think that really sets him apart from a lot of guys, because some guys never really are comfortable with who they are and their place in this game."
RE: In terms of elapsed time, what was the longest conversation you've ever had with Isaac Bruce?
"I'll tell you what now, he doesn't talk a whole lot. I think I've had the privilege of listening to him speak in chapel. But as far as conversations, it's just "Isaac, congratulations, or Isaac, I'm really glad you're on this team, and he kind of looks at you like, 'OK, well you know I appreciate that. OK, what else is there.' I would say maybe two minutes is the longest I've ever talked to him, and that's a great accomplishment. It really is."
RE: Do you feel like you know him well?
"I just think what it is is a lot of players have not been around players like Isaac [Bruce]. It's very rare that you are around someone that really they're not trying to show you something; they're not trying to prove something. They are just someone who, 'You know what, I'm thankful to be here and I'm really excited about this game and have a chance to play it. I feel blessed to be with this team at this time.' And it shows in what he does. It would be different if he was standoff-ish and he didn't say anything, or he didn't smile or his body language didn't show that he wanted to be here. He's not a guy that brings about a feeling of 'I'm better than someone else. It's just great to play this game and have the privilege to play this game. I'm healthy. I feel great. I'm still running good routes, I'm still catching balls, and I'm still helping our team win.' I just think players really think that's cool. When you see a guy that like, sometimes you really don't know how to approach him. But once you start that initial conversation, he'll talk to anyone and he's very, very helpful to our young guys. I know that. They've verbalized it to me. So, it's just an asset to have someone like him."
RE: Do you see him playing with this team in further years to come?
"I hope so. He's a guy that as long as he feels good about what he's doing, as long as he's healthy, as long as he wants to do it and can do it, why not? Why wouldn't you want someone like that? Because he is just…the message that many coaches talk about all the time, he's that message in the flesh. So, if you can have that in the locker room, it's a heck of a lot better than a billboard."
RE: How has he helped the quarterbacks, especially because they had to learn Mike Martz's system which Bruce knows so well?
"I don't think that he really gets into that as much. He may come back and say something here or there, but I really don't think he gets into that very much."
RE: Maybe it's just having him around for those guys?
"I just think he brings a certain...the trust level. I would say that. The trust level that he brings, the accountability factor. He's not a guy that has a lot of words to say in terms of excuses as to why something didn't happen. You know, it just didn't happen. I'll come back and do it better"
RE: Can Joe Staley be a potential Pro Bowl player at some point the next few seasons?
"Absolutely. Joe [Staley] took a step – a big step – Sunday. It was a personal challenge, and he took that challenge against one of the better pass rushers, not just this year but just consistently. Joey Porter is a guy who has been relentless since he was at Pittsburgh. Just about every year he's going to be above 10-plus sacks. When Joe Staley can step up and do the job that he did, it's a credit to him. I guess the worst thing that he did was to do such a great job on Sunday. You expect it every time now. It's all downhill now. Let's just continue to get better."
RE: Can you talk about the significance of this weekend's game obviously to close out the year strong the last couple of games and raising some confidence going into next season?
"I think any time you have a chance to play, even though it's the last two games, we talked about that a bit this morning. I don't really see it as the last two games even though it is. The finality of it…to me the future is now. I'm very thankful that we have two more games. I'm very thankful that our guys will be ready to play and they will perform well. Aside from that, I don't think about all the other things. Finishing is one of the things that we talk about all the time. So, we'll be just fine."
RE: Do you think in general you've found some stability with the receiver core this year?
"I definitely think they took a step forward, not only the quarterback – I mean not only the receivers, but the quarterback as well. I just think that when you can find some continuity, when you can find a group that continues to get better and continues to grow, and those younger guys are kind of growing together. That's always a big plus."
RE: Any chance of Frank Gore playing this week?
"It just depends. I would say right now, yes. Hopefully, he has a chance to play, but at the same time, it'll be a day-by-day again."